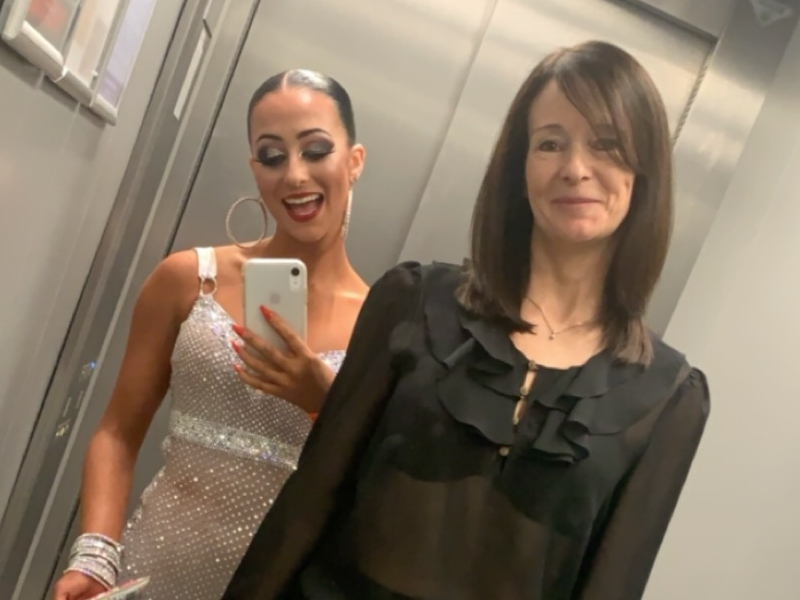 Sunday 14th March is Mother's Day here in the United Kingdom and we thought we'd put a few questions to a dance mum that has supported the big dreams of her daughter incessantly for nearly twenty years! Here's a little Q&A with Alison Scott, mother to #IDSEliteTeam Amateur Latin star, Rebecca Scott!
So Alison, take us back to the beginning – how (and at what age) did Rebecca get into dancing given that the family doesn't have any dancing history like many other young dancers?
Rebecca was always a child who was very active and loved performing, so we tried to channel her energies into dance classes. We started her off with Ballet, Tap and Freestyle at age 4. We also knew of Martin Cutler's dance school, Dancewarehouse at the time, and some of her school friends went there so we took her along too. It was obvious from the first few weeks that she was absolutely smitten with Ballroom and Latin, so it took off from there. By 6 she was in Martin's juvenile formation team and had her first boy partner.
Did you know much about the Ballroom/Latin dance-world in the beginning? It's a hobby/interest that takes a lot more commitment than others – especially from the parents' side. It's a bit more than a local gymnastics class, swimming class or football training. A lot more travel and a lot more outfits… (any big sacrifices or conundrums faced!?)
Absolutely nothing. It was just intended to be a Saturday morning hobby, but, as everybody warned me, you get sucked into the whole 'more than a hobby' thing very quickly. You go from just a Saturday class, to a boy partner, private lessons, small Sunday competitions, national competitions etc etc very quickly.
Obviously family finances took a massive hit, our leisure budget disappeared on attending competitions and hotel stays relating to dance. We always used to go on holiday a lot or weekends away and these ended up being mostly dance related too. However, I do have to add that at the point where most older teenagers start doing less with their parents and more with their peers, I did find that the dancing was great for keeping us doing a lot together as a family.
For as long as we can all remember; Becca has always danced with Lloyd who's based in Wales and you guys are based in the Midlands – how did that work in the beginning?
Rebecca's previous dance partner in Juvenile was moving up to juniors and Rebecca was still quite young, and Lloyd was in exactly the same position. Sean and Kay contacted me to ask if Rebecca would consider staying in juvenile to dance with Lloyd so they could both have another year or so in juvenile. Luckily I worked part time so I was able to commit to driving to Wales twice a week to take Rebecca for lessons.
How was balancing school and dancing?
School were always very helpful with Rebecca and her dancing. This was quite a lot to do with the fact that Rebecca herself was a model student; she wasn't just heavily motivated with her dancing, she was interested in school and did her upmost to keep on top of the work. It wasn't easy to do, as she got older a lot of her competitions would eat into school time. The school were very supportive in allowing her to drop a couple of GCSE's from Year 9 onwards, which afforded her more time to concentrate on the remaining subjects.
What's the most obscure place you've had to go because of dancing?
Obscure no, exciting yes. Rebecca has done a couple of TV shows, so that was an experience to be involved in..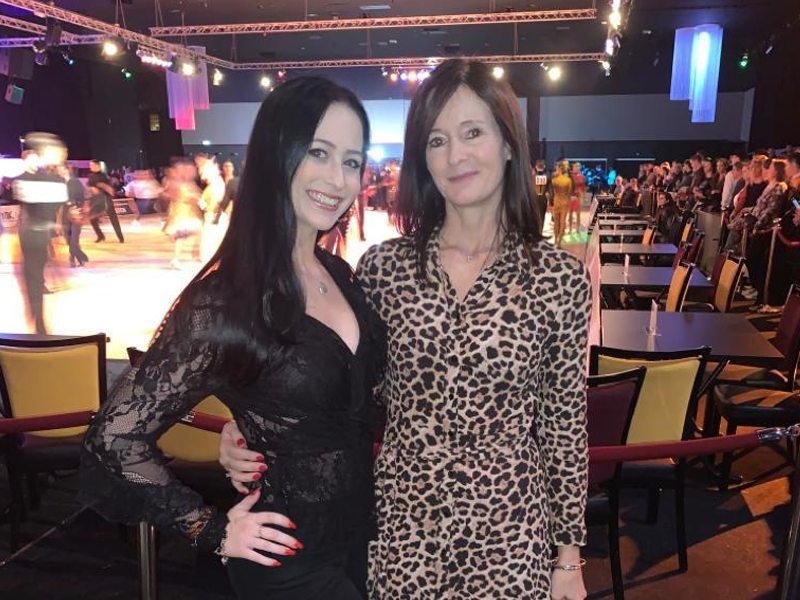 Where is your favourite place that Becca's dancing has taken you?
I love the beauty of the Winter Gardens, Blackpol. It's true what they say, it definitely has a magical feel to it. I always enjoy the places where I get a 'mini break' out of it too, for example Bournemouth. You also have to make the most of every opportunity, so I enjoy going to places I've never been before like Austria and Dublin.
The best and worst parts of being a dance mum?
Best parts.. As above! Treating every competition as a mini break for me, and of course I never tire of watching Rebecca dance.
Worst parts.. when the nerves kick in as you're waiting for results, and trying not to show what I'm thinking on my face... apparently I'm not very good at that!
The proudest dance moment so far?
A win is always nice! Obviously though, the biggest ones, Under 21 British Open Latin Championships and U.K. Open Amateur Rising Star Latin Championships.
For Becca - What do you think you'd be doing now if it wasn't for your supportive mother!?
I definitely would still be dancing in some shape or form... just whether it would be in the Ballroom and Latin competitive world I don't know!
Favourite thing to do together that doesn't involve dancing?
Lots! Days out, theatre trips, long walks, pizza and cocktails!
How you'll spend Mother's Day this year…?
Lockdown Mother's Day? Sunday lunch, fizz and a film. Possibly a walk if the sun is shining.
**
A big thanks to Rebecca and her mum Alison for taking the time to put this blog post together with us! We wanted to post something to highlight the dedication that parents put into their kids dancing and whilst the kids are always appreciative of their parents efforts, we're also grateful for the parents for the encouragement to the next generation of dancers!
On the floor, Rebecca wears our Bela, usually in Tan Satin and you can take a look at that shoe by clicking here.
For more updates and to see more about our new shoes, click here to follow us on Instagram and click here to join our mailing list!