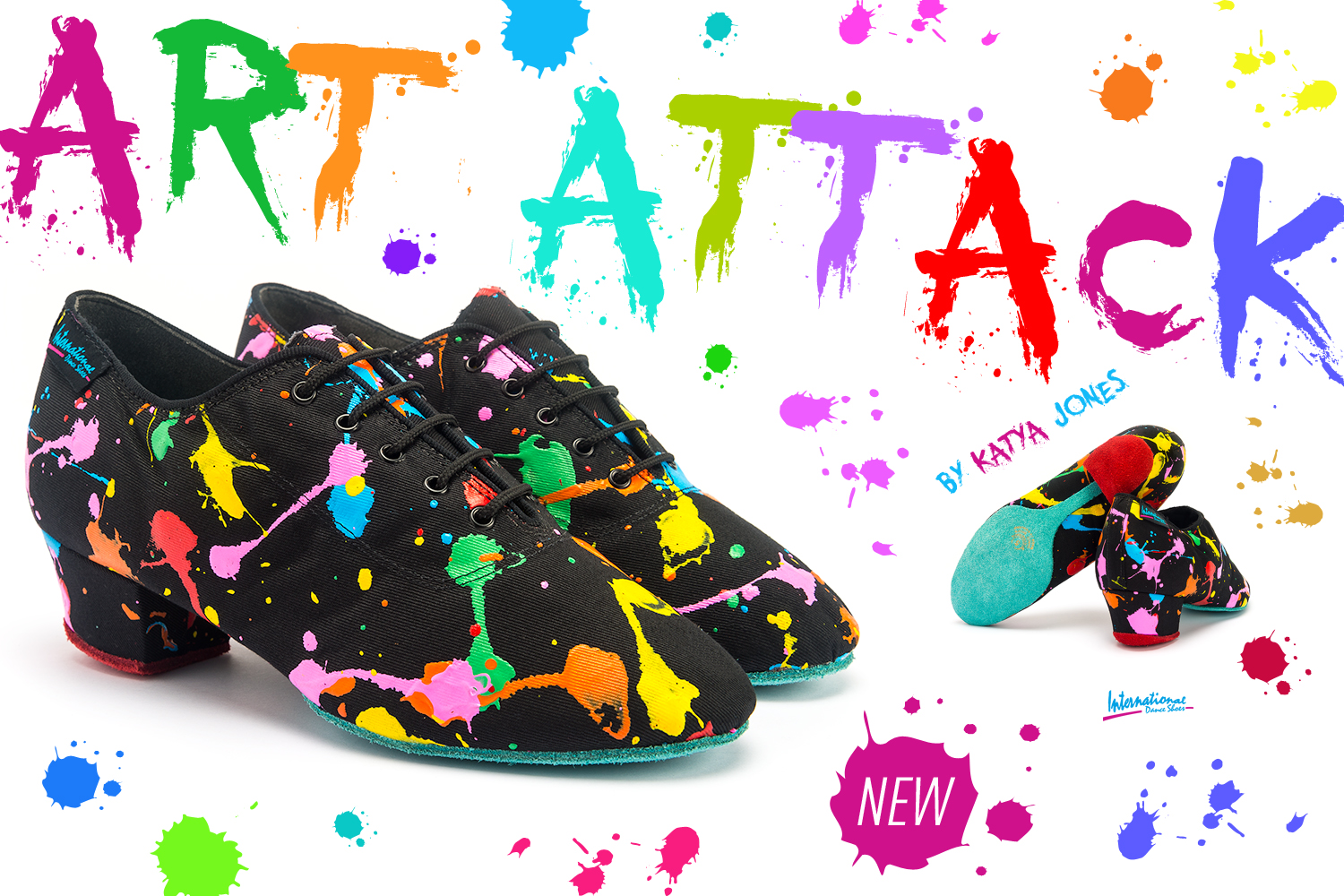 We're super ecstatic to launch our latest colourful creation as part of our Limited Edition Collection with Katya Jones! Following the success of 'Lipstick', 'Spyro Aztec', 'Pop Art', 'Red Camo' and 'Shoe Dog' we are now introducing ART ATTACK! Click here to shop!
It's such a unique shoe and extremely eye-catching and is once again our 'Heather Split' design which is widely regarded as the softest, most comfortable, most flexible and most supportive teaching and practice shoe out there.
Our collaborations with Katya have been so popular because they've injected so much fun into a type of shoe which is typically only seen in colours such as black and beige. Our exciting designs have caught so much attention on BBC's 'Strictly Come Dancing' where Katya is dancing with partner Joe McFadden. Our shoes, especially the 'Lipstick' shoe, have been seen regularly on the show!
Of the creative connection with us, Katya says, "It is so, so, so much fun working with International Dance Shoes to make these traditionally 'boring' shoes the most fun and exciting shoes! Normally people don't get excited when a new practice and teaching shoe is launched, but when it's created by us people go crazy! We have so many ideas but it is impossible to do them all in one go!"
We also thought we'd do something a little different with the soles to go with the whirlwind of colour on the uppers of the shoe, so the main part of the sole is blue with the top piece of the heel being red. It just adds another splash of character to the shoes!
Aside from the colourful material, we put a lot of focus on the feeling of the shoe and we believe the way that we build our insoles are unique. Dancing can take its toll on the body over time, so we make our shoes with specially designed cushioning in the insole and we add padding to the arch for the best in support and comfort. Whilst we have so many people love our practice and teaching shoes for ladies because of our iconic designs as part of the collection with Katya, many dancers will chose our practice and teaching shoes for the feeling of the pure comfort generated by the way we build our shoes. If you have not tried our shoes before then we would love you to come and try some! You can click here to find out about where our factory shop is, click here to see what events we'll be at in the coming months and click here for our Store Locator!
**
If you have any questions at all, then please get in touch. You can email us via sales@ids-danceshoes.co.uk or call us on +44(0)1908 319937.
For further updates, please make sure you're following us on the social media channels below!