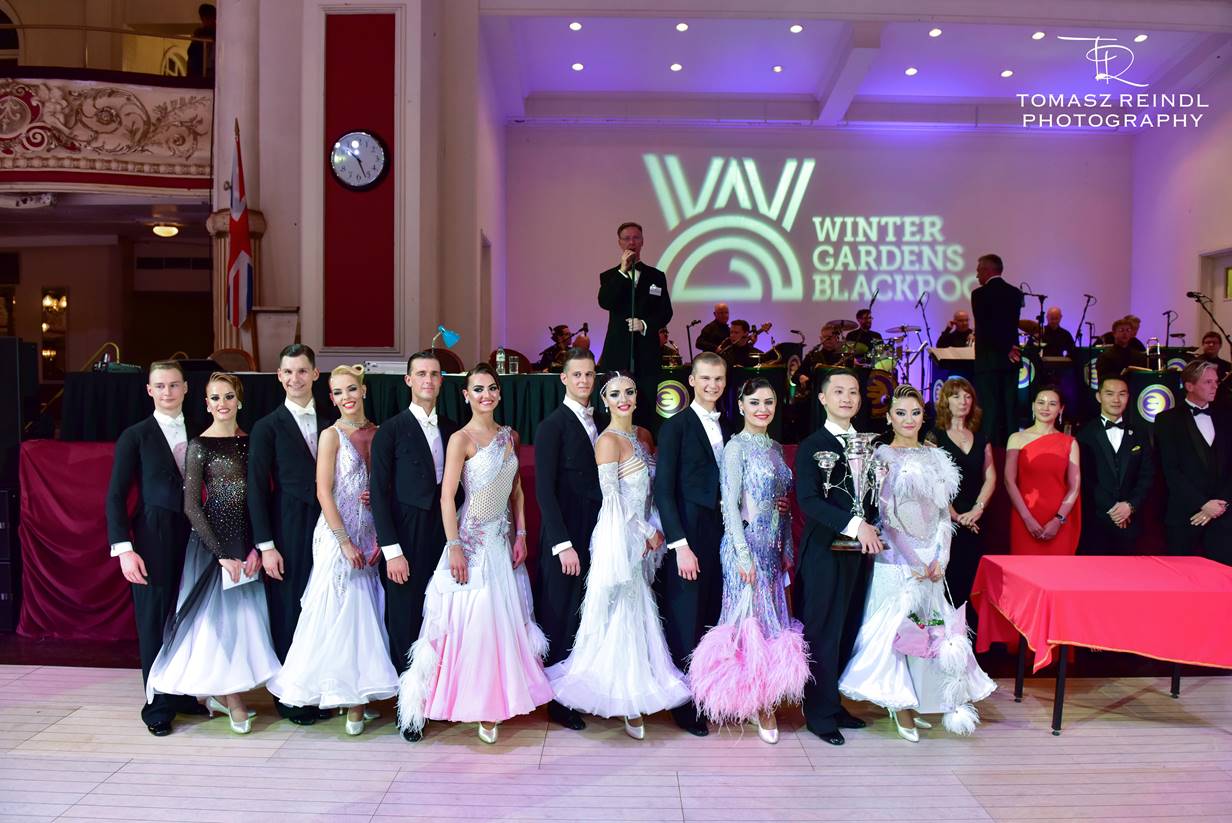 Blackpool 2017 Success!
It was amazing to see so many #IDSEliteTeam couples perform so well at last weeks Blackpool Dance Festival in their International Dance Shoes!
In the Professional Ballroom it was sad to see that Arunas Bizokas was unable to compete with partner Katusha Demidova being unwell. Arunas was aiming for an incredible 8th consecutive Professional Ballroom title and would have been wearing his pair of 'Contra' shoes! We would like to congratulate the winners – the lovely Victor Fung and Anastasia Muravyova (USA) on their first win in this competition, as well as Warren & Kristi Boyce (England) on their appearance in the Semi-Final.
The Professional Latin competition was as exciting as always and was won by the outstanding Riccardo Cocci and Yulia Zagoruychenko (USA). Gunnar Gunnarsson and Marika Doshoris (England) danced amazingly and made the Semi-Final and did it in their new XG Soles, which they both love! Pasha Pashkov & Daniella Karagach (USA) made the Quarter Final in their first Professional Latin competition in Blackpool and so did Zi Long Wang & Yang Li (Hong Kong). In the Professional Rising Star Latin, we were delighted to see Pasha & Daniella win the title! And also delighted to see Artur Tarnavskiy & Anastasia Danilova (USA) and Cedric Chan & Jennifer Tin (Hong Kong) make the Semi-Final!
In the Amateur Ballroom, we were immensely proud to see Charles & Sara (China) win their first Championship here. They have been incredible for years and since October they have won the International Championships, UK Open Championships and now the Blackpool Dance Festival! A superb achievement!
We had four couples making the final in the Amateur Ballroom (image above, credit to Tomasz Reindl Photography) including Fedor Isaev & Anna Zudilina (Russia) placing 2nd and then the new partnership of Dusan Dragovic & Liis End (England) and Igor Reznik & Maria Polishchuk who became the first ever Ukrainian couple to make the Amateur Ballroom final at Blackpool and it looks as though they will make many, many more in the years to come! Si Cheng Li (Eric) & Zhou Man Ni (Anna) (China) were one place away from making the final as well which was a wonderful effort too from another great couple to work with.
In the Amateur Latin it was a shame not to see last years impressive finalists Petar Daskalov & Zia James (England) who were outstanding last year and we know that so many people were really looking to see them back on the floor this year. Zia unfortunately fell ill and we wish her all the very best in her recovery and we know Petar will be doing all he can to support her so we can see them back on the floor soon!
In better news we were very proud to still have two outstanding couples making their first ever finals in this competition. Salvatore Sinardi & Viktoriya Kharchenko (Italy) were amazing and the reaction to Austin Joson & Nino Dzneladze (USA) being called back to the floor for the final was rapturous! Both of these couples have a lot of fans and we're excited to see them further improve for next year! Well done to Tagir Mansurov & Sasha Kondrashova (USA) who made the Semi-Final for the first time, and for many of our couples for making the Quarter-Finals including Lucra Urso & Alessandra Tripoli (Italy), Oleksandr Kravchuk & Olessia Getsko (Ukraine), Ben Jones & Amy Dowden (England) and Ruslan Khisamutdinov & Lena Rabinovich (Russia).
In the Rising Star & Under 21 competitions, there must be a big congratulations to the incredible Artem Kuklin & Lika Dikaya (Ukraine) for winning both the Amateur Rising Star Ballroom and the Under 21 Ballroom competition – an outstanding achievement from a very talented young couple!
It was also amazing to see Lloyd Perry & Rebecca Scott (England) win the Under 21 Latin competition whilst also making the final of the Amateur Rising Star Latin too!
In the Senior competitions, congratulations to Eric Voorn & Charlotte Voorn (Netherlands) for making the Semi-Final of this event.
We have a lot of couples as part of our #IDSEliteTeam so we haven't been able to mention everyone here but well done to all and we look forward to being back in Blackpool next year. We're so happy and proud to see so many top couples performing so well in our shoes and we're excited to continue our excellent relationship as we look to continue with some of the world's top dancers on further improving our shoes for dancers around the world!
**
If you have any questions at all, please feel free to email us ( sales@ids-danceshoes.co.uk) or call us on +44(0)1908 31997.
For further updates, please make sure you're following us on the social media channels below!
Thanks for reading!