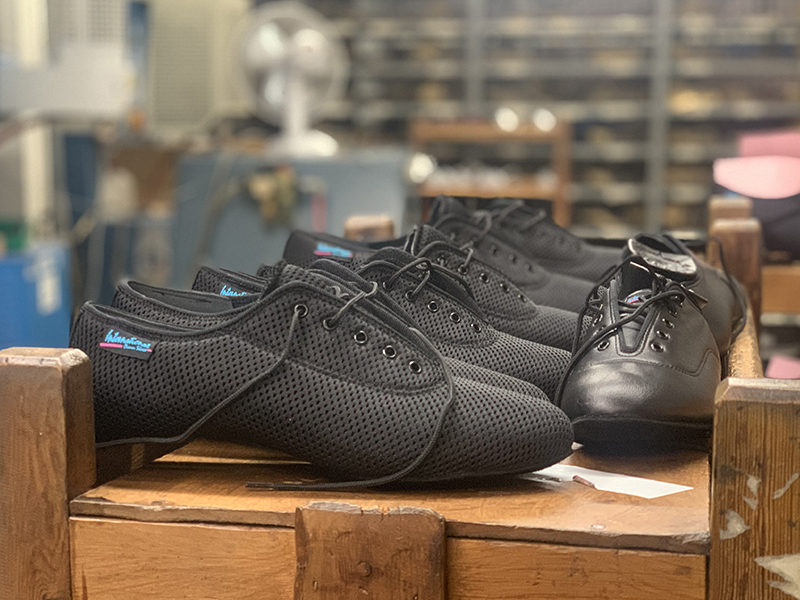 On Wednesday 25th March we closed our factory so that we can keep our hard-working and amazing production team safe but that doesn't mean that our shoes are now unavailable. We've worked on some changes to our website to make ordering during this period easier, and here are some answers to some frequently asked questions!
Are you still open?
Yes and No. Our factory is not operational so we cannot make 'made to order' shoes, however we have a small handful of staff in to send your online orders (from stock) and be here for you if you need to ask us anything. Our factory shop is not open.
What is available to order if the factory is closed?
When you look through our website you'll see some 'In Stock' labels in pink and these indicate that we have that particular style in stock in selected heel and fitting combinations. These styles tend to be our most popular designs!
Stock is limited because we cannot replace anything that is sold, so some popular sizes may become out of stock at some point during the period of closure.
We've also created specific product categories focussed on what have in stock. Click here for Ladies shoes, click here for Men's shoes, click here for Children's shoes and click here for your dance essentials! All of our Dansport collection styles are in stock and available too.
Anything ordered from these sections can be sent straight away.
How soon will I receive my order?
We're sending orders out really quickly at the moment so if you ordered in the morning, we'll likely have them in the post for you that afternoon. If you order in the evening then we'll send your order the following day.
Then the usual shipping times stated when you choose your shipping choice will apply, unless there are some delays locally (which may be the case in some countries).
Do I have a longer period to send returns?
Yes. We understand that taking returns to a local post office isn't essential travel, so we're extending our returns period to 60 days (subject to review if lockdowns are extended).
Importantly, for any orders sent from the beginning of March onwards, so long as the goods come back to us in the condition they left our factory, we're happy to process any exchanges/refunds.
What are the best ways to get in touch?
Some of our team are in and some are working from home but we're still committed to being here for you if you need us, despite our shutdown. Here are the best ways to get in touch with us:
Via our live online chat (look out for the pink 'Chat with Us' to the right of your screen) during working hours
Via email (click here to email us)
Via phone during working hours (+44(0)1908 319937)
Via Facebook (click here)
Via Instagram (click here) where you can swipe up on any story to ask us a question
Can I still order Vegan shoes?
We're afraid not. We make vegan shoes to order, so sadly we cannot process any orders for vegan shoes until we re-open.
When will you re-open?
As soon as it's safe to do so and we can't wait!
****
During this challenging time we understand that you'll be limiting your dancing to a few living room performances (and hopefully following some of the live streaming lessons out there to keep you active), but we want you to know that we're still here for you.
Finally, we would like to send our thoughts and best wishes to anyone affected by the coronavirus. For all of our followers and customers; stay safe, keep dancing (socially distantly) and much like you, we can't wait for everything to get back to normal once this nightmare ends.