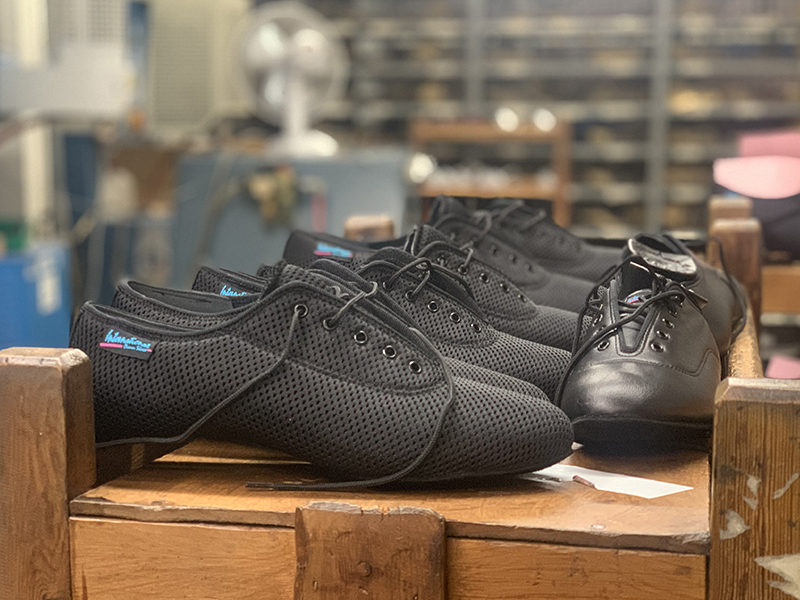 We originally closed our factory on the 25th March so we could keep our hard-working and amazing shoemakers safe at home. After a week open at the beginning of June, we closed again before getting back to work on the 6th July. With our summer break coming at the end of the July, our factory will be back up and running from Monday 10th August.
This page aims to answer some of the most frequently asked questions!
Are you still open?
From the 10th August we will be open on a three day week (Monday - Wednesday). It's a shorter week to begin with because there is a bit of a road to recovery ahead and we'll add more days as and when more and more people get back to their dance studios. It's possible to order any stock, made to order and bespoke shoes.
Our factory shop is open to appointments only and you can read more about booking appointments by clicking here. We have people in the office Monday - Friday.
How soon will I receive my order?
Our usual delivery times apply and we state that made to order shoes have lead times of 5-10 working days. Whilst we'd usually get shoes out in 5, it might be a little closer to 10 because of our shorter week. Anything that should be in stock that is temporarily out of stock we'll aim to make up really quickly for you, and we'll let you know if there are any problems.
Then the usual shipping times stated when you choose your shipping choice will apply, unless there are some delays locally (which may be the case in some countries).
Do I have a longer period to send returns?
Yes. We understand that taking returns to a local post office isn't essential travel, so we're extending our returns period to 60 days for a little while.
Importantly, for any orders sent from the beginning of March onwards, so long as the goods come back to us in the condition they left our factory, we're happy to process any exchanges.
What are the best ways to get in touch?
Some of our team are in and some are working from home but we're still committed to being here for you if you need us, despite reduced hours. Here are the best ways to get in touch with us:
Via our live online chat (look out for the pink 'Chat with Us' to the right of your screen) during working hours
Via email (click here to email us)
Via phone during working hours (+44(0)1908 319937)
Via Facebook (click here)
Via Instagram (click here) where you can swipe up on any story to ask us a question
Can I still order Vegan shoes?
Yes. Vegan doesn't actually have its own section anymore, you can select the Vegan option on the sole dropdown on any product now. They've been so popular, so replicating every product online as a vegan version would mean there'd be way too many products on our website!
Anything vegan would need to be made, so they won't be sent straight away and they are considered bespoke (non-returnable/non-returnable) so please be sure of your sizing before ordering.