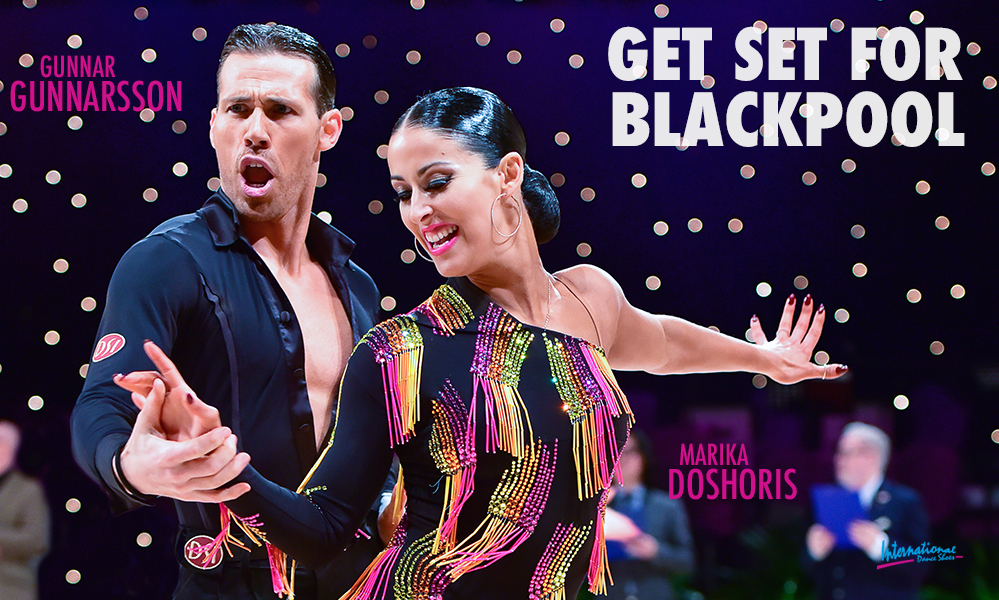 Blackpool Dance Festival is fast approaching so we decided to speak with the current Professional Latin British Champions Gunnar Gunnarsson & Marika Doshoris to get a little bit of advice on how they will be preparing for this prestigious event!
There are 2 weeks to go until the Blackpool Dance Festival. What are the most important things for you to do in the last run up to the festival?
Maintain rhythm in our lives. This is the time when the body starts to get very tired, so it is crucial not to get sick. We try to keep a decent amount of sleep and make sure that we keep the body going by staying hydrated, healthy and fit. Body maintenance is the key.
How long would you say you have been preparing for this competition?
All our lives!
We are competing regularly, so we always have to be ready to go. A couple of months before Blackpool is when we start to put the focus more on the event, but we like to have a build up to it which is why we do have a lot of competitions prior. We started our marathon on the 12th April with the Europeans, having competitions and shows, sometimes both every weekend up until Blackpool. That sounds like a good prep!
Do you see Blackpool Dance Festival as "more important" than any other competitions?
I would say the big 3 (UK, British Open and International) are generally treated as the most important competitions but personally I don't think it's good to put them on a pedestal, rather treat them like every other competition and give it 100% every time.
Blackpool tends to be highlighted for its special venue, the length of the festival and probably for being one of the most attended competition of the year, so it is special and obviously important, but every major event should be considered as important.
Will you be aiming for a specific placing or do you prefer not to think about the result?
No because again if you treat the competition as this big thing that you treat as a life and death situation you end up placing too much value on it and don't perform with freedom.
I think it is more about being in the moment, living it and loving it.
Do you think it is important to train the day before the competition or do you believe it is too late and the preparation should have been done? Yes/No & why?
Everyone is different in that sense and maybe it varies depending on circumstances but we believe in practising the day before as we feel everyday could be a day to improve yourself.
Unless we feel that we need to give a day of rest to our body prior to the comp, we would approach it as a "normal" day, so we will go to practice and do some workout to keep the momentum. We also find that it helps to do so the day of the competition if the schedule gives us time.
How important is warming up the body before competing for you? – How long do you warm up for? – Is this warming up dancing or stretching?
Essential - the warmer the body, the better. So we just try to move as much as we can.
Through dancing, stretching, exercising, whatever we feel we need on the day.
In Blackpool there can quite often be some long breaks between the rounds. How do you ensure you don't let your bodies get cold and damage them during these breaks?
We are fortunate enough to start our event in the evening. So from the moment we are on, the rounds are very close to each other.
Otherwise, making sure to wear warms clothes and compression tights helps.
What do you want from your dance shoes? – (look, feel, practicality, stability etc)
Obviously we are looking for an aesthetically pleasing appearance and most importantly rock solid stability. A supporting shoe is essential, as you want the shoe to follow your movements and not to hold them back.
One piece of advice that you would give to to our customers & followers on how to prepare for a successful Blackpool.
Practice practice practice, be yourself and stay positive! When the bodies are tired and the emotions are on a high it is so easy to get affected. Positivity is the key :)
We have been working with Gunnar & Marika for many years and feel honoured to be a part of their dancing journey. Be sure to look out for them competing in the professional category in Blackpool and give them lots of support. Gunnar will be wearing our 'Killick Klassik' with an XG Sole & Marika will be wearing our 'Mia T-Bar'. She also wears our 'Heather Split' in AirMesh for teaching and practice!
You can follow their progress through their Instagram pages by clicking here for Gunnar and here for Marika. And if you're not already following our Instagram, click here.