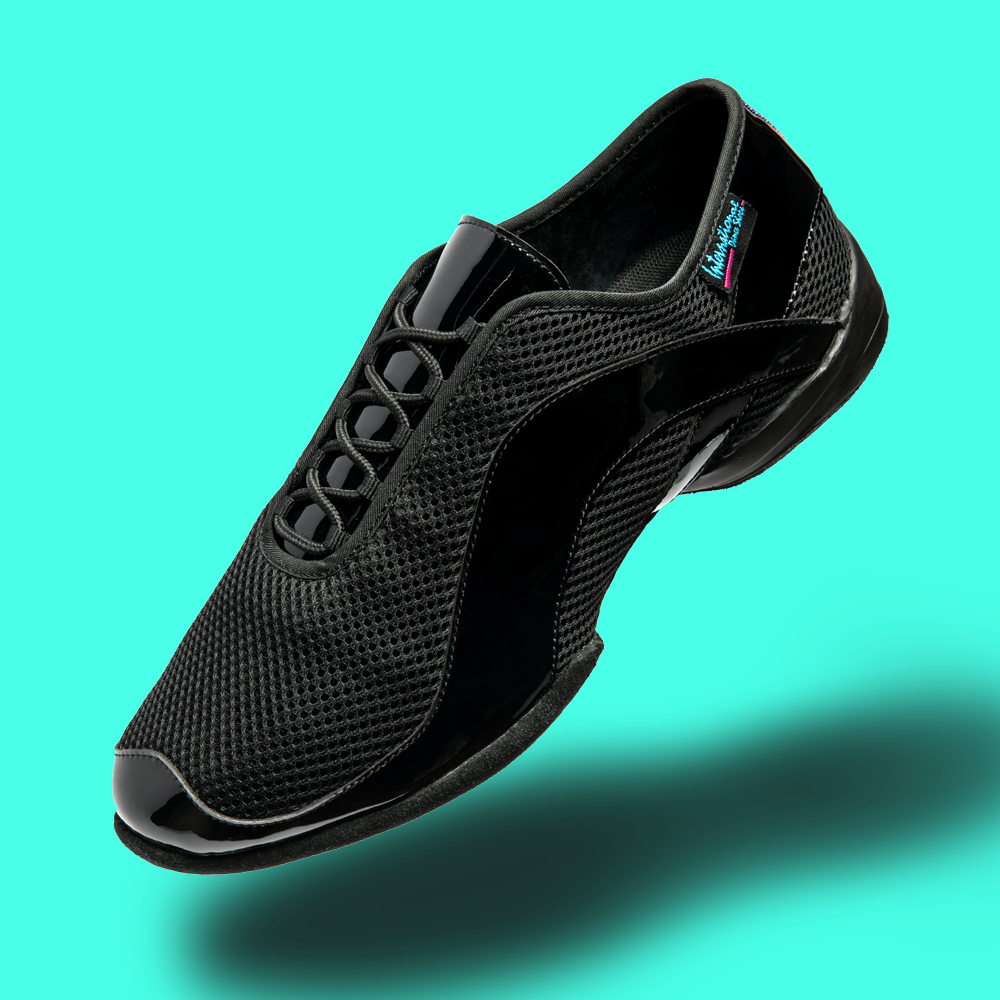 New for 2021: "TEMPO" - for both him + her
tempo is your ultimate shoe for teaching and practice, designed and engineered to keep you moving comfortably for the long hours on the ballroom floor, and all while looking every part the most stylish dancer around.
The style is available in a combination of fabrics that reflect the ballroom dance world: the ever elegant Black Patent representing the traditions of your art and our innovative, ultra lightweight and breathable AirMesh as a technical fabric to activate your next level of performance. It's sophisticated in style and technical in feel.
It's fine-tuned inside too, with a specially developed soft foam padding layered throughout the insole, with extra cushioning underneath the heel and the forefoot for the ultimate in comfort and support.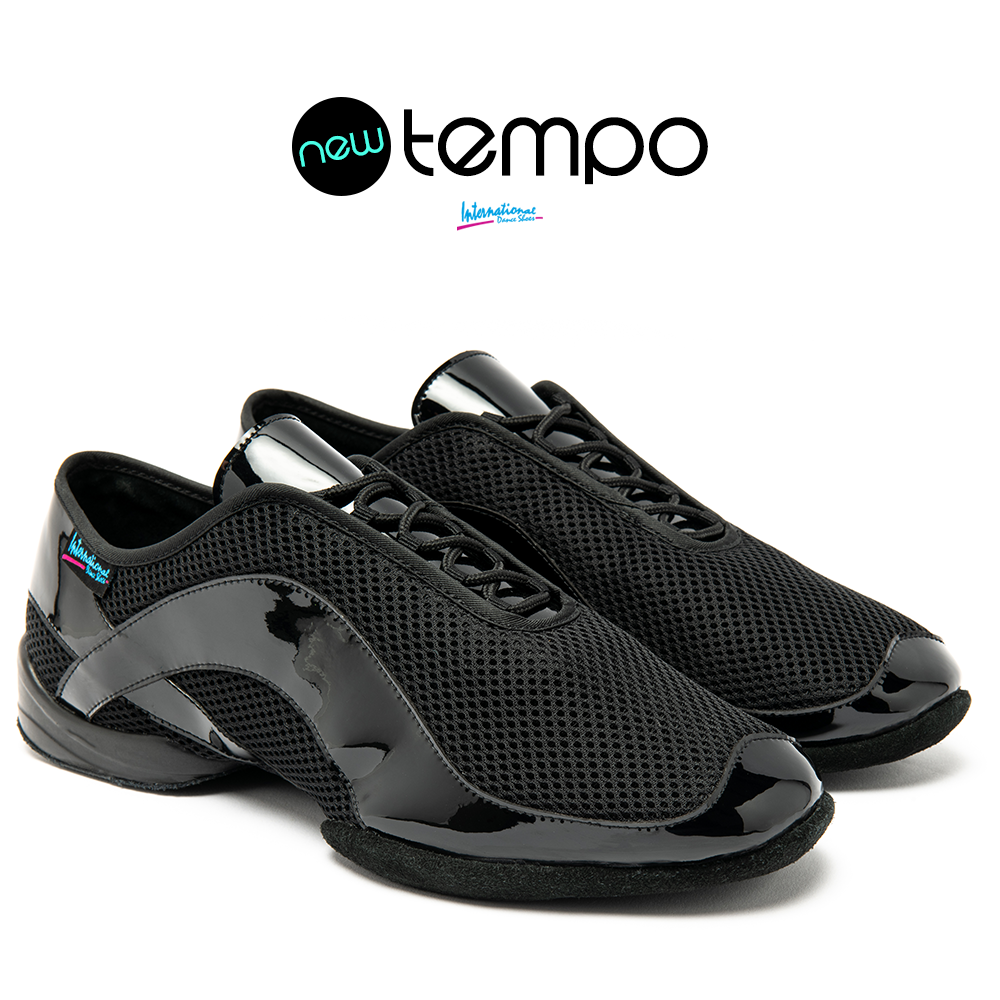 The striking design of the back highlights our famous pink and blue, and we've done this as a subtle touch because this shoe is for both him + her: it's a unisex dance shoe that ranges from size 2 (21.9cm) up to size 12 (30.4cm) in full sizes only.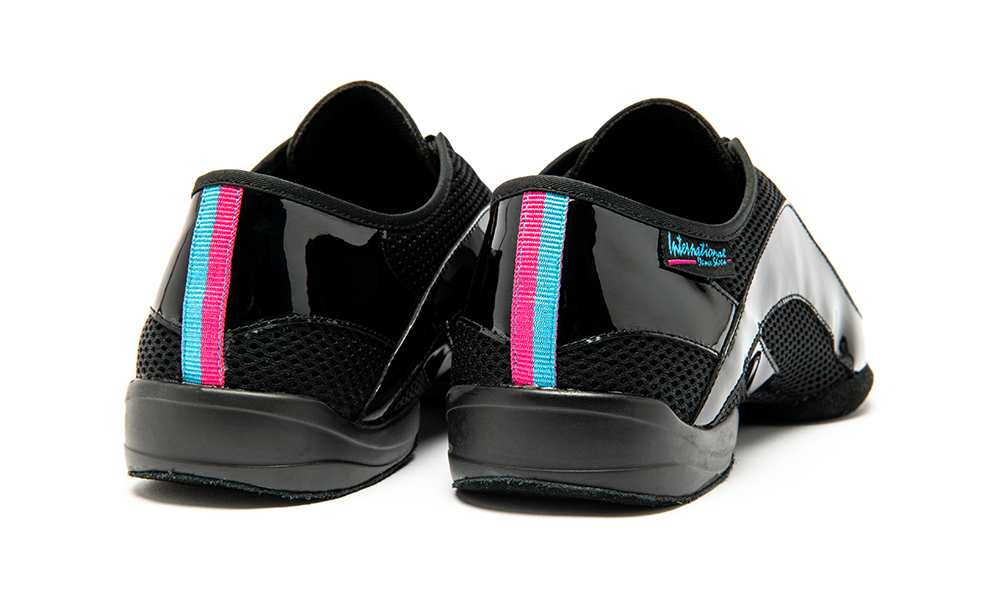 The heel is 1.5cm (0.6") in height because the longer you go, the lower you should go. A lower heel takes pressure off your body for the long hours teaching and practicing, making every step more comfortable and more supported, giving your entire body better protection.
We've designed tempo with a flexible split-sole to help you to maximise the use of your foot muscles and when teaching it can help you to really emphasise that point of the toe to your developing students. The sole is suede and the AirMesh under the arch enhances flexibility.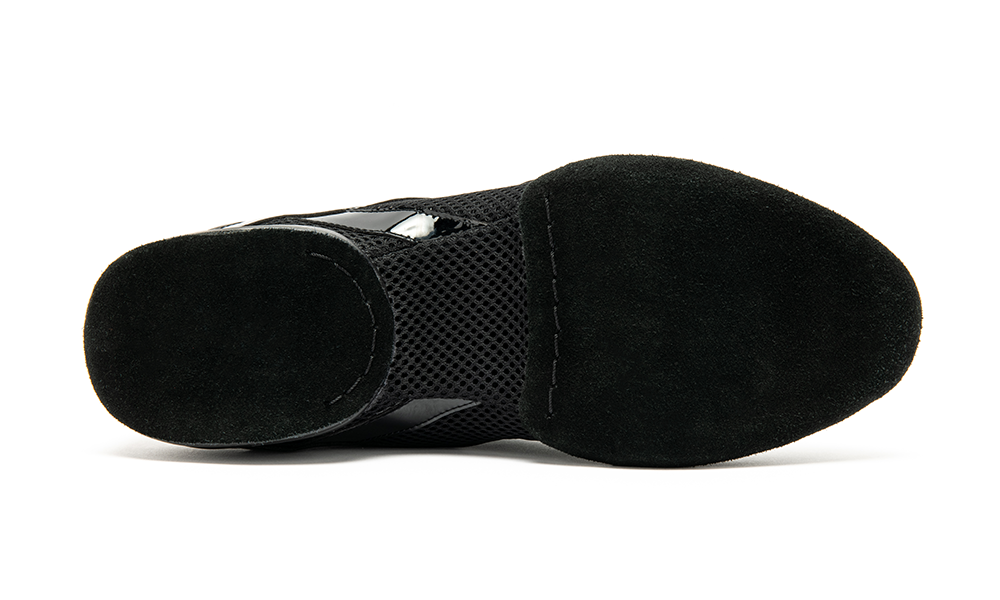 Rather than an oval shaped sole under the front of the foot, we've designed it with an indent pointing forward which means your foot is less restricted when pointing your toe - a design tweak that unlocks even better flexibility. The moulded sole design means the suede wraps around the upper, allowing you to really use the edges of your feet.
tempo is designed for both men and ladies, for committed dancers training hard to break through new levels, teachers needing a supportive and comfortable shoe for the long days sharing their unique skills and knowledge to the next generation of champions, and social dancers that want a comfortable, all-purpose shoe that looks great.
We aim to have this new design in stock from sizes 2-12 (full sizes only), and available for quick despatch.
**
New for 2021: "JAZZ" - our stylish jazz shoe
jazz is our elegantly styled jazz shoe, built with exceptional comfort which comes from using specially developed insoles which include soft foam throughout, with extra under the forefoot and heel for enhanced comfort, support and shock absorption.
It has a split-sole of suede, and the use of our ultra lightweight and breathable AirMesh fabric allows for greater flexibility, allowing you to truly maximise the use of your foot.
You can order jazz from UK size 2 (21.9cm) to size 12 (30.4cm) (full sizes only) and it is on a 1cm wedge heel. We aim to have this new design in stock and available for quick despatch.
**
For more updates and to see more about our new shoes, click here to follow us on Instagram & click here to join our mailing list!