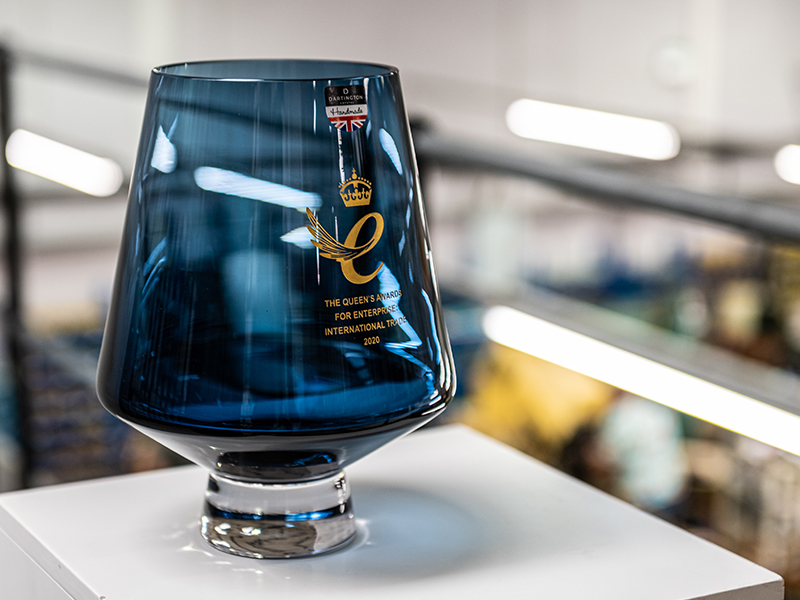 On Wednesday (14th October) we had the honour of hosting Vice Lord-Lieutenant Alexander Boswell for the long-awaited presentation of our Queen's Award for Enterprise.
The Queen's Awards for Enterprise are widely regarded as the highest accolade in British business and they're awarded to businesses for outstanding achievement and our award in the International Trade category is a reward for exceptional overseas sales growth. These awards were established in 1965 and this year we're one of 220 businesses who can proudly call themselves winners.
On Wednesday afternoon we downed tools early for the day, closed the shop and took the time to celebrate the occasion together as a team. When we were announced as winners on the 21st April, the Queen's birthday, we were in full lockdown and there were just five us in the business working, keeping things ticking over, part way through a period which saw us not make a single pair of shoes for over two months.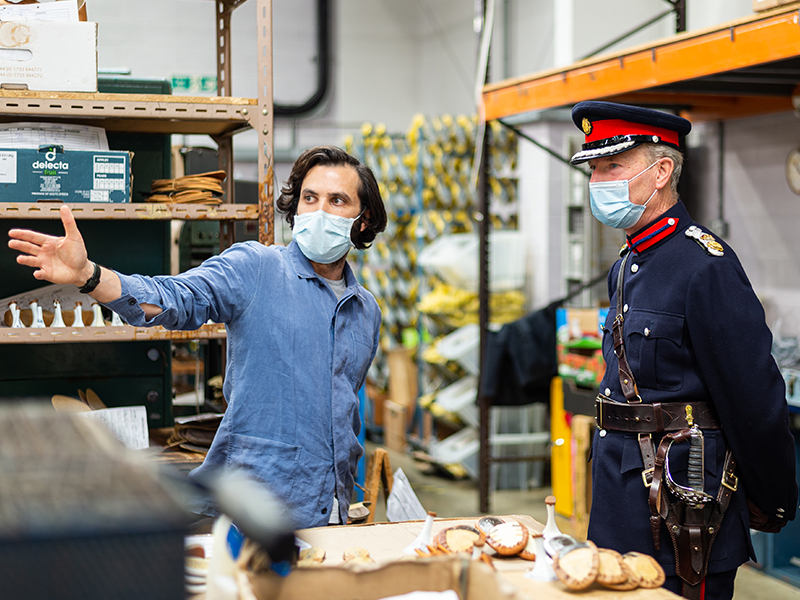 Nearly six months later, we had the pleasure of showing Vice Lord-Lieutenant Alexander Boswell around our factory, showing him what goes into a dance shoe, why they're different to most shoes and how we put them together. Here are some photos from our factory as well as from his speech and award presentation!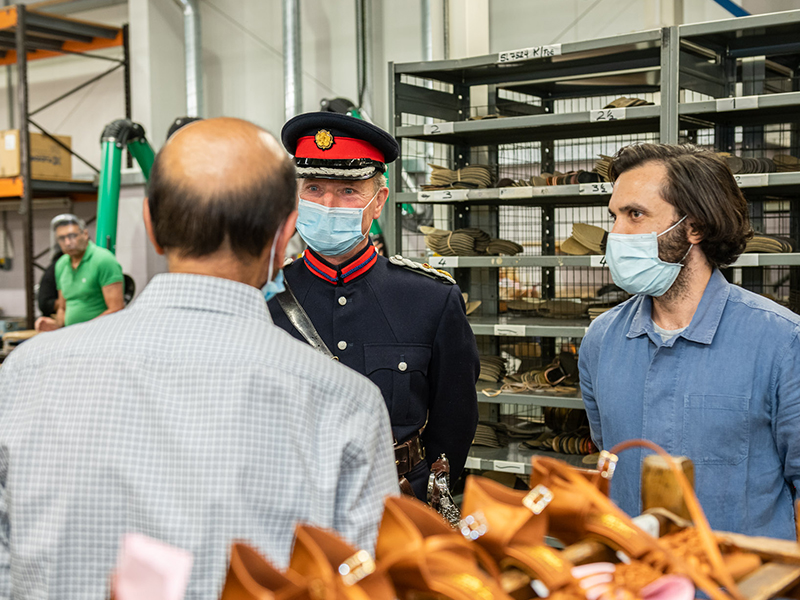 Above: Vice Lord-Lieutenant Alexander Boswell is introduced to Founder, Rashmi Patel on the factory floor. Below: Admiring the work of Mel & Melissa, our machinists sewing together the backs and vamps of our ladies shoes.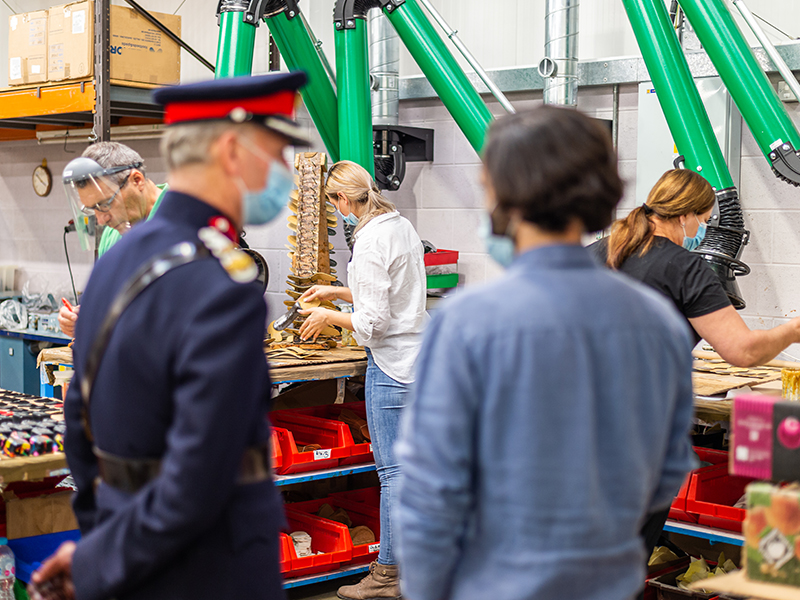 Above: Taking in the assembly of insoles and the covering of heels. Below: Discussing the first part of putting the shoe together, moulding the backs to the insole with Ioana.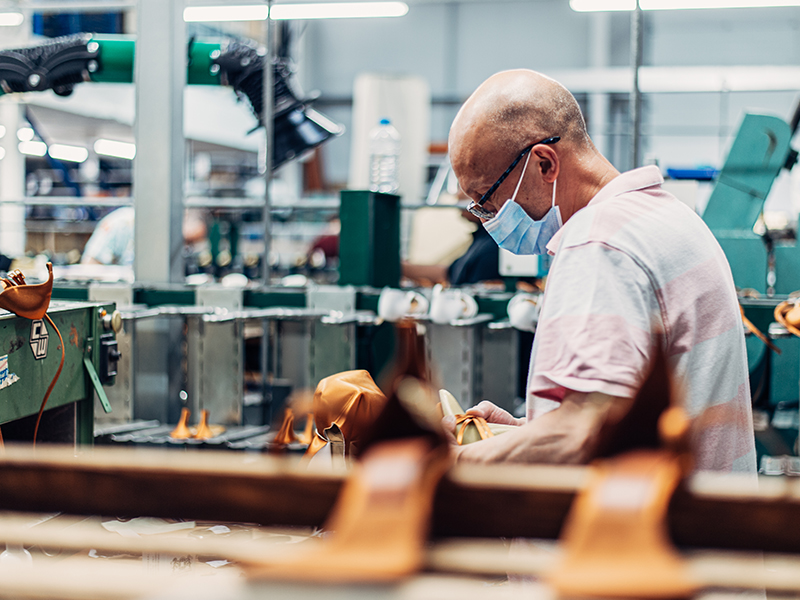 Above: David in the process of attaching the Ladies Latin vamps. Below: Kris carefully laying the suede sole onto a Ladies Latin shoe.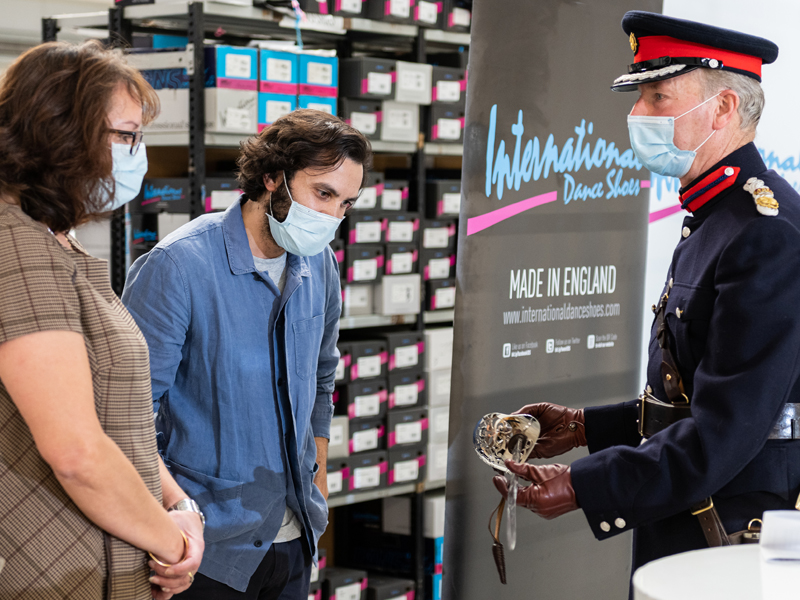 The Vice Lord-Lieutenant was happy to show off his 100 year old sword, which forms part of his uniform before addressing our team, emphasising the gravity of this award and how remarkable an achievement it is to be one of the businesses selected to win one.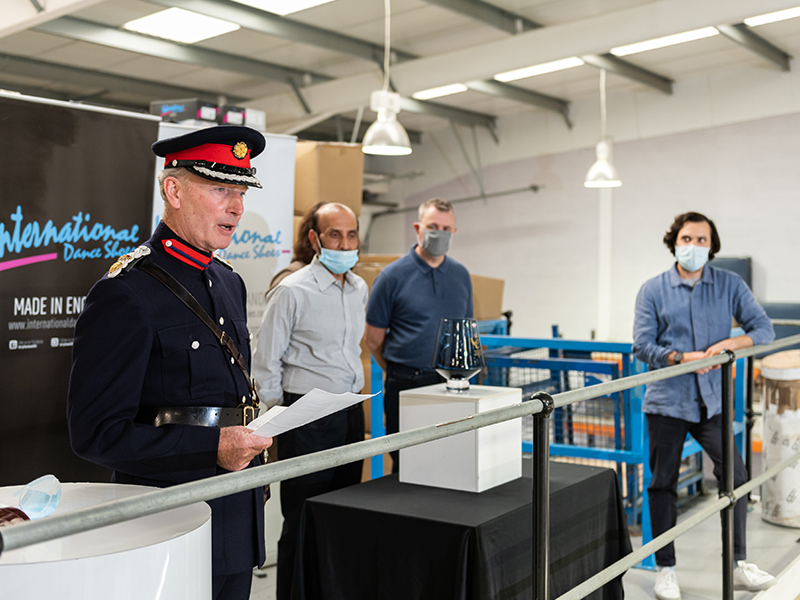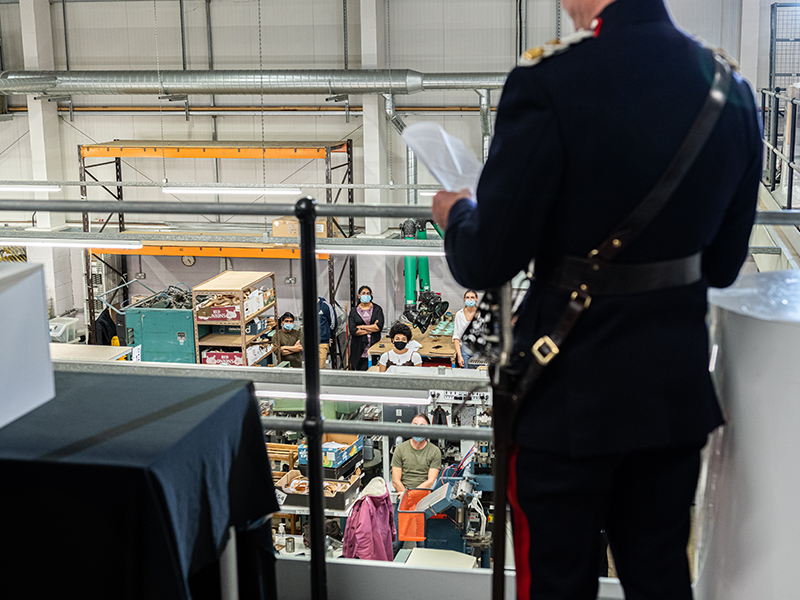 Because of Covid-19 restrictions, we could only have six of us upstairs, with most of our team downstairs on our factory floor. Other options included hosting the presentation in a room with people in the factory watching it on 'Zoom' but this was definitely the best option with everyone able to enjoy the kind words of congratulations from the Vice Lord-Lieutenant before Rashmi Patel, the founder of our business back in 1981 lifted the award! Below from left to right is Rashmi Patel (Founder/Managing Director), Julie Reccani (Company Secretary), John O'Neil (Head of Wholesale Sales), Justin Patel (Director).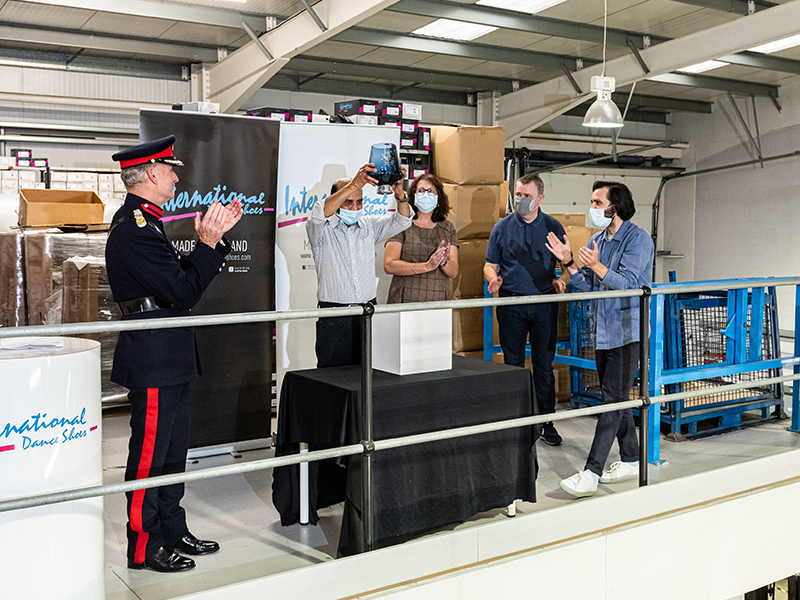 In such a tough year, Wednesday was a fantastic day to celebrate our achievement with our team all together, seen below on our factory floor. We're back working hard again with our factory open four days per week and pretty much all staff back to work now.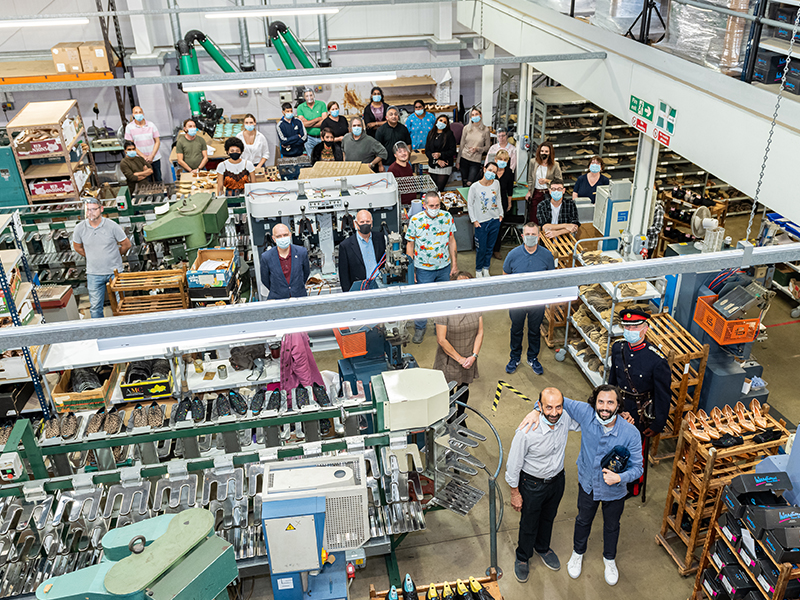 Winning this award and to have our business endorsed by Her Majesty the Queen personally is an absolute honour. The award recognises the growth in our exports to over 60 countries, with the USA, Germany, Italy, Ukraine, Australia, Japan & China among the most common destinations for our shoes.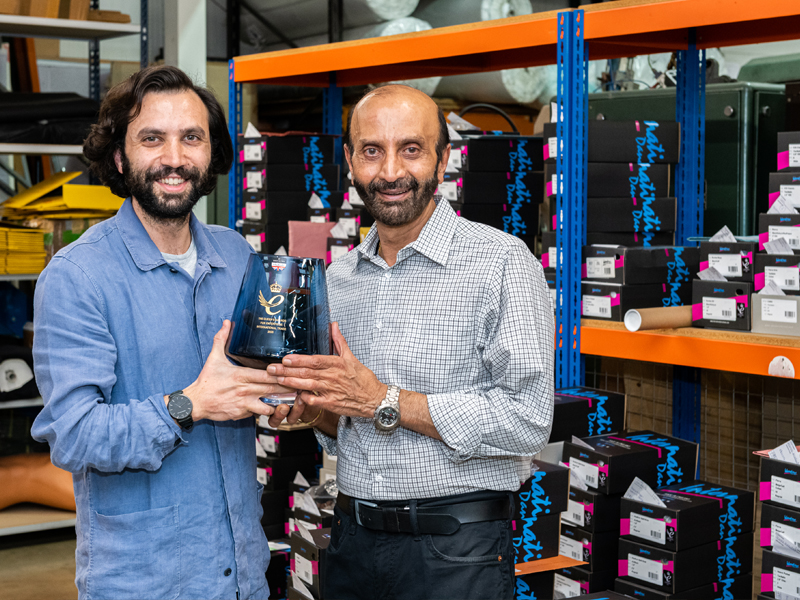 We're immensely proud to win this whilst still very much a close-knit family business. A father and son partnership with 8 members of our team of over 30 across the business having been with us for over 20 years. We opened our doors in 1981 and we celebrate our 40th birthday next year and two of those eight members of our team have been with us since day one!
We want to thank every single one of our customers around the world for helping us achieve such a prestigious honour. It wouldn't be possible without you, the dancers around the world trusting our products as your shoe of choice when you step out onto the floor.
For now, we continue to work hard as the world tries to recover from he Coronavirus pandemic which has really hurt our industry. We've kept working hard throughout this year, making sure we are always available for anyone that needs shoes around the world and we're so pleased to be back up and running. Behind the scenes we used lockdown wisely and we're looking forward to sharing some of our exciting new developments with you soon.
Lastly, take care, stay healthy and thank you very much for choosing our shoes and helping us achieve this.
Justin, Rashmi & every one of us at International Dance Shoes