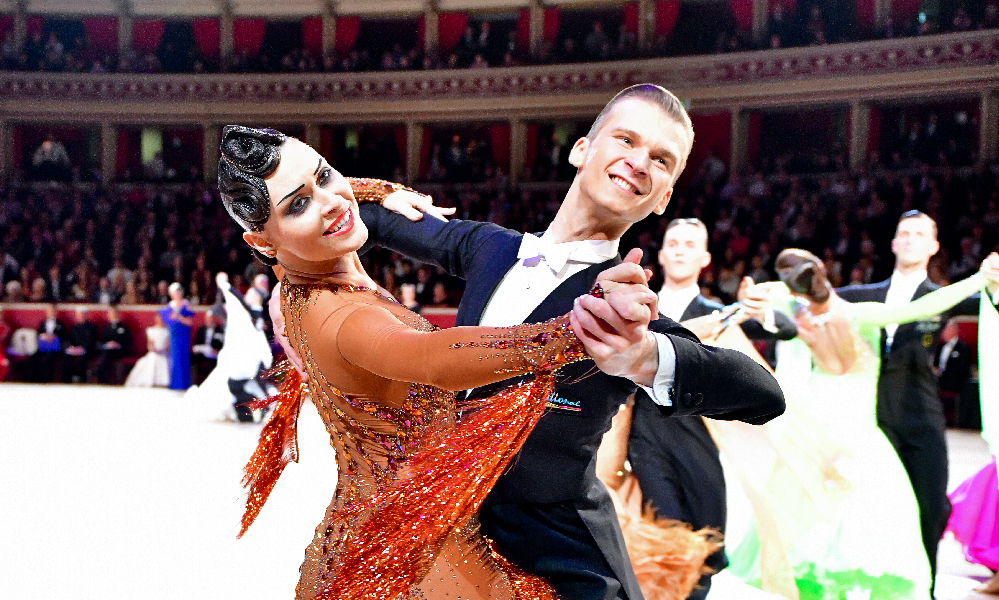 Fedor Isaev & Anna Zudilina have firmly established themselves as the leading couple in the Amateur Ballroom world with 2x UK Open Championships titles, 1x International Championships title and 1x Blackpool title within their ever expanding list of honours. Here we speak to them about their incredible achievements over the last couple of years, their Blackpool preparation and why they love their International Dance Shoes.
How does it feel knowing you've been "World Amateur Ballroom Champions" in every competition for over a year now?
Fedor: We are very pleased that we managed to achieve this result, this is a very important stage on the way to our goal! I think that every dancer from the childhood dreams to get into the final and win at least one of these competitions, and we were blessed to have won them all! This success belongs to our great team! We are very grateful to everyone who helped us! Our life has practically not changed, and we have not changed. We are still hungry and trying to use every opportunity to improve our dance!
Anna: For me, this is a double sensation, because certainly we are very happy with our achievements by this moment, and we are grateful both to the families and the teachers, who shared with us love, faith and knowledge! On the other hand, I feel a lot of responsibility! And now the word "good" becomes not enough for us!
But I am happy to be faced with all sorts of difficulties, because it makes me discover myself deeper and understand what I am!
In 2016 you were placed 5th at the Blackpool Dance Festival. In 2018 you became World Champions! What did you do to make such a huge jump in two years and overtake some fantastic competitors?
Fedor: I think our jump started a little earlier, summer 2015. I remember we estimated what we were doing, and realised that if we want to win we must change ourselves and do more! After that, we began to act much more consciously. This is the whole secret - awareness.
Anna: Because we've looked at the aspects that we didn't want to look at before.
Blackpool is three months away. Has the preparation started already? When do you start and why? What do you do to prepare?
Fedor: Blackpool is the peak of the whole year, and preparation goes on the whole season, just different aspects are being prepared at different times. Now we are trying not only to look deeper into the details of our dance, but also to look wider at the entire product. It's like a game of chess! You are not only making a move, but you are planning and seeing whole picture from the distance.
Anna: For me preparation never stops! We always work on self improvement, because I am not just a dancer, but an artist, and an artist is not only a dancer!
Do you ever feel pressured when dancing to retain the title? Yes/No & why?
Anna: Yes, of course. The title sharpens my own expectations from myself. It's harder to "forgive" yourself when you have a title!
Fedor: Yes, there is a pressure. The title comes with great responsibility. But we love to take responsibility, I like one phrase about this: "Absolute responsibility - is the absolute freedom"
Which place has been your favourite to be crowned World Champions and why?
Anna: Each place:)
Fedor: The most memorable and emotional victory for me was at the UK a year ago. It was our first victory in one of the major competitions. I remember how 10 years ago I watched the prize presentation at the UK from the top balcony and dreamed of getting into the final and winning. And last year, standing on the dance floor after the prizes, I've looked at the same balcony, where I was sitting as a child, and thought that I had never seen the Ballroom from this angle. It was emotional.
Everyone aspires to be World Champion. What advice would you give to those looking to achieve their dreams?
Anna: Listen to the best people in the field of where you want to succeed, and then do what you believe is the right way, and take responsibility for your actions.
Fedor: Dream about it, Plan it, Do it.
It's not easy, but worth it! I like how J.F. Kennedy said about the moon program: "We choose to go to the moon in this decade and do the other things. Not because they are easy but because they are hard."
How do you feel when you wear your International Dance Shoes? What are the most important aspects of the shoes and why?
Anna: I feel that I am wearing the best ballroom dance shoes in the world today. I appreciate how shoes looks, feels and how reliable they are, because it directly affects on our results, health and confidence!
Fedor: Three things: One. Comfort: To help unlock your potential. Two. Look: To perfectly complement the style. Three. Spirit: I like the individual approach and creativity of the whole team, as well as to realise that many of my favourite dancers of the past choose International Dance Shoes!
We've been working with Fedor & Anna for a number of years now and we love their professional attitude. They're humble and respective champions and we're delighted to see them deservedly lifting so many major titles and wish them all the very best at Blackpool in May. Fedor wears our 'Contra Pro' in Black Patent and Anna wears our 'ICS RoundToe', in either Flesh Satin or White Satin.
You can follow their progress through Fedor's Instagram by clicking here. And if you're not already following our Instagram, click here!