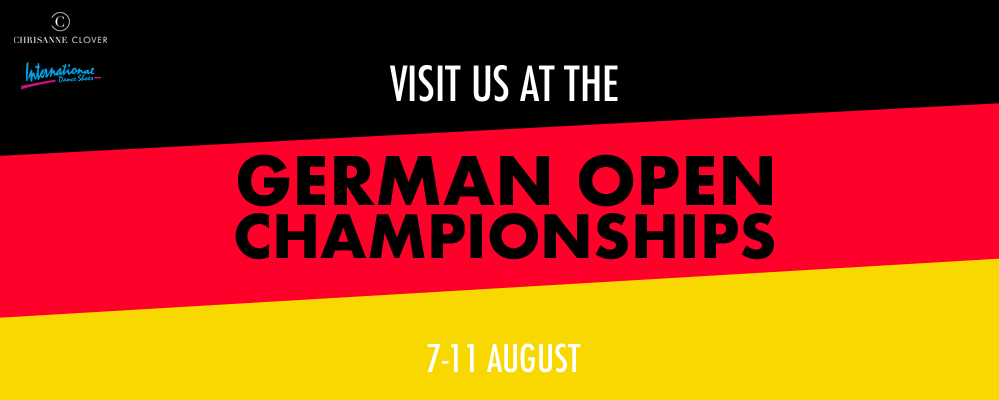 It's August and whilst we'd love to be enjoying this rare wonderful British summer, we're busy preparing for our second appearance at the German Open Championships where a fantastic collection of our shoes will be available again at the Chrisanne Clover stand.
The event runs from Tuesday 7th August to Saturday 11th August and we'll be located on the Chrisanne Clover stand which is just outside the Beethovensaal within the Kultur & Kongresszentrum Liederhalle in Stuttgart.
Our collaboration with Chrisanne Clover last year was a big success and the blend of our shoes among the exquisite collection of couture and dancewear was a wonderful combination. Whilst we'll have many new designs available ourselves, their new collections include a stunning collection with Espen Salberg and dancewear inspired by an exceptional dancer that we've both worked with; Tania Kehlet.
Of our shoes, you'll find our most popular designs for Ballroom, Latin and of course our famous, comfortable and colourful collections for Practice and Teaching. Throughout the week we'll have some special promotions running, so click here to follow us on Instagram and keep an eye on our stories during the week!
Should you wish us to take anything in particular over to Germany with us then please let us know as soon as possible! Our factory is currently closed for the summer break, however if we have stock of what you need, we'll bring it with us! Email us via sales@ids-danceshoes.co.uk as soon as possible (our stock will be leaving for Germany on Monday 30th July)!
For more information about the event and tickets, click here for the official website of the German Open.
**
Thanks for reading! We hope you've found this post interesting! If you have any questions then please feel free to get in touch! Email us at sales@ids-danceshoes.co.uk or call us anytime between 9am - 4pm (UK time) on +44(0)1908 319937.