Introducing the second shoe in our series of THE RAREST: a series of unique shoes where production will be limited to a very, very small amount. "8121" celebrates our 40th birthday! We've been hand-crafting your shoes since February 1981, and what better way to commemorate our anniversary than celebrate with a special shoe with our classic 80's colours!
To get your hands on (feet into) a pair of these, you'll have to enter a draw (scroll below). Winners will be selected at random and then invited to place an order for the shoes which must be completed within 48 hours, or the opportunity will be passed onto someone else! You're not winning the shoes, you're winning the chance to be one of just a few people in the world with the opportunity to buy them! The deadline to enter is Monday 8th March at 5pm (UK time)!
This celebratory shoe features a mix of bold pink and blue: our iconic colours. The fabric around the laces and on the tongue is actually both pink and blue - a unique, reflective glitter fabric just for our brand!
We thought the base should be AirMesh because it's a very technical material - which is lightweight and breathable. Throughout our forty years, we've prided ourselves our mission to constantly improve our shoes and AirMesh is one of the innovative fabrics we've introduced in recent years which has really taken dancing in comfort to the next level.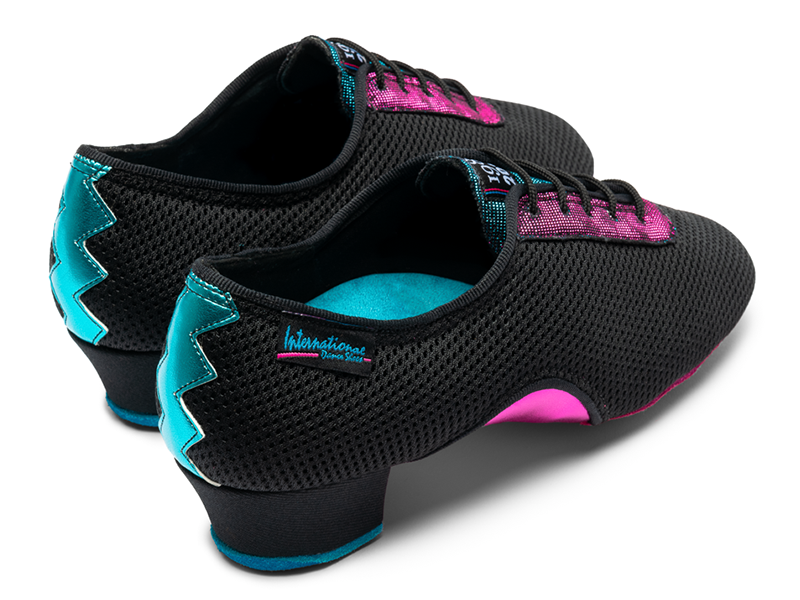 This is also the introduction of a brand new pink sole! We've been wanting to add a pink sole option for a while now, and decided that this is the perfect way to introduce it! The design also features an iconic label on the tongue as a nod to our forty years at your service.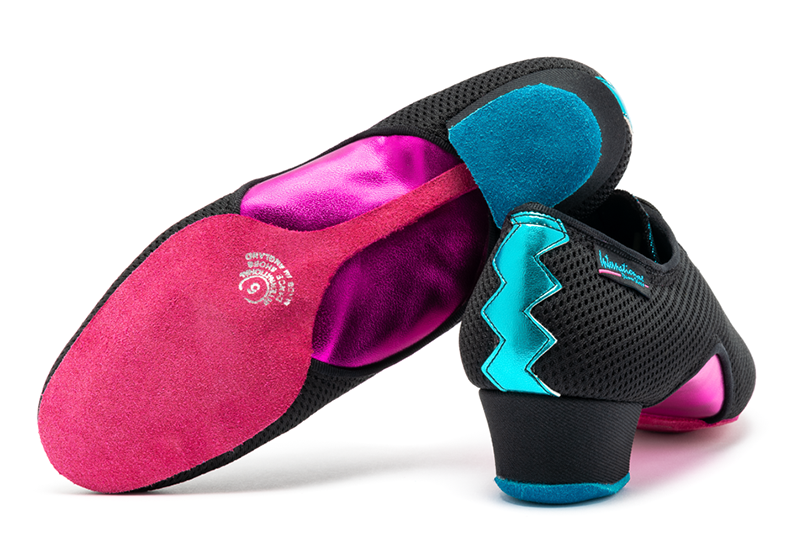 Inside, it's made just like our usual Artiste SS (and Heather Split-Sole) shoes, with padding from the back of the heel to the tip of the big toe and specially designed arch support units to provide the right support in the right place to not only make the shoes incredibly comfortable, but to also support correct foot alignment (click here to read more about our focus on comfort and health in our shoes).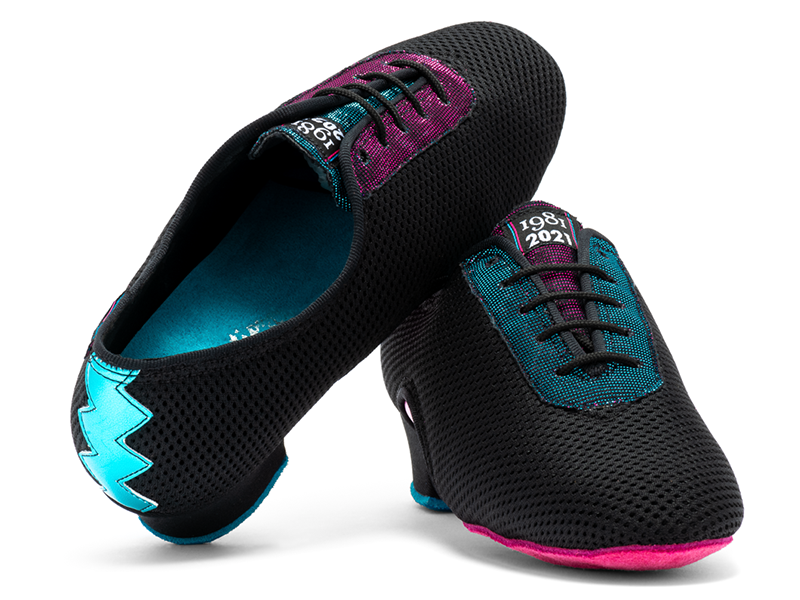 We use a soft foam lining to create a glove-like fit and there's padding underneath the heel which makes for a smoother dance and helps to absorb shock, protecting your bones during those long days in the ballroom.
To be in with a chance of getting one of just a few pairs, click on "enter now" at the bottom of this page. The deadline for entries is Monday 8th March at 5pm and we'll notify winners on the 9th March by 5pm, and winners will then get 48 hours to complete their purchase. Entering involves signing up to our mailing list, so if you're unlucky on this occasion, you'll be first to know about upcoming draws (and might still have a chance of getting a pair should any winners not confirm/make payment for their orders!).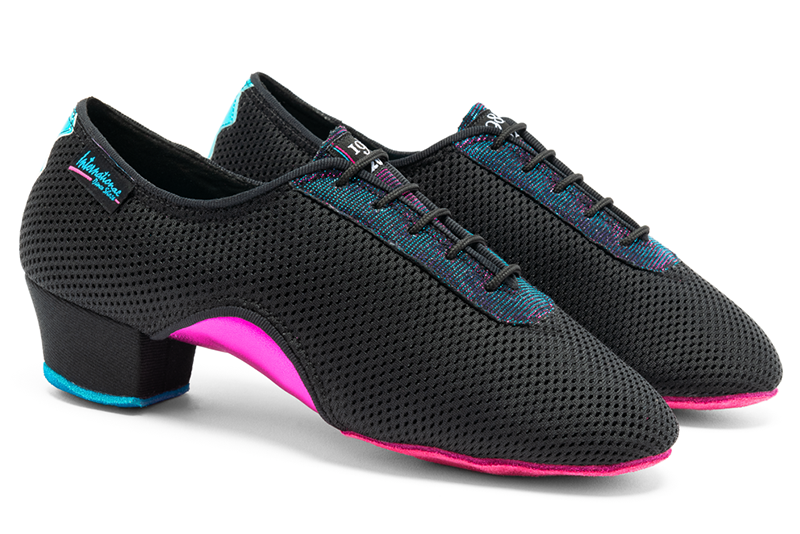 Winners will be able to choose a UK size from 2-8 and have shoes made in a regular, wide, extra wide or narrow fitting. You can choose from different sole options available too: pink and blue (as pictured) as well as black, full pink, full blue, vegan (we only have black vegan). Shoes will be considered bespoke and they will be non-returnable/non-refundable.
When winners confirm orders, the prices of the shoes will be £125 (or £104.17 if you are outside the UK) and shipping will be charged in addition. If you're in the European Union, please be aware that you will need to pay VAT to the courier (DHL/FedEx), when the goods are ready for delivery. Please note that discount codes will not be valid on orders of these shoes and payment invitations will be sent to the winners via PayPal with the shipping price included. Once paid, orders will be made up and sent within the final week of March. Good luck!

ENTRY DEADLINE HAS PASSED

PRICE: £125 | ENTRY DEADLINE: 08/03/21 5PM (UK TIME)
*
We hope you find this as exciting as we do and to be first to hear of future releases in this new series, click here to follow us on Instagram and click here to join our mailing list!