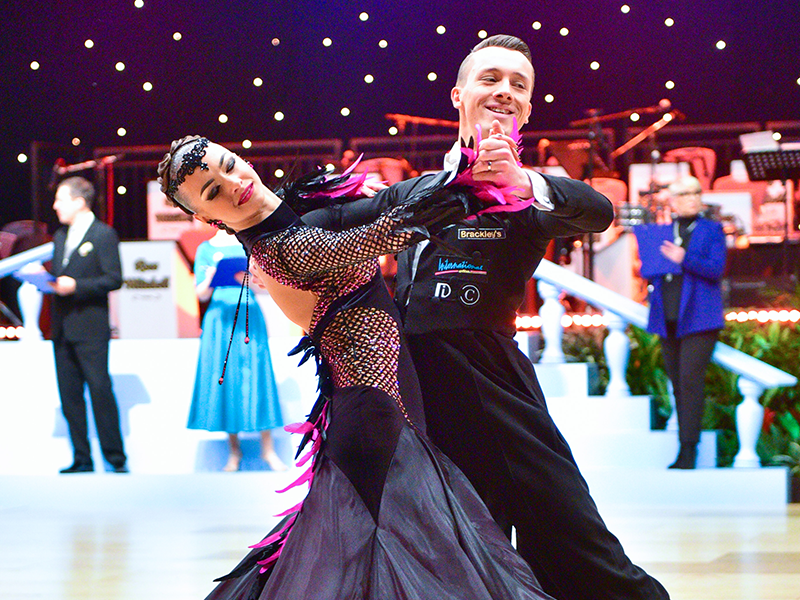 Michael & Nika Foskett have been a part of our #IDSEliteTeam of dancers since early 2019 and recently had one of the most exciting weeks of their careers: surprising us all by competing at the recent UK Closed Championships in Bournemouth as new Professionals, and despite being a Ballroom couple, entering and winning the the Professional Ten-Dance Championships! We thought we'd take the opportunity to see what's next!
How did it feel walking out on the floor for the first time as Professionals, and why did you decide to turn Professional now?
Walking on the floor as professionals felt amazing as we had only informed our teachers, family and some close friends so we knew for many watching it would be a big surprise! We also felt free without any expectations or pressure, just with the love of dancing together and performing for the audience.
Turning professional is a natural step in any serious dancer's career but the big question is the timing of when to do so. For us, having both completed our academic studies and then two years without competitions due to Covid we wanted to do one more season as Amateurs competing in each of the 'majors'. In each of these competitions we achieved our personal best results and also had some other highlights such as making the final of the Star Ball Amateur Championships in January. After this and wanting to take our career to the next stage including taking up an increased role in our family dance school Surrey Hills Dance Centre, it finally felt the right time to turn professional.
You've not competed in Latin for 8 years, why did you decide to start as Professionals as a Ten-Dance couple? Did you miss competing in Latin?
Sometimes we feel there is need to be spontaneous, free and to take interesting risks in our industry. So for our Professional debut we decided to do something that nobody was expecting, enjoy it to the fullest and remind everyone that we are great Latin dancers too! Of course we have been teaching and doing shows in Latin over the past 8 years, but as everyone can imagine, competing it after a long break is not easy. It's also worth mentioning that our original decision to stop competing Latin at the end of our Youth career all those years ago was never because we stopped loving it, but due to our time constraints. Having won the British Open and World Youth Ballroom Championships, we wanted to invest more time in our Ballroom and at the same time we were both studying at University and so we simply felt we had to prioritise, which sadly meant taking our Latin off the floor. Our Latin career was also very successful in Youth and coming back into it as professionals felt just phenomenal. We loved every second of it! We had the biggest support and love around us that made the whole experience super special and unforgettable!
.
For someone reading this that is considering turning Professional but unsure if it's the right time, what would your advice be?
We think turning Professional is a very personal decision that everyone has to make for themselves. It depends on your values and future goals as well as balancing with everything else in your life. But if you are already thinking about it, you've just got to go for it. Otherwise you are never 'ready'!
Why do you choose to wear International Dance Shoes?
We choose to wear International Dance Shoes for so many reasons! Number one is that these are by far the most comfortable but also supportive dance shoes we have ever worn. We also love the range of styles on offer and that International Dance Shoes are always innovating and putting the dancers first!
For Ballroom, Nika wears the ICS RoundToe which she has found the perfect combination of comfort, balance and style. For our Latin comeback, she chose Flavia Latin shoes and they were absolutely amazing. Michael wears Contra Pro for Ballroom and the Jones in Nubuck/Patent for Latin.
What is your biggest goal for the future as Professionals?
One of our main reasons for turning Professional was to fully embrace the next step of our dance career with regard to developing our family dance school Surrey Hills Dance Centre and sharing our knowledge and experience with our students.
Especially after this recent title of UK Professional 10-Dance Champions, we plan to take a step back from our own competitive career to focus on these other goals and train future champions! What an exciting journey ahead!
**
As they mention, Michael wears our Contra Pro in Black Patent, and wore our Jones in Black Nubuck/Black Patent for Latin, whilst Nika wears our ICS RoundToe for Ballroom and took to the floor for Latin wearing our Flavia in Tan Satin.
We congratulate Michael and Nika on what is an amazing achievement. We really enjoy working with this young couple and they are unique: both of them have degrees and are exceptionally hard-working away from the floor, with Michael having a PhD in Applied Mathematics - so they are way more than just great dancers!
There are a few mentions of their family-run school in Surrey and if you'd like to check that out, click here for the website. Click here to follow Michael on Instagram and click here to follow Nika.
**
For more updates and to see more about our new shoes, click here to follow us on Instagram and click here to join our mailing list!