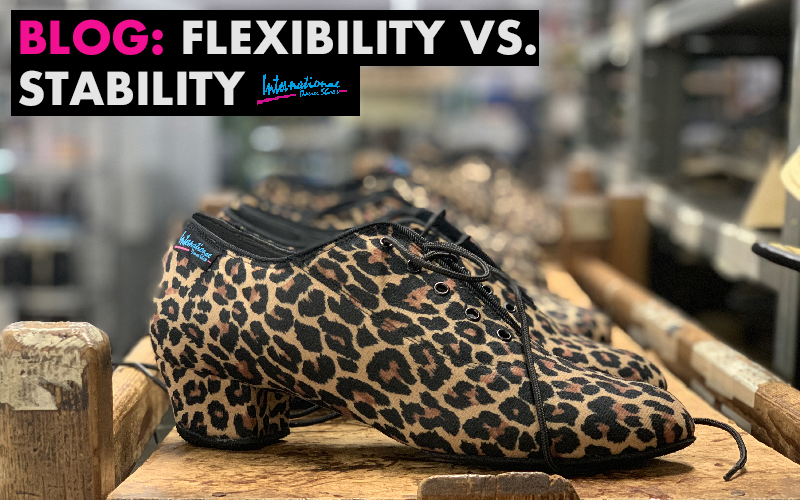 As Ballroom & Latin dance techniques have evolved, dancers will often look for more flexible footwear to maximise the point of their toe. Our advice is to also consider support!
Our original shoe for teaching and practice is called 'Heather' and it's been in our catalogue since the beginning. The idea of a teaching and practice shoe has always been: closed toe, comfortable, and on a lower heel - normally 1.5" high.
In the last decade or so, the appetite for greater flexibility has grown and with that we created our 'Heather Split', which from the outside looks the same but the insole is built completely differently and is focused on flexibility. The metal shank from the original shoe which gave a strong structure came out to allow for this enhanced movement.
When going for flexibility, the dancer often has to sacrifice that extra support for the arch. This is actually really important though and should never be underestimated.
If you've visited us at the Blackpool Dance Festival in the past couple of years, you might have noticed some artwork on display which is focused on comfort and health. Last year we spent a bit of time working with renown physiotherapists to learn more about the dynamics of the foot and what is important.
We learned that support for the arch is paramount. The good thing is that we've known this for a long time and that's why all of our men's shoes and all of our ladies teaching and practice shoes are made with specially developed arch padding units, which sit under the arch and support correct alignment for the foot.
Without arch support, arches can collapse and with this your feet can over pronate, which is firstly really painful, secondly it's difficult to repair and finally this condition can be made worse by dancing, which is not good for your long term health!
The most popular of our teaching and practice shoes is our 'Heather Split' design, which is very flexible, but one thing we discussed recently is that we've only offered our most popular materials in this design, rather than our traditional 'Heather'.
We want to push our 'Heather' more because when there are long days teaching where you don't need to point your toe so much, a shoe with the metal shank through the insole can be better for you.
Today we're adding our 'Heather' in AirMesh, Black Lycra, Leopard and Lipstick - meaning that you now have the choice of some of our most popular materials with both a flexible option and a more supportive and stable option!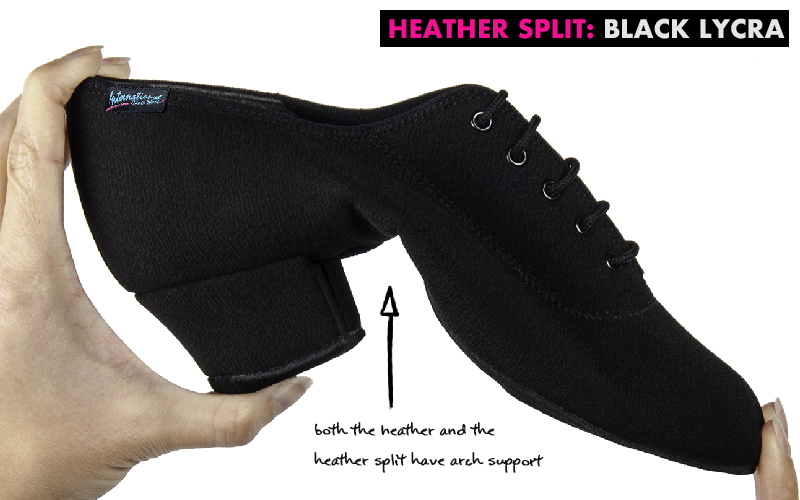 All of our shoes for ladies teaching and practice are made with other features as well to support unrivalled comfort. Layered on top of the insoles is a specially designed gel and we use a soft, foam lining which helps create a close, glove-like fitting. There is also cushioning underneath the heel, in between the heel unit and the sole material, which softens each step and this comes in very useful when you're practicing those powerful Paso steps because it helps absorb shock. We find that there are a lot of shoes out there that don't have any cushioning under the heel - you wouldn't buy running trainers with a rock hard heel so why would you wear dance shoes with a rock hard heel!
We hope you've found this article helpful. One of the things we enjoy most about manufacturing shoes is that we can be really creative not just on the outside but on the inside of the shoe too. The desire to make the very best shoes for you is at the heart of everything we do so by working with physios and closely with our suppliers, we give ourselves the opportunity to develop our shoes further to give you the ultimate in dance footwear!
**
If you have any questions at all, please feel free to email us or call us on +44(0)1908 31997.
For further updates, please make sure you sign up to our mailing list by clicking here!
Thanks for reading!