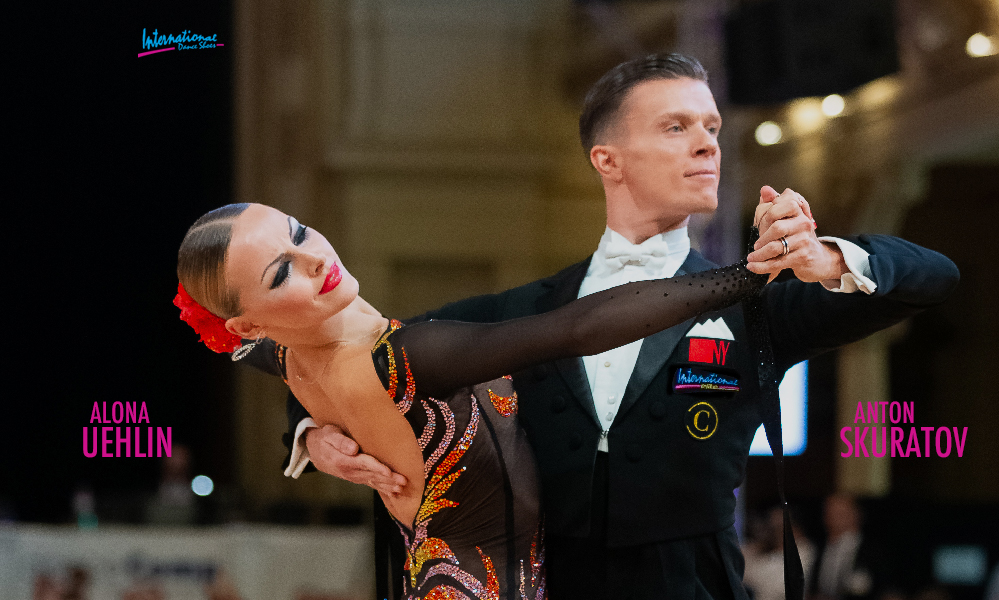 The German Open Championships are fast approaching. This is one of the biggest WDSF competitions in the year so we're catching up with one of our newly added #IDSEliteTeam couples, Anton Skuratov & Alona Uehlin, to hear how they're preparing for their home competition. We'll be at the German Open Championships in Stuttgart and would love to see you there - click here to read more about where you can find us!
There is just over one month until the German Open Championships (GOC). What are the most important things for you to do in the remaining preparation time.
Before the GOC, the most important thing for us is to stay in a positive training mode. Continue training diligently and have a big goal to reach the Final and demonstrate with a very good performance.
Would you label the GOC as the biggest competition of the year for you? Is this the one you aim towards and all the others are like a dress rehearsal?
GOC is for sure the biggest and most beautiful tournament in WDSF. It has a very nice and long history to the competition and we are very happy to dance there in our home country and in front of the audience.
How do you prepare for big championships? Do you need to change the way you train in the run up to the competition? – Increase stamina for example or do you train the same as you do all year round?
GOC is a very important competition for us, it is very nice to dance there but it is a long and therefore difficult competition. That's why we prepare very well in the run up to this event, especially in stamina.
Is there a specific diet you follow to make you better/fitter dancers? – If yes what is key?
No, we do not have a set diet. However we do always eat healthily and include lots of vegetables and fruits into our diet while avoiding to eat very fast food.
On the day of the competition, how do you prepare? – Do you have any strict routines which you must do to ensure the competition is a success?
We wake up and go to breakfast. Then Alona starts preparing with her hair and then her make-up. When we're done with everything, we start to warm up a little bit in the hotel room before making our way to the competition venue. We will of course continue our warm up routine when we arrive at the competition also.

When choosing a pair of dance shoes what do you look for in the shoe? (comfort, support etc. & why)
Both the look and comfort is the most important to ensure you perform at your very best while looking great too! That's why we love International Dance Shoes because it gives us the full package!!!!!!!
Which styles do you both wear and how do they benefit your dancing?
Alona: I really love the 'ICS SuperStar'. The shoes are so comfortable, and I have the perfect feelings in these shoes, really!!!!! I just love to dance in them.
Anton: I prefer 'Contra Pro' in Black Patent because it is a classic standard design that gives me flexibility, comfort and a nice style all in one. The Pro sole allows me to use the inside edge of my feet without the patent being sticky on the floor stopping my movement or ruining the patent.
If you could give one piece of advice to our customers and followers to ensure they are prepared enough for their upcoming competition, what would it be?
Train hard and be self-confident on the floor!! And of course, wear International Dance Shoes!!
**
Anton & Alona may be new to our IDSEliteTeam however it shows just how quickly you can fall in love with International Shoes! It is great that we have the opportunity to work with couples from both WDC & WDSF federations and support dancers all around the world providing them with comfortable and stable shoes to pursue their dancing dreams. Anton wears our 'Contra Pro' in Black Patent' whilst Alona wears our 'ICS SuperStar'. You can keep up with their progress on their Instagram accounts: click here for Anton and click here for Alona. And if you're not already following our Instagram, click here.