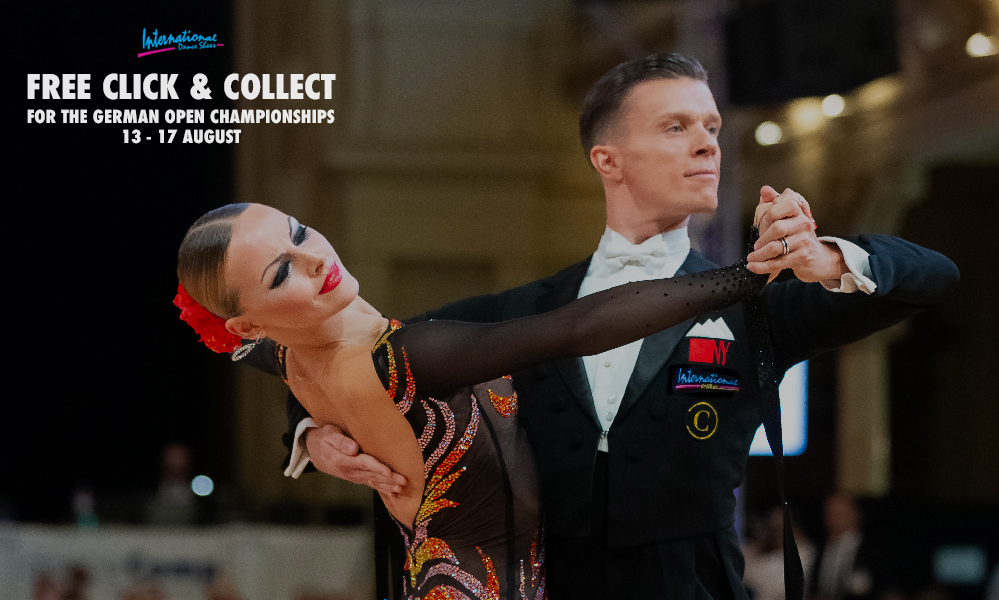 From the 13th - 17th August we'll be exhibiting at the German Open Championships in Stuttgart!
Like the past two years, we'll be teaming up with our friends at Chrisanne Clover on their stand which is just outside the Beethovensaal arena within the Kultur & Kongresszentrum Liederhalle.
Working last year with Chrisanne Clover was a big success, with the blend of our shoes among their exquisite collection of couture, dancewear and fabrics proving a wonderful collaboration. We'll have some new designs available such as our new 'Roxy' shoe for teaching and practice, which was a huge success in Blackpool.
We're offering a free click and collect service for this event so if you need to order shoes in advance then please try to place your order as soon as possible. The deadline for orders if you wish to use our free click and collect service is the 7th July.
To use the service, all you need to do is select Germany as the shipping destination and enter a German delivery address (we advise overseas customers to enter your hotel address for Germany) and then you will see the free option for collection. Select this and once we receive your order, we'll send a quick reply to confirm the collection. When you receive this, just send us a quick reply to confirm and we'll get to work on your shoes.
You'll be able to collect your freshly made shoes from our shared stand with Chrisanne Clover at anytime during the event but but please note that we close at around 5pm on the final day.
Our stand will have our latest and most popular designs available including our Contra Pro, Mia T-Bar, Lucia, ICS RoundToe SingleStrap and Rumba. We'll also have our XG Sole shoes available on some of our designs. Our colourful Limited Edition practice and teaching shoes, designed with Katya Jones will also be available and we'll also have a few new designs for you to check out too!
We can't wait to welcome you, but please note that we recommend visiting as early as possible as stock is always limited!
**
If you have any questions at all, please feel free to email us (sales@ids-danceshoes.co.uk) or call us on +44(0)1908 31997.
For further updates, please make sure you sign up to our mailing list by clicking here!
Thanks for reading!