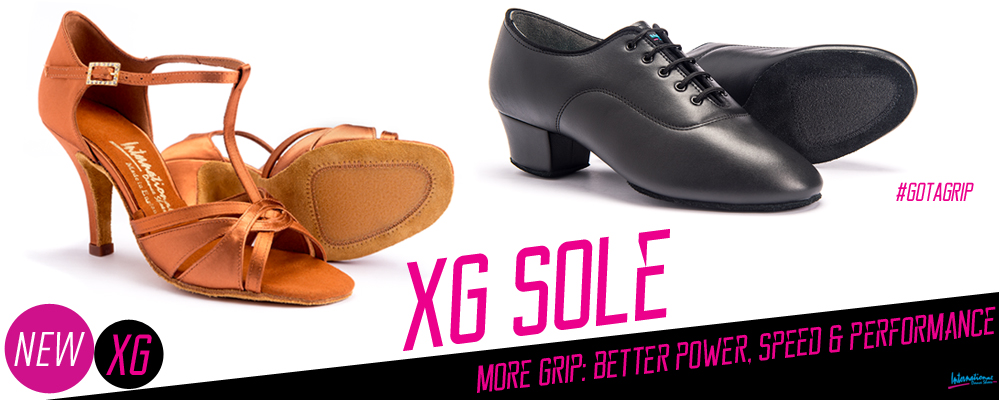 New XG Sole available Online now!
At the Blackpool Dance Festival we launched our new XG Sole design which has been developed to offer Latin dancers a greater level of grip on the dance floor.
The XG Sole is now available online on all of our Latin shoes for Ladies and Men as well as Ladies Practice & Teaching shoes! As standard, we offer our Mia XG & Mia T-Bar XG for ladies and our Rumba XG in both Black Calf and Black Nubuck for men. For all other Latin shoes, the XG Sole can be selection from the 'Sole Options' which is where you also see the options for different sole colours and our Glitter Soles. Please note that with the 'Jones' shoe, any of these ordered with the XG Sole will not have the lip sole design on the inside edge.
Our new design features specially designed flexible rubber padding embedded into the under-sole of the shoe, all flat, in the area under the weight of the big toe where dancers need the extra grip.
This design was hugely popular at the Blackpool Dance Festival launch and we were so happy to see our #IDSEliteTeam couples wearing it achieve better results in their new XG Soles! We've also had great feedback from dancers who have bought online!
The design has been developed, tried and tested with lots of Latin couples within our #IDSEliteTeam of sponsored dancers who have taken these shoes around the world over the last few months to help us create the perfect shoe enhancement - one to really give you the edge. The improved grip allows dancers to be more confident and more adventurous with more speed, more accuracy of steps and more power for greater performance.
Click the links below to view and buy online:
Rumba XG - Black Calf | Rumba XG - Black Nubuck | Mia XG - Tan Satin | Mia T-Bar XG - Tan Satin
The sole is also available as a Sole Option (+£15 / Bespoke) in the following collections (click to view):
Men's Latin | Ladies Latin | Ladies Practice
With all shoes apart from the Rumba XG in Black Calf, Rumba XG in Black Nubuck, Mia XG and Mia T-Bar XG you will need to select 'XG Sole' from the 'Sole Options' dropdown. These will be +£15 and classed as a Bespoke shoe. If you would like other designs, then please email us at sales@ids-danceshoes.co.uk.
Take a look at the below video for more images!
**
If you have any questions at all, please feel free to email us ( sales@ids-danceshoes.co.uk) or call us on +44(0)1908 31997.
For further updates, please make sure you're following us on the social media channels below!
Thanks for reading!