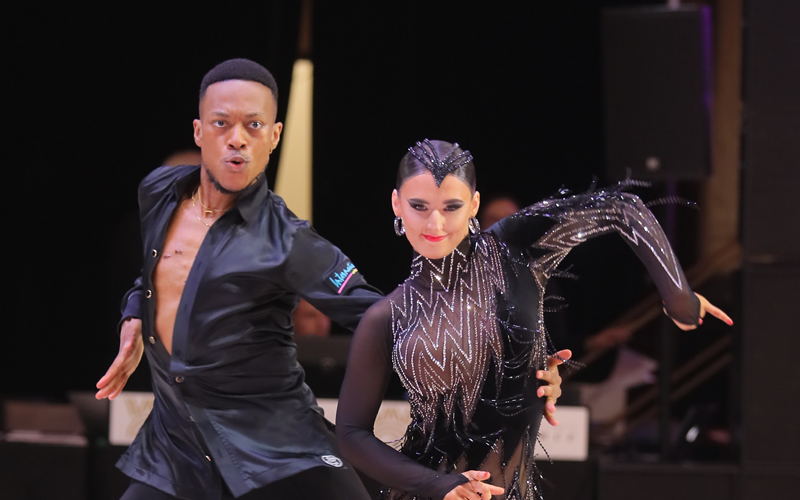 Oskar Odiakosa & Lauren Claydon joined our #IDSEliteTeam of couples earlier this year. We wanted to put together a blog post so that you can learn more about them, how they got into dance, their challenges and their aspirations! Oskar is also the first black man to be sponsored by International Dance Shoes, and brings forth numerous insightful suggestions about how we can all inspire greater diversity within the ballroom and Latin dancing industry. This interview is based on various calls between Oskar & Lauren, ourselves and The Equal Dance Initiative!
One of the questions that we always like asking other dancers is how they got introduced to ballroom and latin dancing. When we look back at some of those very first experiences, we tend to reconnect with why it is that we started dancing in the first place, as well as all of the motivations and aspirations that come along with that. How did you both get introduced to this art form? What are some of your very first memories surrounding it that led you to begin training?
Lauren: I was a very shy little girl and would always sit on the stage while my sister took her dance classes and watch quietly as she danced away. Her dance teacher was always encouraging me to start dancing and when I was 6 years old I finally gave in and took to the dance floor. My parents have always believed it is so important for children to have hobbies and something they can dedicate themselves to from a young age so I owe my determination to them.
Oskar: As a child I was never that shy ha-ha! I was very used to being on stage in various drama or theatre productions, but I first discovered Ballroom and Latin dancing when I watched it on television. What I especially enjoyed were all the lifts and tricks. For me, if I like the look of something, I immediately want to try it. I asked around my school for anyone who knew of any ballroom dance classes. Eventually I discovered JJ Dance Studios run by the multi-award-winning John Byrnes and Jane Lyttleton-Byrnes, I attended my first class at Emmanuel Church Hall and picked up the steps quite quickly and thought that this would mean eventually I could get on to learning lifts and tricks, only to subsequently learn that this was an entirely different spectre of dance altogether. However, I enjoyed learning the dances so much that it motivated me to return week after week, incidentally I always preferred the Ballroom dances.
At what point did you realize that this is something you wanted to pursue more seriously, and how did that come about?
Lauren: I got my first boy partner when I was 8 years old. I fell in love with the competitive world at such a young age and simply could not stop. I knew straight away this is something I wanted to have a serious career in and have never looked back.
Oskar: It would also have been after my first competition where I won both Ballroom and Latin events that I realised this is something I want to pursue more seriously, I wanted to enter even more competitions and had my sights set on becoming a World Champion; however, it wasn't an easy road. Being from a traditional Nigerian background, at a young age, heavy emphasis is placed on academic study, naturally my parents were concerned that I would prioritise dancing over my schoolwork (which I absolutely did!), this resulted in a lot of self-motivation and drive. Every week I would be given £20 for school lunch and I would save £5 of that to attend dance class on a Saturday, I was determined to not let anything hold me back from pursuing this dream.
When did you start your partnership? How did you two meet and actually begin training together?
We have both been at JJ Dance Studios for many years and knew each other from when we danced with previous partners. Our partnership started in 2020 after our coaches thought we would be a great match. Our first training session was a famous Friday night practice, where we improvised some choreography, from then we devised a structured plan of training and practice which we have rigidly adhered to until this day, with the guidance of our wonderful team of coaches.
Do you have any particular role models that have inspired you on your journey, either within this respective field or beyond?
Lauren: Ina Jeliazkova is a true role model of mine. I have had the pleasure of watching her dancing career from when I was a young girl. She is a true artist and is a great advocate for female empowerment.
Oskar: One of my greatest role models was and still is Motshegetsi 'Motsi' Mabuse, she was the first Black woman that I ever saw in this art form. Often when I attended dance class, practice or competitions, I am the only Black person there, therefore seeing another Black person (especially a Black Woman!) who was so successful in this field, gave me the confidence to believe in the validity of my goals and aspirations.
What are some of your personal and professional aspirations within this field, both on and off the floor?
Lauren: I would love to run my own studio one day and share the love I have for dancing with other people. Dance really is for everyone; whether you have two left feet, do not come from a dance background, or are just looking to have some fun, my studio will welcome and be accessible for anyone and everyone.
Oskar: On the floor, we would love to make the British National Latin American final and are working very hard towards this. We also aspire to travel across the world and compete internationally, our partnership is both unique and diverse and we want this to be recognised throughout the world. Off the floor, it is my dream to get more people of different diverse backgrounds into Ballroom Dancing. It is something I am currently working on and seeing great results. For example, back in 2020, I met a young 4 year old girl Ava, and her mum Ros who responded to a post I put out on social media about Ballroom dance classes. Ava started Saturday dance classes with me and eventually some solo lessons and now a year later, Ava was a finalist in both Ballroom and Latin American events at the 2020 UKA Premier National competition in Blackpool. Not many people can say they danced their first ever competition in the most famous ballroom in the world! Don't say I don't do nice things for my students!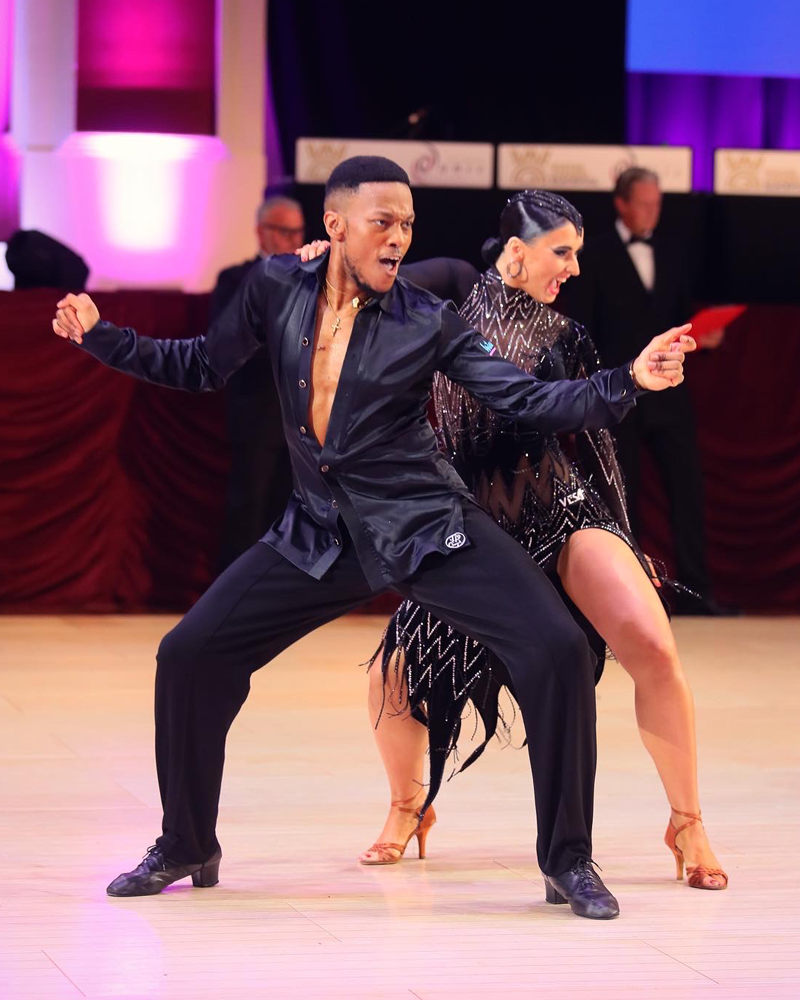 Within the ballroom and Latin dancing industry, it is fair to say that there could be much more widespread racial and ethnic diversity, not only amongst dancers, but also amongst instructors, adjudicators, event organizers, and so on. What steps do you believe participants within the industry should be taking to ensure this art form becomes more readily available to, and more widely practiced by, people of all walks of life?
This is a great point and a topic that is precious to us both, we are glad that we are able to touch on this as we believe it must be spoken about more. The main obstacle standing in the way of achieving greater diversity, is opportunity. We create opportunities by breaking down barriers and embracing change. To achieve more diversity of instructors, adjudicators etc. it really starts with the dancers, this is how you gain experience, knowledge and expertise to progress within the industry. We need to eliminate the perception that Ballroom and Latin dancing is reserved for only "certain" people, whether that be particular racial, social or financial backgrounds. It is important to achieve a sense of equity for each dancer, that means meeting people where they are, identifying their talents and strengths, knowing what resources they need individually to achieve their full potential and providing these where possible, so dancers feel encouraged to pursue their passions and don't give up because they feel they don't belong.
Another way to achieve this, is to encourage dance schools nationwide to reach out to the local community (including local academic schools) to attract a wider pool of diverse members, we would also encourage governing bodies of dance to make diversity and inclusion a priority item, the tone at the top is important and the dance community are very responsive, If this is prioritised at the highest level, we will start to see the effects trickle down, with positive changes in perception and attitude as dance schools find ways to increase the diversity of their members at all levels.
What is truly encouraging, with the return to competitions post-lockdown, is that we have observed increased diversity in competitors from medallist level through to international level, prominent industry leaders, including International Dance Shoes are recognising the importance of diversity and inclusion and taking historic steps forward to make a change. The whole dance community stands to benefit from broader diversity, whether it's from increased traffic into dance schools during a key period of recovery or welcoming new communities to the wonderful world of Ballroom dancing, everybody will gain!
Is there any advice, or are there any words of encouragement, that you would like to share with all of the younger generations of ballroom and Latin dancers?
Dancing is beautiful; however, dancing can also be tough. You may have difficult days where you start questioning everything, you may have to pick yourself up after disheartening results and may hit obstacles you think are insurmountable. However, you have also come through one of the toughest periods in our history, a period riddled with uncertainty, fear and apprehension and returned to the dance floor for one reason – your love of dance. As we mentioned earlier, always remember why it is you began dancing and what truly lights that fire within you. For us, it is touching peoples hearts and making them feel something through our movement. The feelings we experience in return are truly priceless.
Whilst you're now part of our #IDSEliteTeam of sponsors, you had been wearing our shoes previously, what made you such loyal International Dance Shoes fans?
Lauren: International Dance Shoes are the best shoes I have ever worn. They are so comfortable and ergonomically designed. I can wear them all day as they perfectly complement my feet and accentuate my leg line. Not only are they comfortable but they look exquisite and are made with such care, with the needs of the dancer at the heart of their production. International Dance Shoes are a company that truly cares about ensuring quality in their products to enhance the performance of the dancers.
Oskar: For me, International Dance Shoes have always been about style, quality and substance. I bought my first pair of International Dance Shoes over 14 years ago and of all the brands I have tried, they've always come out on top. Great care has been taken into the design of each shoe to ensure stability and comfort for dancers without compromising on the beautiful look. The versatility of International Dance Shoes is industry-leading, there is a shoe for everyone! Whether that is bespoke design to match a costume, using vegan leather to protect the environment or most recently, the introduction of the Nude Collection in collaboration with The Equal Dance Initiative, which was a personal turning point for me, as it was a recognition of the need to embrace different skin-tones and encourage diversity in dance, just a shame I can't wear them myself really ha-ha! On a more serious note, brand loyalty is built on more than just the product, it comes from understanding the company's purpose, its ethos and its values, I couldn't be prouder to be part of the #IDSEliteTeam, it will forever be one of the highlights of my entire dance career.
**
Oskar wears our Rumba in Black Calf and Lauren is wearing our Elena in Tan Satin. Click here to follow Oskar on Instagram, and click here to follow Lauren!
It was a true delight for us, alongside The Equal Dance Initiative, to work on this post with Oskar & Lauren. Some really vital topics are raised and we find it really important to that these are discussed as we all continue to strive for greater diversity in our industry. We thank them for being so open, insightful and passionate and we're all excited to have them in our #IDSEliteTeam.
This interview is brought to you by International Dance Shoes and The Equal Dance Initiative. Both companies are driven by the desire to promote more widespread racial and ethnic diversity within the Ballroom and Latin American dancing industry, and, in November 2020, collaboratively introduced Ballroom and Latin dance shoes in two additional nude colour options for people with darker skin tones. To explore this new, diverse, and inclusive nude collection of footwear, click here.
**
For more updates and to see more about our new shoes, click here to follow us on Instagram and click here to join our mailing list! To learn more about The Equal Dance Initiative and our collaboration, you can visit their website and follow them on Instagram.