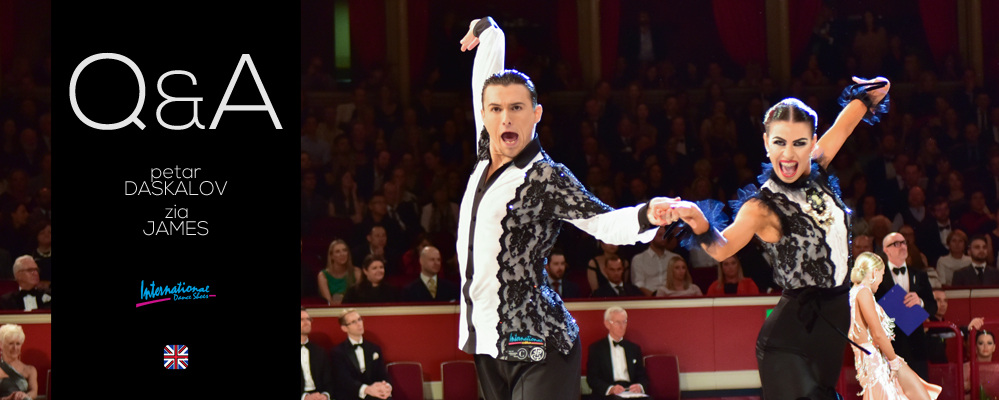 Petar Daskalov & Zia James have firmly established themselves among the Amateur Latin Elite and as part of our #IDSEliteTeam, we're featuring them in a Q&A so you can learn more about this hard-working, committed and wonderful couple!
After a busy end to 2017, 2018 has started fast with another impressive UK Open Final appearance and now attention shifts to Blackpool. How are you feeling reflecting on a great end to 2017 and a solid start to 2018?
Feeling refreshed now we'd say! We had a stressful start to the year, our unreliable car broke down on the way to the UK Open and really stressed us out but we've sorted that all out now which is a relief. We watched DSI TV after the UK and realised quite a few things about ourselves which you can't feel but only see from the outside. That started many thoughts and now we've written a whole list of things we would like to improve. This list we always bring along to Denmark when we fly back every 3-4 weeks like clockwork to work on our dancing with our main teacher and mum Lene James. So we feel ready for a new chapter.
You guys had to withdraw from Blackpool in 2017 which was really sad having made the final in 2016. The crowd in 2016 went absolutely crazy when you were called back for the Final - how did that first Blackpool Amateur Latin Final rank within your dancing career (and life) achievements?
The year of 2016 Blackpool is a year we will never forget. Even thinking and talking about it touches us still. It's absolutely the pinnacle of our career so far and an absolute honour to be able to have such an experience. Like you say, one thing was the result, which was a huge surprise, and another was to be lucky enough to receive such a reception from the audience. This was not expected and that feeling of support is overwhelming and we are humbled for that still.
The greatest achievement for us comes not from the result but from the people's reaction. If you manage to touch another person through what we do - that's the greatest achievement. And that is where we succeeded that day, the result was second to that.
In life achievements, we believe that real life and dancing life are mirrored images of each other. However, in this sense we'd like to say that our greatest achievements in life are although achieving success we have still stayed the same 'down to earth' people that we have always been.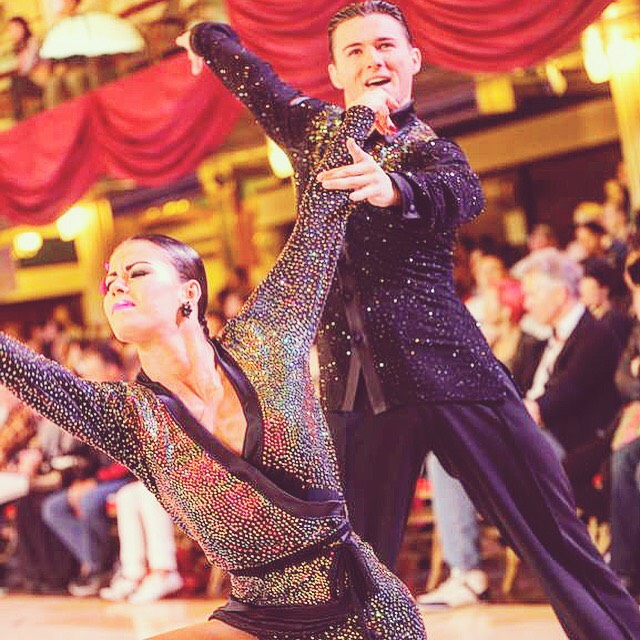 Plenty of people want to see you back in that final in 2018! So talk to us about your preparation now. February has begun and you guys are coming off another impressive UK Open so what do the next three months hold for you in terms of physical and mental preparation? Where will you be based, what sort of training will you do and how does it step up as we get closer?
In terms of Blackpool preparation this year we are doing many of the same things as we usually do. As for now we are in a development period where we allow time for the depth of understanding coordination and music and how it relates to one another. This we practice slowly and concentrated. As we get closer we will be try to rely more on the work that we have done as we start to focus on the emotional layering in our dancing. In combo with that we do my parents - Colin and Lene James - preparation camp which pushes us physically so that we have nothing to worry about once we hit Blackpool.
The camp also pushes you mentally and makes you realize how much stronger you are personally and also makes you understand the beauty in your team - the couple - US!!!
So the preparation is done in various stages. As for the first stage we are based in London and fly back to Denmark every 3-4 weeks. We have a tonne of lessons there and then go back to London to practice. Once we get closer to Blackpool we stay in London, we have no work overseas so we are mainly based in London.
Competition day in Blackpool. How do you prepare, what do you do, what do you eat?
Preparation for the actual competition day is easy. Just the normal stuff. Relax, go for dinner with our family and have a good meal - anything we fancy, no restrictions at all - and then get to bed early and drink lots of water.
Once we get to the day before the comp all the hard work is done. No stress by then, well, maybe a bit of stoning our outfits, but that's normal for us.
The only thing we do do is prepare a huge bag of food for the comp day. We will be in the Hall all day so we prepare a big bag of salads, nuts, musli bars, water etc. so we don't stress about getting out to eat on the day and we have our food bag as a fuel bag.
In what is a really strong Amateur field, which couples have impressed you the most over the past couple of years as you've made your rise?
Well it's fair to say that there is one couple in particular whom we proudly call our friends whom we have much respect for. That's Klemen (Prasnikar) and Sasha (Averkieva).
We could make a long list of things which we respect in them but most of all they are such nice and honest people and we have always gotten on well. Even way before none of us ever made the final.
Although we hate naming names as we've just done, we do however feel that it's so important to respect everyone whom you complete with. Whether you like their style or personality or not. We definitely respect all our competitors, and thank them, because without them pushing us to get better we would never have been where we are today. That's the beauty of competition.

Which couples are you closest with as friends off the floor?
As we live in London (pretty isolated) we don't get to spend much private time with other couples which is a huge shame. That's also why our Denmark trips are so important to us as well as our lessons. We have a few couples there whom we are friends with and spend time with and enjoy that a lot.
Our good friends in London are Gunnar (Gunnarsson) and Marika (Doshoris). Although we don't get to see each other much we enjoy it every time.
And no doubt you pay a lot of attention to the Professionals too - which couples do you like the most and why?
Ohhh there are many, but currently our all time favourites are Troels (Bager) and Ina (Jeliazkova). We grew up together in Denmark and with Troels and Zia being Danish and both Petar and Ina being Bulgarian, we have much in common.
We think Ina is the most amazing female dancer. She's so unique and her level of skill is outstanding. Ina never does the same movement twice because she never hears the same music the same way twice. She is truly an artist. Troels is just the perfect match. In every way. Psychologically, mentally, the whole thing. He allows her to shine yet has an amazing personality on and off the floor! Just an amazing couple and we can't wait to see them grow! We are true fans!
We also find HUGE inspiration in Ricardo (Cocchi) and Yulia (Zagoruychenko). Their professionalism in everything they touch is breathtaking. Something we aspire to a lot!!
After winning the Amateur Rising Star Latin in 2014 at Blackpool, in the Amateur competition you were placed 28th in 2015 then made the Final in 2016 - that is an incredible rise and it seems you've not looked back since. What do you think you've improved on the most over the past couple of years?
Well - hard question. Many people ask us - "So, what's your secret". And the secret is - there is no secret.
We did what our teachers told us to do. Practice hard, never give up. Don't ask yourself how you feel - just get better. We made a commitment to each other and our teachers and stuck to it.
Maybe we were lucky or maybe we just got strong enough to be able to show on the competition floor what we could do at practice all along. It's hard to say because the focus has remained the same - SIMPLY improve our dancing! That has and will always be our drive and main focus.
In the past 18 months you've competed in Paris (France), Shanghai (China), Bad Homburg (Germany), Mierzyn (Poland) and Sofia (Bulgaria). Where's your favourite place and where do you want to compete in the next 18 months?
Well from a hard question to an easy one. Our all time favourite place of in Blackpool. Nothing will ever change that.
Second favorite is the UK Open. Zia particularly enjoys the UK. Apart from that we enjoy the competition quite equally. The ones we enjoy the most are ones where we have competed before. When we know the venue, the country, the music etc. it makes us feel more at ease and we are more comfortable, therefore dance better.
What's more important, your clothing or your shoes?
Well - I guess it's an easy thing to say both - but it's true.
Shoes might be slightly more important as the shoes give you comfort but more than anything stability! If the shoes are reliable and you "feel at home" in your shoes you have created a good foundation for your dancing.
Clothing is important too. You know it from your daily clothing. If your not comfortable you become self conscious, concerned, your mind wanders to that piece of clothing all day long. So clothing must also give comfort as well and enhance your movements.
Lastly your clothes helps for the certain look of which you want to create around the couple. You can express a lot through your clothing too, which we guess Zia is quite famous for, it makes you different.
Therefore both shoes and clothes are important.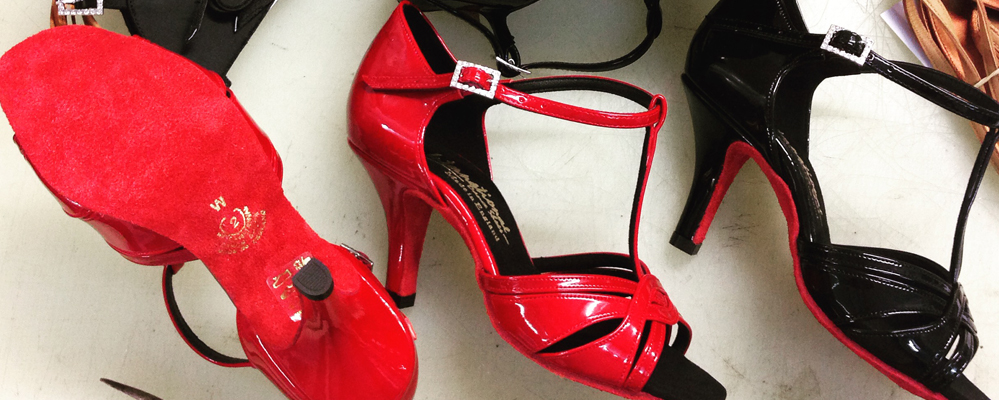 Above: Some of the customised Red Patent & Black Patent 'Mia T-Bar' shoes we've mad for Zia with a red sole.
You've worn our shoes for a while now, even going back to before the days you were part of our #IDSEliteTeam. What do you like about the shoes (and us as a brand!)?
The best part about International Dance Shoes are their comfort and STABILITY!!! And longevity.
When we were paying for shoes we hated that other shoes from other brands only lasted a few months before the ladies satin on the shoes wore off or the leather on the men's shoes wore off and the shoes in general got more loose and floppy.
International Dance Shoes keep their form and don't wear out and give support to your foot for longer.
Also in terms of ladies shoe Zia thinks that International Dance Shoes has by far the best designs. Zia likes some of the more traditional designs. Nothing too flashy just a retro classic shoe. Thats what the 'LTB' shoe is all about. Zia also used 'Mia T-Bar' for the foot to not look too blocked if wearing coloured shoes.
The great part about International Dance Shoes is that as they make all their shoes in England they can and will do ANYTHING for you. Whether you want customised red soles or you want shoes made from the same fabric as your dress or men's shoes same fabric as coloured trousers. You name it they can do anything. This is amazing and there are no limits of imagination when it comes to creating a look. They support it all the way.
The other cool thing is also how they are truly invested in dancing. Not just selling shoes. They really care and listen and it means everything to dancers to feel they have a voice.

Above: One of Zia's preferred designs, the classic looking LTB, seen here with a Red Sole & Zia's own addition of rhinestones.
Off the floor - what are you guys up to? What takes up the rest of your time and what do you do to relax?
All time away from our own dancing is spent on making money for our dancing. Zia has several cleaning jobs and we do a little teaching too although teaching in London is very limited. So we rely on cleaning and other small secretarial jobs we can find.
For relaxing Petar will be playing computer games and Zia will be watching a good film. We would like to spend more time together though - a New Years resolution we guess!
*
Petar wears our 'Rumba' design, mainly in Black Calf. Click here to view!
Zia likes to wear either our 'LTB' or 'Mia T-Bar' designs! Click here for 'LTB', and click here for 'Mia T-Bar'.
Get in touch! Petar & Zia are available to teach and perform shows and demonstrations! You can contact them via email (ziajames93@gmail.com) or click here to add her on Facebook to send a message there!
Click here to follow Zia James on Instagram!
*
Image Credits
Second image within article credit: Rob Ronda Photography (Click here)
Third image within article credit: Rob Ronda Photography (Click here)
All others Copyright owned by International Dance Shoes.
*
Thanks for reading and be sure to follow our social media channels below!