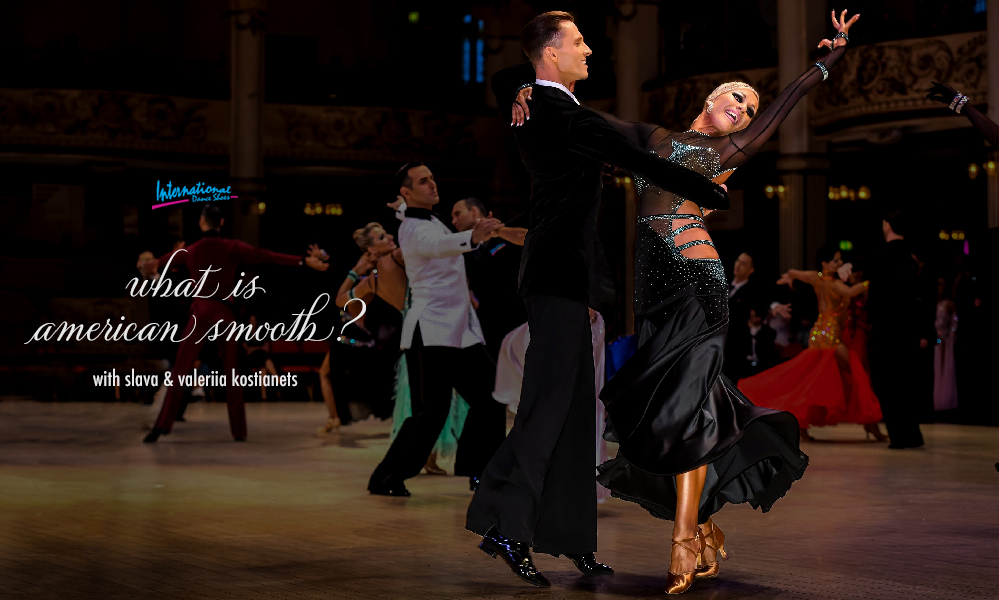 With 'American Smooth' now forming part of the Blackpool Dance Festival schedule, we know there are many people out there that don't know all that much about this growing style of dance.
We've had a collection of shoes for Smooth available for many years and we've focussed on that collection a lot more in recent years too. Now, we're also working with a few Smooth couples over in the USA and to give you some insight into Smooth, we've chatted with Slava & Valeriia Kostianets, who dance both Ballroom and Smooth, to explain some of the differences!
Which style did you originally start to learn and what made you taken on a second style?
We did Ten-Dance before we started dancing American Smooth. We love both styles and felt that American Smooth was a great combination and both and is the reason we started to dance it! We absolutely love American Smooth but we are also still dancing and competing in Ballroom internationally.
What is the main difference between Ballroom & Smooth in your opinion? And how do you overcome these differences while performing and training in both styles?
For us the main difference between Smooth and Ballroom is the frame. There are changes in the frame in Smooth which we aren't allowed in Ballroom. However, that is a beauty of the Ballroom style that all movements happen with a beautiful and stable frame.
The American Smooth style gives us this great, unique opportunity to change the type of frame and create more volume during a movement. We are happy that within our partnership, it has not been hard to deal with these differences. We really enjoy the fact that each style offers different things to develop. At the same time we have to say that Ballroom and Smooth do complement each other as the transfer of weight in most of the American Smooth figures is based on international Ballroom techniques.
So we feel very lucky to be able to dance both styles and develop American Smooth at the same time as developing our Ballroom. We think that Ballroom training is very important to be successful in Smooth.
Do you find one style easier than the other and if so, how?
Honestly we feel like it's right to say that it takes a lot of hard work for both Smooth and the same for Ballroom if we want to reach high level. In a way, we feel that Smooth has more freedom when we work on choreography so it may be easier in a way to put all of our crazy ideas on our routines! In Ballroom, we feel a lot of discipline which is great as well because it makes us stronger as a couple.
Blackpool is coming up soon and there is now a Smooth competition there! How does it feel performing American Smooth in the beautiful Empress Ballroom?
For us performing Smooth at the Blackpool Dance Festival feels absolutely great because it is history. This is the place where legends have danced and the best of the best are there. We had an incredible experience at the 2018 festival and feel so happy to introduce and represent a new style more.
We feel a big responsibility and it is very special for us also because American Smooth has just started to be in Blackpool and we are one of first couples who can show our way to the audience, our approach of the new style.
Valeria - you wear our shoes for both styles. What does the 'American Flex' shoe offer you and why do you choose to wear that over traditional Ballroom shoes for American Smooth?
I love so much the 'American Flex' model as it gives me the opportunity to point my toes in the open parts of my Smooth routines. It is very flexible, very comfortable and at the same time it is also very stable for balance when I need to create some extreme lines. I love the colour (talking about Tan Satin) because it matches with my tan colour perfectly!
The shoes also look a little bit like Latin shoes but at the same time include a closed toe which makes the shoes look very elegant and like Ballroom. I also dance Ballroom in the 'ICS RoundToe' model. I love that one for ballroom, it looks beautiful, stable and still flexible at the same time!
If you could give one piece of advice when choosing a shoe to dance the American Smooth in, what would it be?
When I choose shoes for American Smooth, the two most important things I look for is to combine flexibility with stability. I find that the 'American Flex' has both of the most important things for me.
What would you say to a Ballroom dancer who is considering taking up American Smooth?
If you are Ballroom dancer thinking to start American Smooth we can say it's a great idea. Ballroom couples have great discipline and movement. You will have a lot of freedom to develop but it is important to know which direction you want to go and where you want to progress to.
Also it is very good to bring new ideas, and being creative in a new style, but it's great to always save the original character of each dance, meaning that the audience can see that you are dancing the Waltz just from the way you demonstrate it, and not just because the music is playing.
We've been working with Slava & Valeriia Kostianets and find them a fascinating couple such is their passion for these two dance styles. They're a very adaptable couple and as one of the current generation of top couples in Smooth, will be an important couple in further growing this elegant and exciting style around the world. Slava wears our 'Contra Pro' in Black Nubuck for both Ballroom and Smooth, whilst Valeriia wears our 'American Flex' for Smooth and our 'ICS RoundToe' for Ballroom. She also wears our 'Heather Split' in AirMesh for teaching and practice!
You can follow their progress through their Facebook page by clicking here. And if you're not already following our Instagram, click here.