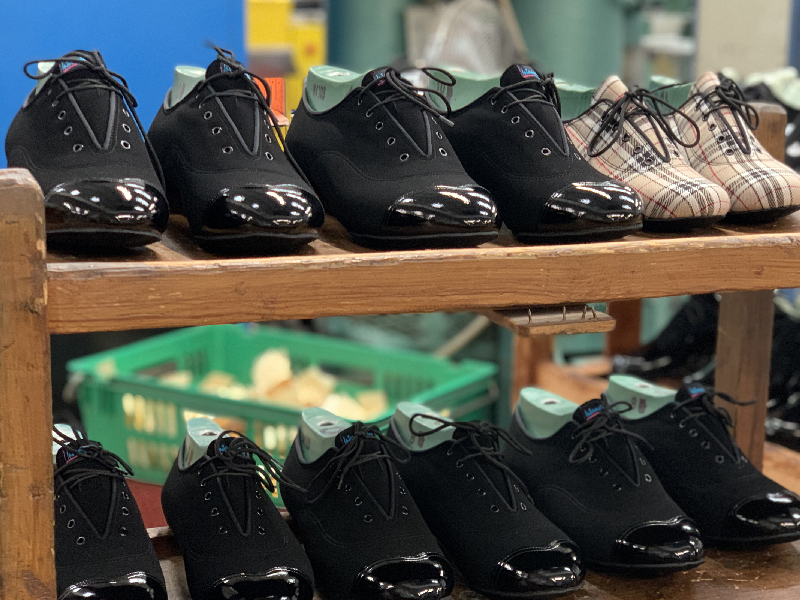 Rather than publish a new blog post for every update, find out latest information regarding Coronavirus here. Updates here include:
Our factory and office are open
All shoes available
Our factory shop is open to appointments only (click here)
16h April 2021
Factory back up to four days per week!
In June last year we re-opened for a couple of weeks to get some urgent orders out having been closed since the 26th March 2020. We then re-opened again on the 1st July, with the factory operational for three-days per week due to reduced demand as a result of Covid-19.
We had a few weeks during October/November where we were busy enough for a four-day week but with further lockdowns following Christmas, we've been back on a three-day week since then, until today!
With demand creeping back up as a result of more people getting back to dancing, our production tracks are filling up so in order to keep up orders and keep delivery times quick, we've moved back to a four-day week.
It's a big step in our recovery and hopefully things can continue to progress well!
**********
12h April 2021
Factory shop is back open by appointment only!
We're really excited to welcome visitors back to our factory shop from today! We'll be open by appointment only and you can read more about this and book your time slot by clicking here. If you have any questions, send us an email by clicking here.
See you soon!
**********
4th March 2021
Factory shop can re-open from Monday 12th April!
With non-essential retail able to re-open, we will re-open our factory shop from Monday 12th April (hopefully there are no delays!). As before, we'll be open by appointment only so that we can continue to allow you to shop in the safest possible way.
Click here to book! Or if you have any questions at all, please get in touch via email by clicking here.
**********
27th January 2021
Factory re-opens tomorrow!
We'll be re-opening the factory from 28th January! We'll have more or less our full team back, minus a couple that still have to isolate but we're excited to get back to working on your orders!
We apologise for any inconvenience arising for our short break but our teams health has to be our priority. There's plenty of work to do and all the usual lead times for made to order shoes apply again.
If you have any questions at all, please get in touch via email by clicking here.
**********
21st January 2021
Factory closed for a week!
With some staff on our factory floor reporting feeling unwell this past week and having to self-isolate as a result, we've taken the decision to close the factory for a week as a precautionary measure to protect the health and wellbeing of all of our team.
Like in all small businesses, and with some staff having been with us for over 20 and 30 years, we are very much like one big family and naturally you want everyone to be able to work in a safe environment and with coronavirus cases at such a high here in the UK, we don't want to take unnecessary risks with our people.
This week we operated without several key members of staff and it's been difficult, but ultimately the health of our team has to be, and always will be, the top priority.
We have several members of staff still in the office who will post any orders which are in stock and there will be a week delay to any orders of made to order shoes but we will communicate by the end of today with anyone who has an order currently in works with us to give an updated delivery time (and work to offer alternatives if required).
We apologise for any inconvenience this may cause, but we are sure you will understand.
**********
26th June 2020
Factory back open from Monday 6th July!
We're pleased to announce we'll be opening our factory again from Monday 6th July!
Made to order shoes are now available to order on our website again and delivery for anything made to order (and if it is an out of stock 'in-stock' shoe) will be mid-July.
We have also opened up our factory shop, though you must book an appointment in advance and you click here to read more about that.
Our factory will have its usual summer holiday over similar dates to every year (the last week of July and first week of August) so if you do need anything at all before August, we recommend ordering quickly to get your shoes first in the queue!
Don't forget that for now you can get 10% off using the discount code "KEEPDANCING" at the checkout and for every purchase you can earn dancegoals loyalty points! You can read more about our new loyalty programme here.
With a mixture of recovering demand and the traditionally quiet summer period coming up, we will be opening for only a few days per week from July, though we'll have staff in our offices working everyday. As and when demand grows, we'll increase our staff and our days at work.
Of course, like when we opened in June, we'll be following all of the new guidance to keep our staff safe! To support social distancing, working times and break times will be staggered and our factory has a one-way walking system in place. There is hand sanitiser everywhere, all staff have their own face masks and visors, and we'll be taking everyones temperatures upon arrival each morning.
To stay updated click here to follow us on Instagram, and click here to subscribe to our mailing list!
**********
10th June 2020
A busy week for us and here's what's next...
Our factory has been open with around half of our production team since last Monday (1st June) and whilst we had been planning to be open for one week, we're still open today as we did have quite a lot of work to do so firstly, thank you to everyone who's ordered shoes in the past couple of weeks!
With most dance schools around the world still not quite back to normal, the dance world is still quiet. So after today (10th June), now that we've made up all the orders we needed to get out of the door, we'll be closing again for what we hope is only a few weeks. The plan is to get back to normal in July!
It's been great to be open this past week or so and have some of our staff back in work. We've taken hygiene really seriously so it's also been a great opportunity to practice the new government guidance in creating Covid-secure working environments. We've staggered start times and break times, taken temperatures on arrival, created a one-way system around our factory and given all staff their own hygiene/PPE packs including masks, visors, hand sanitiser and gloves.
Only in-stock shoes and accessories are available on our website now and we still have some of our team in to post anything out to you. Click here to read more about shopping with us whilst our factory is not operational.
It definitely won't be as long until we re-open next so keep following our Instagram and sign up to our mailing list to be first to know when we do open back up!
**********
2nd June 2020
What's next after this week...
We welcomed around half of our team back yesterday to work on some urgent orders and having opened up our website to accept made to order shoes from the 22nd May - 1st June, we've got quite a lot of work to do so firstly we want to thank all customers who placed orders to keep us busy this week!
Right now our skeleton team are working on all orders and aiming to get everything shipped out by or around Monday 8th June. Like before, you can now only order shoes that we have available in stock so look out for the pink 'In Stock' labels across our most popular shoes on our website (click here for our In Stock section).
Once everything is out, we're going to close again for a few weeks. This is because the market is still in a recovery mode and demand isn't quite there yet. We will be open again in July, hopefully sooner rather than later and hopefully that will be our temporary shutdowns behind us but let's see how things go in the coming weeks.
More updates to be posted soon!
**********
1st June 2020
We're open!
Our team is back and we're making up the orders from the past week or so! Our website tonight will be closed to just have in-stock shoes available again! We're aiming to get all orders out by Monday 8th June before we close again for what we hope is only a short time.
**********
22nd May 2020
We're re-opening for a few days from the 1st June!
You can read the full update by clicking here. As of today (22nd May) made to order shoes are available again online until midnight on the 1st June! We're excited!
**********
11th May 2020
Still closed..
The latest announcements from the government have included encouraging people to get back to work, however we're not going to rush to re-open just yet. With dance schools around the country and across the world still not open and stringent social distancing measures still in place, there remains lower demand for dance shoes.
Keeping our website open to sell stock that is currently available on our shelves has been working out pretty well and although we're sure that there are lots of people out there looking to order made to order shoes, we think it is a bit to early for us to open up just yet. We'll post another update soon, when our plans become a bit clearer.
In the meantime we've been using our downtime wisely and have plans in place to re-open when the time comes which include being able to allow our staff to work safely and at a distance.
For now, you can shop our "In Stock" shoes (and dance essentials) by clicking here and read our FAQ's on shopping with us during this period by clicking here.
**********
27th March 2020
New website section!
Today we've created a new category which you'll find in the main navigation bar on our website called "In Stock".
Here, you'll find all of the styles that we currently have in stock for the fastest delivery! Whilst our factory is closed, we cannot make any 'made to order' shoes, so we can only offer what we have in stock. We can send anything from this section out to you within one working day.
Shop our "In Stock" shoes (and dance essentials) by clicking here!
**********
25th March 2020
Our factory is closed but we've made some helpful changes online!
At 5pm today we waved each other goodbye for what we hope is not a long time. Our production team have all gone home for now but our sales team are still very much here for you!
We've made some changes to our website which means that if you follow the pink "In Stock" icons as you navigate our website, you will still be able to order shoes because these shoes are on our shelves available for you. We can't make any 'made to order' or 'bespoke' for a while of course, but anything that you can add to your cart online will be sent over to you very quickly. 'Made to Order' shoes are still visible online, however you will only be able to add them to your wish list and not your cart.
Click here for a separate blog on shopping with us throughout this period for more information!
**********
24th March 2020
We've decided to close our factory..
Our factory will be closed from the end of day tomorrow (Wednesday 25th March).
Whilst we love making your shoes, there are some things that just matter way more.
It's really important that we do our bit to help our team follow the government advice and stay at home and we'll try our very best to push out as many orders as possible tomorrow (in a hygienic and socially distant kind of way of course).
Our sales team are still working (some from home and some from the office) so that we can still send orders, however we're also going to make a few adjustments to our website over the coming days so that if anyone needs to order anything, you know exactly what we have in stock to send you.
We apologise for any inconvenience that this will cause, however we are very sure you'll understand and appreciate this update.
**********
20th March 2020
Blackpool Dance Festivals Postponed!
The prestigious Blackpool Dance Festivals (both the Junior and the British Open) have been postponed until August. The European Championships which runs over Easter weekend, just before the Junior Blackpool Dance Festival has also been postponed and will take place in October. Full details can be found on the Blackpool Dance Festival website here..
**********
18th March 2020
Returns & Refunds on online orders
For anyone who has bought online recently and needs to exchange anything, please note that we're going to be really pretty relaxed on our returns policies for refunds and exchanges throughout this period (it's usually 28 days). Don't put yourself in danger of going to post offices to send anything back to us. Wait until a good time and we'll take care of everything then. If you have any questions about anything, feel free to email us by clicking here.
Our factory is still running and we are still sending goods to the majority of countries where our regular customers are based. Again, if you have any queries or questions, click here to email us or call us on +44(0)1908 319937.
Online Chat
During particular periods of the day you'll see a pink "Chat with us" icon on the right hand side of your screen. Our team will be available here for you if you need any advice on placing orders, have questions about fittings or anything to do with the Coronavirus. It's not a virtual assistant, it's the actual fantastic human beings that are responsible for your shoes!
Operations
As per yesterdays update, everything is running as normal here and we're all paying attention to the advice coming out of government. Stay safe!
**********
17th March 2020
There is a great amount of concern regarding the spread of Coronavirus across the world and we thought it would be a good idea to post an update on this matter.
First and foremost our thoughts are with anyone who has been affected by this outbreak regardless of where they are in the world. The most important thing right now is to ensure the health and safety of yourselves, your family, friends, colleagues and neighbours.
At this moment in time, it is business as usual for us here at our factory and headquarters in Milton Keynes, however, we have decided to close our factory shop as of today (17/03). Our production team are in and working hard to ensure your shoes are moving around our production tracks and able to ship out to you as per our usual delivery times, subject to whether there are any government restrictions on their final location. Our sales team are also fully operational within our offices too, and will remain available for you in the scenario that people are required to work from their homes. Sadly we can't make shoes at home, so we're following advice with respect to hygiene so we can keep open for the time-being. If there are any changes to our situation, we will post an update here, on our blog.
The health and safety of our team here is of paramount importance and we're taking our own measures internally to ensure the safety of our staff and we continue to monitor the advice and updates from our government.
The final thing that remains to be said is to look after yourselves. Follow the advice of your governments where you are and take the precautionary measures that are recommended to you.
Keep dancing though. Never stop that, just keep it in your kitchens and living rooms for now.
Yours Sincerely,
Justin, Rashmi, John, Julie, Sandra, Lewis, Nadia, Amy & our Production team
International Dance Shoes