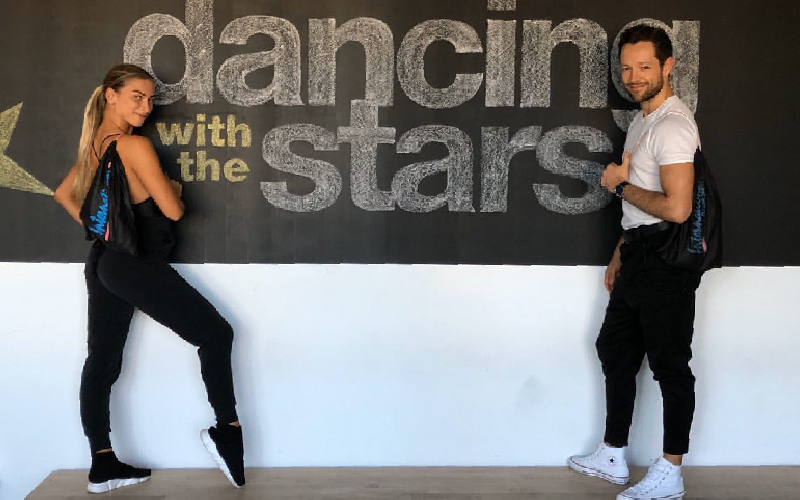 After establishing themselves as one of the most talented and adored Professional Latin couples in the world, #IDSEliteTeam couple Pasha Pashkova and Daniella Karagach were selected to take part in ABC's famous "Dancing with the Stars" over in the USA. For our UK readers, this is the equivalent to our "Strictly Come Dancing"! We decided to talk with them a bit about their transition from the competition scene to the television screen!
Would you say it was a hard decision deciding to go on DWTS meaning you will leave your personal dancing career on hold or was it an immediate YES?
When we decided to join the Dancing with the Stars cast it was extremely exciting because even though that meant leaving the ballroom competition world for the moment, it was something that we needed in our career. We will definitely miss dancing alongside some of the most amazing professional couples but for now we are loving every second of being on this show. Dancing with the Stars has given us an opportunity to develop our skills as choreographers and performers.
Do you think we'll be missing your talents and performances on the competition floor forever or just temporarily? It was the International Championships at the Royal Albert Hall a few weeks ago - how did you feel when scrolling through your Instagram feeds and seeing everyone in competition mode here in London?
As of right now, we are giving our all into this chapter of our career. We haven't decided anything yet and who knows where this journey will take us. For now, we will be performing on DWTS and then shortly after we will go on tour with the cast. We love watching the little clips we see of our competitors on social media. It helps us stay inspired.
From our awareness in the UK, DWTS is a very big deal, are you being stopped in the street and asked for selfies when you go out for a coffee/dinner now? Do you have any superfans yet (apart from us)?
We do get stopped occasionally and asked to take photos but because there are so many celebs here in Los Angeles, it's pretty normal and the public is super laid back.
Who is more popular with the public? Pasha or Dani? ;)
Both ;)
You've had to move from the east coast to the west coast. What do you love most on the west (we're guessing the answer will be the weather) and what do you miss most from the east?
We love the gorgeous weather, palm trees and sunsets. LA has the best weather and It's always sunny. We miss our family and friends back on the east coast.
Pasha, you're dancing with Kate Flannery from the US version of The Office. Was this your perfect partner and how are you finding the transition between dancing with someone as talented as Dani to someone who is a dance beginner?
Kate is the ultimate celebrity partner and is the epitome of humble. She's super easy to work with and we have a great time together. I've had a lot of experience dancing with students so I was definitely prepared to dance with a person who wasn't trained in ballroom dancing. I love teaching them from scratch because they don't have any bad habits. Dani also comes in and helps me with styling after finishing the choreo in our living room. Kate is very visual so when Dani shows her how to move, she picks it up pretty quick.
Arriving on DWTS, you've essentially reached an outstanding level of achievement within the dance world. For the young dancers reading this, what advice would you give them if they want to follow in your quicksteps?
Results don't define you. Work hard and take it one practice at a time. Whether you come in first place or don't make the final, your job is to leave a mark and to be remembered. Sometimes it doesn't take a champion to inspire others. You never know who's watching and when life will reroute you into a new direction. While you are competing, give it your all. The ballroom world has amazing qualities to offer and we learn so much from it. One day when you decide you've done your absolute best and it's time for something new, your time will come and you will shine in another light. You never know where your journey will take you, trust the process.
How has your exquisite taste in footwear contributed to your incredible rise?!
Put it this way, Dancing with the Stars provide shoes from all companies. We get to choose any brand we feel the most comfortable in on long show days and on different stages. International Dance Shoes are the most stable, have the best looking heels and are the most comfortable shoes we've ever worn or tried on.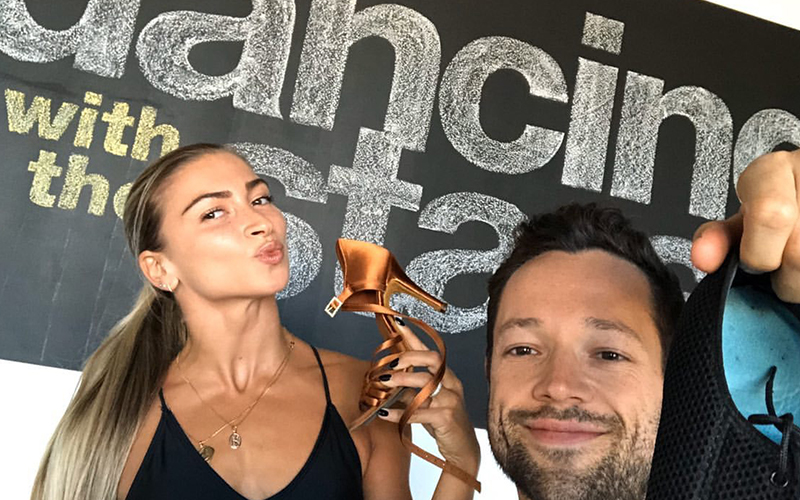 We've worked with Pasha & Daniella for coming up to five years now and Dani actually gave us the inspiration for the 'Mia T-Bar' design because she loved the 'Mia', but wanted a T-Bar. We made the first ever pair for her at the 2015 Blackpool Dance Festival! Dani still wears this design today, as well as sometimes our 'Bela' and 'Elena'. Pasha wears our 'Rumba' design, sometimes in Black Patent and sometimes in Black Calf. We're sure his favourite pair of our shoes is the pair of 'Contra' made especially for him in our 'Lipstick' print a couple of years ago! You can follow their journey on DWTS on their Instagram pages - click here for Pasha & click here for Dani and if you're not already following our Instagram, click here.
We wish Pasha & Daniella all the best on their amazing journey! Thanks for reading & we hope you enjoyed this post!