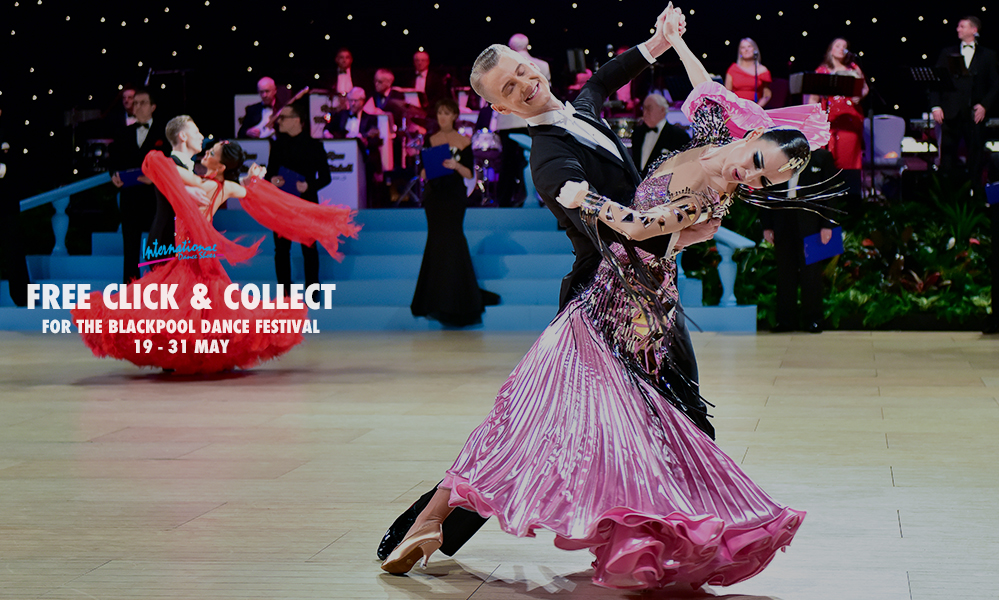 We're getting closer to the prestigious Blackpool Dance Festival and as always, we're excited to see our wonderful customers and watching some world-class dancing in the most beautiful venue of them all, the Blackpool Winter Gardens!
Dancers love a new pair of shoes for the grandest of stages so get organised and order your shoes in advance and collect your shoes from our stand for free before you step into the most stunning ballroom of them all to showcase your art in the most elegant of style!
Our free click and collect service is now available online for those that want to avoid the headaches of waiting for their shoes to be delivered, as well as save money on shipping.
To use the service, all you need to do is select a United Kingdom delivery address when ordering (we advise overseas customers to enter your hotel address for Blackpool) and then you will see the free option for collection. Select this and once we receive your order, we'll send a quick reply to confirm the collection. When you receive this, just send us a quick reply to confirm and we'll get to work on your shoes.
You'll be able to collect your freshly made shoes from our stand inside Olympia Hall area anytime from the 19th - 31st May. Click here to see our exact location for this year (which is the same as 2018, but different to previous years).
The last day to order in time for Blackpool collection is 2nd May to give us enough time to get your shoes ready for you.
Our stand will have our latest and most popular designs available including our Contra Pro, Mia T-Bar, Lucia, ICS RoundToe, Jones and Rumba. We'll also have our XG Sole shoes available on some of our designs. Our colourful Limited Edition practice and teaching shoes, designed with Katya Jones will also be available and we'll also have a few new designs for you to check out too!
We can't wait to welcome you, but please note that we recommend visiting as early as possible as stock is always limited!
**
If you have any questions at all, please feel free to email us (sales@ids-danceshoes.co.uk) or call us on +44(0)1908 31997.
For further updates, please make sure you sign up to our mailing list by clicking here!
Thanks for reading!