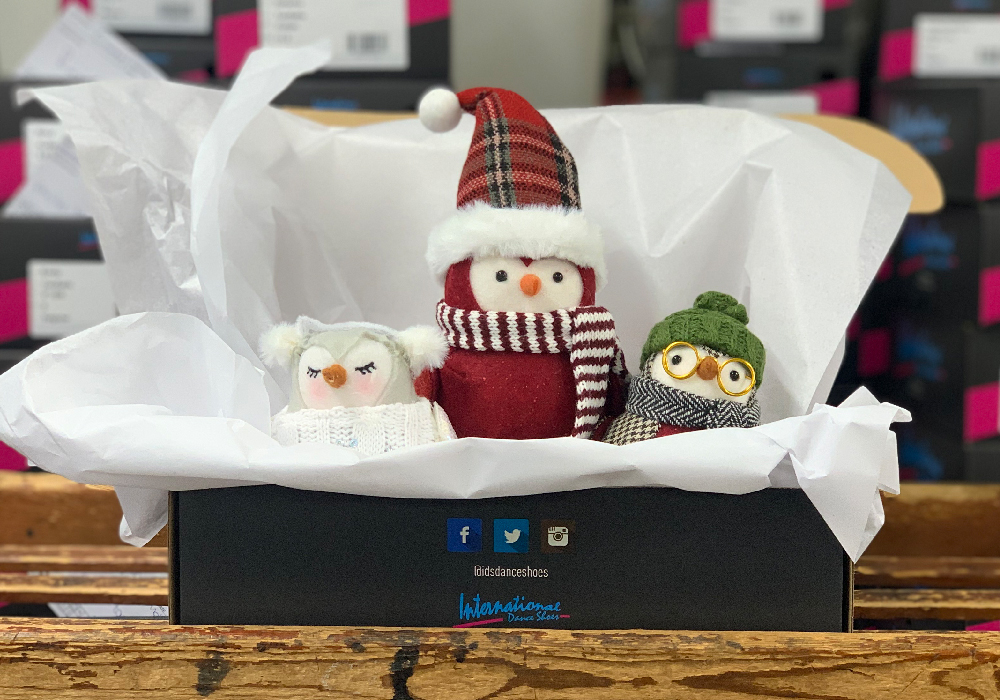 This short gift guide gives you all the information you need to spoil the little one this Christmas! If you're shopping for the lady though, click here and if you're shopping for the man in your life, click here!
Little girls only tend to need one pair of shoes in a competition which is an open toe style sandal with a Cuban heel. The most popular colour is usually White, however Tan Satin is also popular in some countries/federations. We always recommend talking to the dance teacher if you're not sure which is the most suitable colour as some competitions can have quite strict rules.
Our most popular design for girls is our 'Natasha' which features a buckle on the front which can help expand the shoe to a wider fit as well as tighten it for a narrower, more snug fit. It's available in both White (seen in the middle of the photo below) and in Tan Satin.
We've had quite a bit of fun recently with our 'Natasha' with several creative dancers asking for it in different colours including our 'Lipstick' (seen below) print! We thought it looked amazing so we made up another pair to get it photographed and made available online and you can find that by clicking here!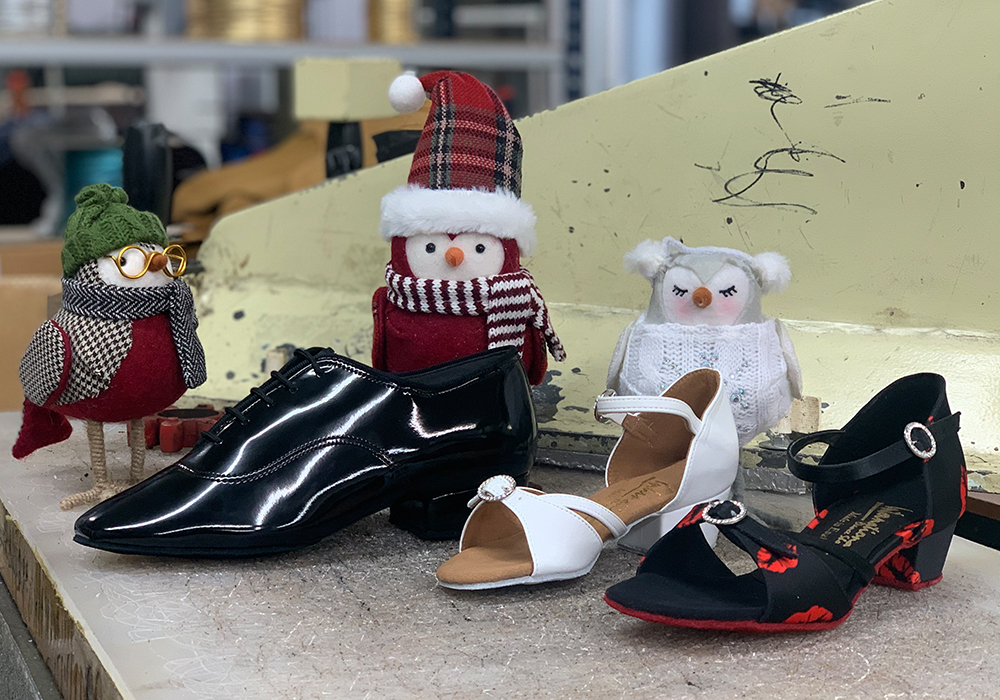 Boys dancing competitions usually use two different pairs of shoes. The tradition is Black Patent, with a 1" heel for Ballroom and Black Calf, with a 1.5" Cuban heel for Latin.
Our 'Boys Contra' in Black Patent (seen in the above photo) comes with a split-sole giving endless amounts of flexibility while the 'Boys Tango' consists of a full-sole providing stability and greater amounts of support to the young dancer. We offer the flexible 'Boys Contra' from a size 3 because we can't underestimate the value of support for the bones of the younger dancer, so the more stable 'Boys Tango' begins from a size 1.
A similar principle applies to Latin where we make the 'Boys Tango' in Black Calf on a 1.5" heel from a size 1 and then a flexible 'Boys Rumba' in Black Calf from size 3.
We appreciate that the kids feet can grow fast and that can mean needing to buy more shoes more regularly. To make life more affordable for beginners and parents with dancing children, we created our Dansport collection which has children's shoes available from £36 (seen below). Click here to take a closer look!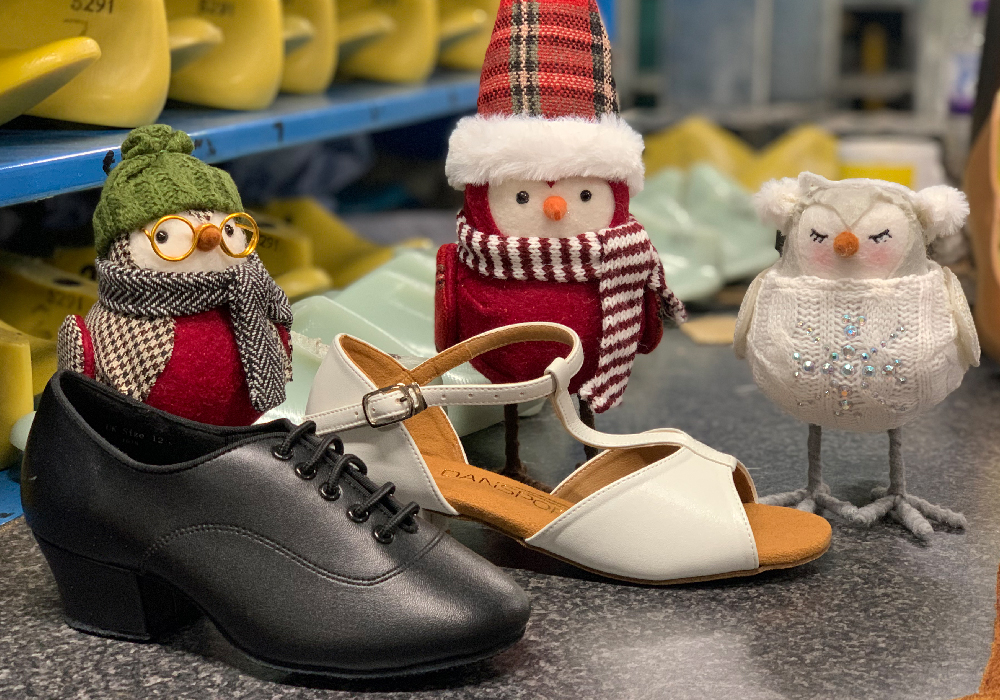 STOCKING FILLERS FOR UNDER £15 & GIFT SETS!
Away from shoes, there are plenty of stocking filler ideas too! A Shoe Brush (£7.50) is an absolute essential for any dancer as they help to clean and condition the soles.
A Children's Kimono (£12) is perfect to keep the competition dancer warm in between rounds and protect the lovely outfit she's competing in!
Sliders (£12) are ideal for after practice, in between rounds and of course on holiday and they start from a European size 35 (which is a UK 2.5).
We also have Gift Vouchers!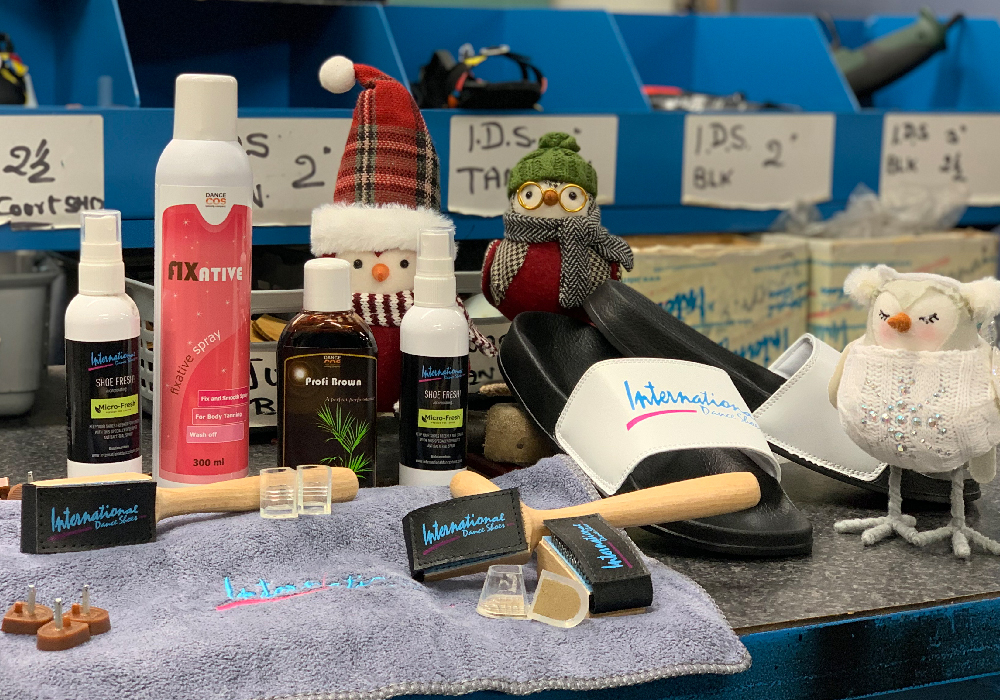 We hope you've found this gift guide useful and if you feel as though you need to know more, feel free to send us an email or contact us via Facebook! Don't forget to follow us on Instagram too!