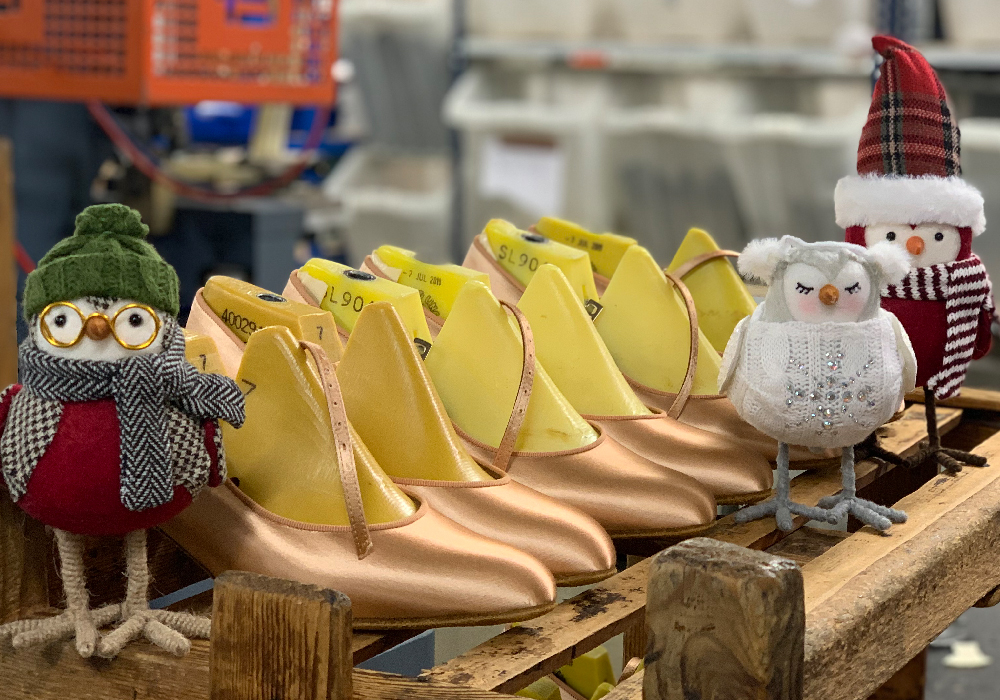 This short gift guide gives you all the information you need to get that perfect gift for your most important lady! If you're shopping for him, click here and if you're shopping for the kids, click here!
For Ballroom dancers we recommend the 'ICS RoundToe SingleStrap' in Flesh Satin (seen above and below). The diagonal strap offers the additional security and support to give you the very best confidence on the floor. Some girls prefer to go without a strap, although those tend to be some of the world's leading dancers who are encouraged to be seen by judges dancing without the need of a strap – however we always recommend a strap if it makes the dancer feel more comfortable. For those that want the strapless look but want a bit of extra security, our Clear Foot Straps can help!
Flesh Satin is the most popular colour for Ballroom and the most popular heel types are the 2" & 2.5" IDS heels as they're in a flared shape, meaning they have a larger surface area connecting with the floor meaning greater balance and stability. The shoe in the photo below is on the 2.5" IDS heel.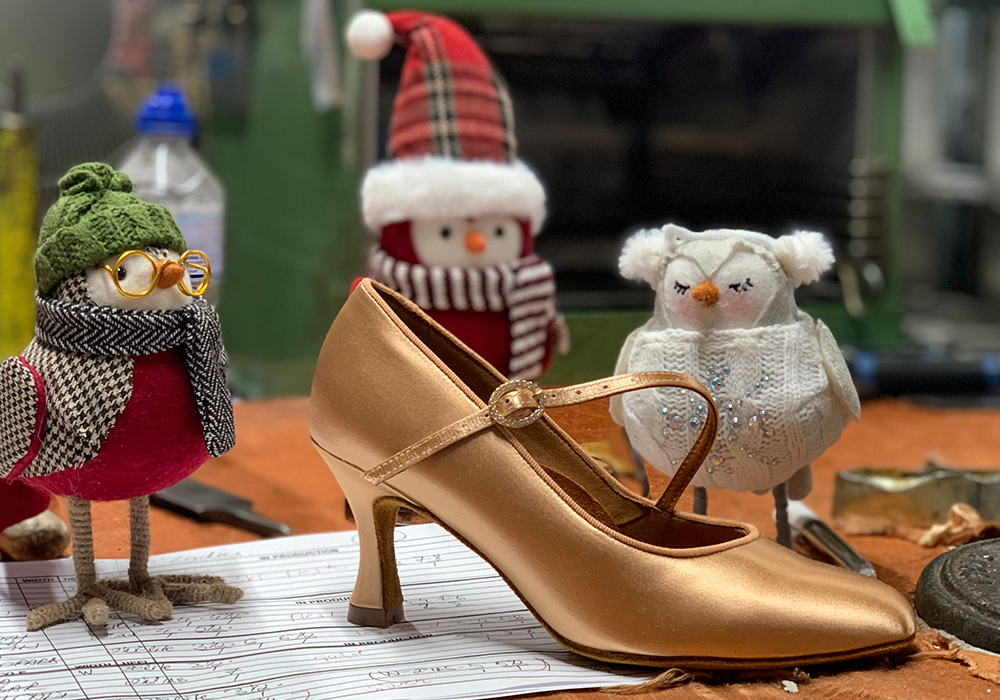 Our shoes for Ballroom are made with a soft foam lining for a comfortable and snug fit as well as gel cushioning throughout the insole to make your glides across the floor feel like you're dancing on clouds. You can read more about the efforts we put into ensuring dancers can dance comfortably and healthily by clicking here.
Our 'Flavia', 'Lucia' and 'Mia T-Bar' are our hottest designs for Latin. 'Flavia' has a five strap front and is perfect for those that want a classic look whilst 'Lucia', seen below in Gold (with a 3" Ultra Slim heel) and in Leopard takes a similar five-strap vamp but adds a T-Bar and a really unique cut-out back design.
'Mia T-Bar' (below in Tan Satin with a 3" Elite heel) is a popular shoe worn by some of the top Amateur & Professional dancers in the world. The design of the front is to prevent the toes popping out, which can happen when wearing more 'strappy' designs.
Tan Satin is the most popular colour for Latin shoes however there are some styles offered in Gold, Silver, Black Satin and even Leopard. We recently started offering our 'Mia' and 'Lucia' in Flesh Satin (below on a 3" IDS heel), with these becoming popular with social dancers and also used by competitive dancers for practice.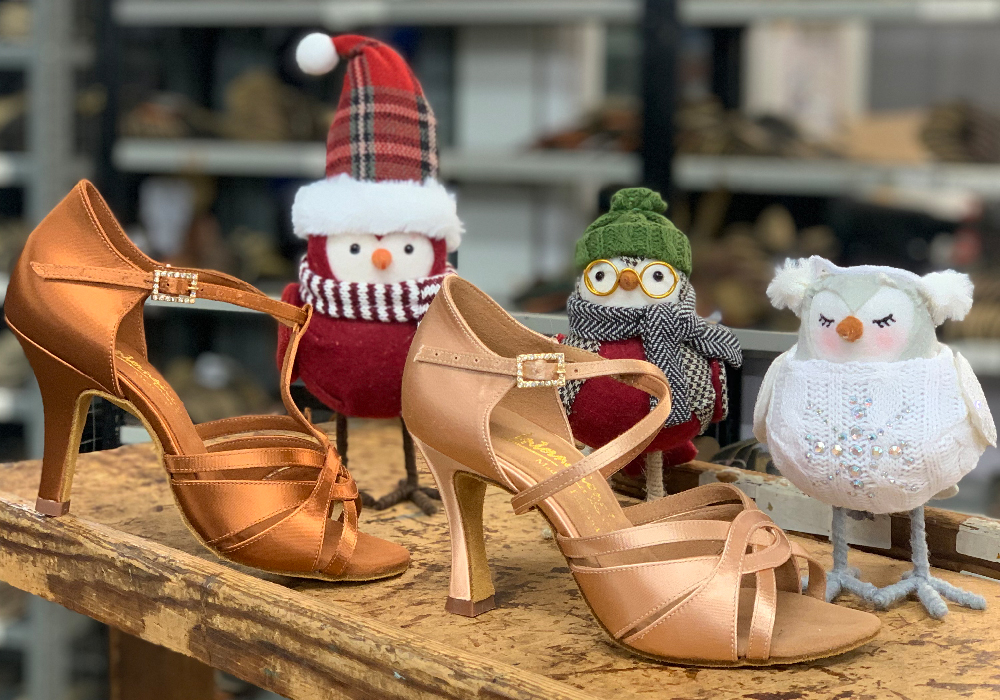 Our Ladies Latin shoes are made to be lightweight and flexible, yet strong and stable. Insoles are layered with gel cushioning for the best in comfort too. The most popular heel for competition dancers is our 'Elite' heel, for the stylish and elegant look whilst the also popular and very classical IDS flared heel offers maximum stability and support a wider surface are to connect shoe to floor. Click here to read more about the different heels we offer.
Shoes for practice and teaching are often worn for hours and hours so it's really important to have a good choice of stylish and comfortable shoes and we have just that.
Of our colourful designs, our 'Heather Split-Sole' in Lipstick (below) is a hugely popular choice and is designed in collaboration with Strictly Come Dancing Professional and former World Amateur Latin Champion Katya Jones along side our Art Attack edition.
For those that might find those bright shoes a little bit too crazy, we have our 'Heather Split-Sole' and 'Heather Full-Sole' available in our super soft, light and breathable AirMesh (seen below) fabric as well as the classic Black Lycra.
If choosing between the 'Split-Sole' and 'Full-Sole' options gets your head in a bit of a spin, check out the blog post that we wrote about this by clicking here. The more flexible, 'Split-Sole' shoes are more akin to Latin shoes, whereas the 'Full-Sole' shoes have less flexibility, a bit more similar to our Ballroom shoes.
The newest practice and teaching shoe design to join the party is called 'Roxy'. This style was created for those who want a super comfortable practice shoe but with the same heel height that they are used to wearing for competition. It's available in our soft, breathable AirMesh material and it's one practice shoe you can't be without! For those who really want to make their footwork stand out, we also have it in Art Attack as a bespoke option!
STOCKING FILLERS FOR UNDER £20 & GIFT SETS!
Away from shoes, there are plenty of stocking filler ideas too! A Shoe Brush (£7.50) is an absolute essential for any dancer as they help to clean and condition the soles whilst our 'Shoe Fresh' spray (£10), made with Micro-Fresh helps to keep the odours away! A couple of taps of this anti-bacterial spray will make life a lot more comfortable when they take their shoes out of the bag next time they're needed!
Our Sliders (£12) are ideal for after practice, in between rounds and of course on the beach and in the spa too! You could also fit the lady out in a soft and stylish Kimono (£17), which is available in two sizes, long and short.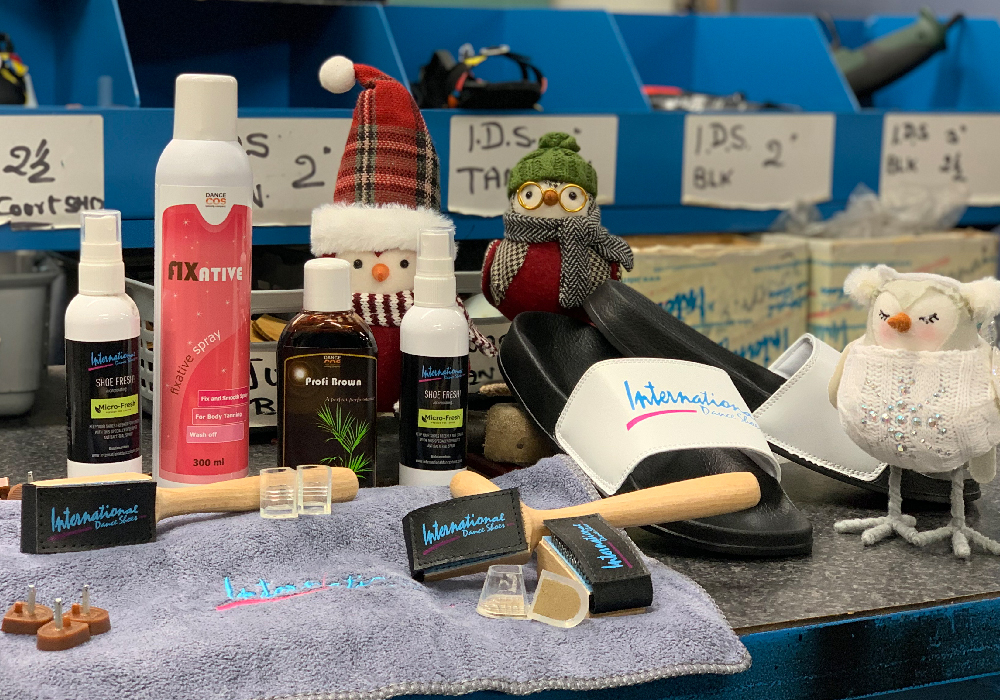 It's certainly worth taking a quick look in our sale for some ladies shoes too and if you're really stuck on what to buy her - click here for our Gift Bundle or here for Gift Vouchers.
We hope you've found this gift guide useful and if you feel as though you need to know more, feel free to send us an email or contact us via Facebook! Don't forget to follow us on Instagram too!