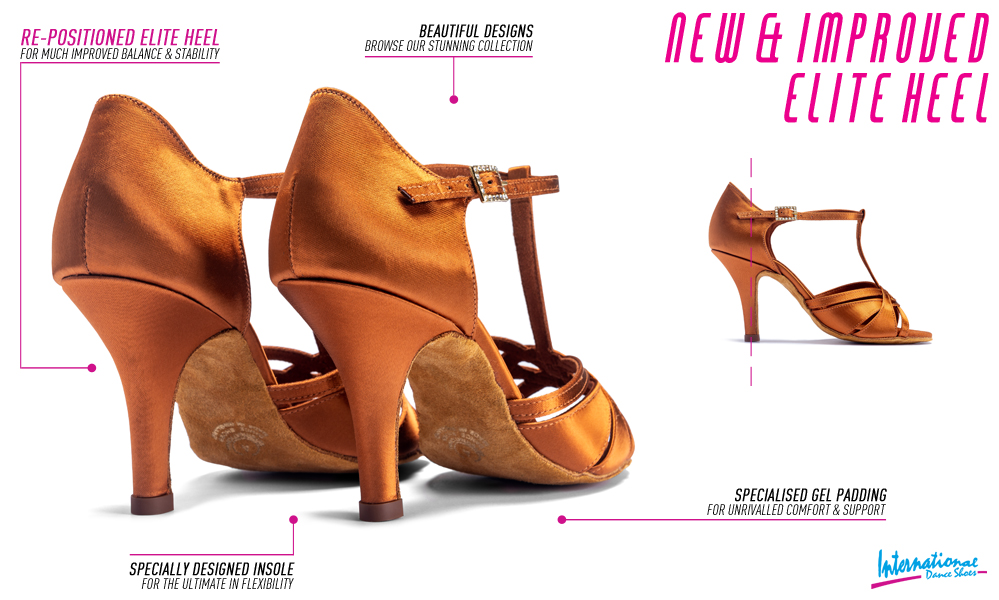 This Blackpool Dance Festival we launched our New and Improved Elite heel and we're so pleased to have received such excellent feedback on it!
Whilst we designed the original Elite at the request of many dancers, we learned that many dancers preferred the tip of the heel to be a little bit further back for better balance. We know that balance is such an important element of a shoe for a dancer because the better balance a dancer feels, the more comfortable the dancer feels and that brings greater confidence which can result in a much better performance!
So, over a few months last year and earlier this year, we tested a few different ways and now we've made a real enhancement to this sleek and stylish heel, which looks very similar, but the key is that the heel pitches a little further back which is enough to dramatically improve the feeling of balance and comfort that the lady will feel in these shoes! We had it available in Blackpool which we treated that as our biggest test as there is nothing better than taking the new heel to the biggest dance event on the planet and getting the opportunity to service dancers properly by discussing the improvements, and with many during the quieter periods, comparing old and new.
We're really happy with the feedback and the great compliments received and over the past month or so we've switched to the new version of the Elite heel, which offers much improved stability, heel positioning, balance and comfort - and ultimately, these characteristics can really allow the dancer to perform to a much higher level.
Continued below photos. Images below: IDSEliteTeam couples Gunnar Gunnarsson & Marika Doshoris (England) and Luca Urso & Alessandra Tripoli (Italy). Both ladies are wearing 'Mia T-Bar' on their new and improved Elite heel. Luca & Alessandra won the Professional Rising Star Latin and Gunnar & Marika made the Semi-Final of the Professional Latin.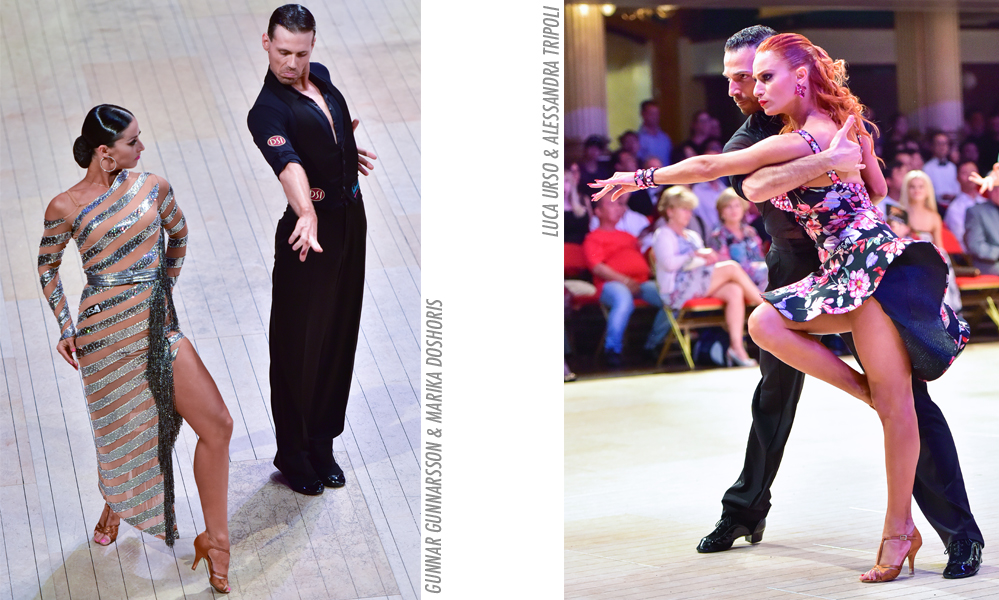 One of the reasons we made this improvement is because we took sometime to sit down with some pretty legendary dancers last year and wanted some feedback on our shoes. They weren't wearing ours at the time so we knew it would be a great opportunity to get some valued feedback from someone not used to our shoes. The dancer explained how the look of our shoes was much more beautiful and stylish, the materials felt superior and the comfort with the padding throughout the shoe was better than anything else she'd tried. Also, the softness and flexibility of the shoe made it easier for her to point her foot.
These are three of the four essential characteristics of a ladies Latin shoe it was discussed, however, she thought other shoes offered slightly better balance in terms of their equivalent heel and if a dancer doesn't feel stable - then no matter how good the shoe looks, feels and flexes - it counts for nothing if the dancer doesn't feel stable, because a lot of confidence comes from the feeling of being stable.
So knowing that we had a tick in three of the four boxes, the challenge since the end of 2017 has been to improve our Elite heel to enhance the shoe to tick that last essential box to make our ladies Latin shoes truly complete!
Now, whilst we know nothing can ever be absolutely perfect, we think we've made a great improvement and we can't wait for you to all try it out!
We have improved both the 2.5" Elite and the 3" Elite heel and this heel is available on all of our Ladies Latin shoes on our website and you can shop that stylish, flexible and incredibly comfortable collection by clicking here. Our hottest shoes right now and from the Blackpool Dance Festival are our 'Lucia', 'Mia T-Bar', 'Elena' and 'Mia'! All of our Ladies Latin shoes can also be made with our XG Sole, which you can learn more about by clicking here.
**
Thanks for reading! We hope you've found this post interesting! If you have any questions then please feel free to get in touch! Email us at sales@ids-danceshoes.co.uk or call us anytime between 9am - 4pm (UK time) on +44(0)1908 319937.