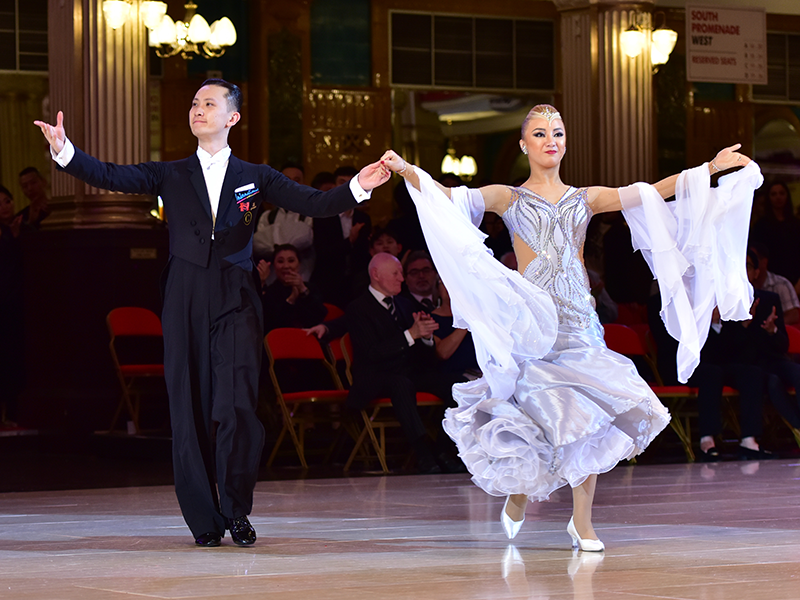 This month, we're celebrating ten years of working with China's number one Professional Ballroom couple, Chong He (Charles) & Shan Jing (Sara)!
Charles & Sara joined our #IDSEliteTeam back in October 2011, having made exceptional progress in their results in the Amateur Ballroom category – both at home, across Asia and here in the UK. They became the first Chinese couple to be a part of our sponsored group of couples.
Dancing has become more and more popular in China over the last ten years or so, and Charles & Sara were one of the first couples to compete in the UK regularly, and truly establish themselves among the world's top couples.
They'd bought their first pairs of our shoes a few years before and immediately felt good, "International Dance Shoes have always been the most comfortable shoe in our minds. We bought the first pair of our lives when we first went to England in 2008, and we were buying them for several years. Later, through the introduction of friends, the sponsorship started".
Even though they'd only been working with us for a short time (and despite the language barrier) they quickly showed that they were one of the most organised couples within our #IDSEliteTeam when they'd take advance orders of our shoes from their friends and students before flying over for competitions in the UK, returning home with suitcases full of our shoes! Whilst this helped their network back in China receive high quality, British-made dance shoes, it also helped us in our first steps to establish our brand out in one of the biggest markets of them all!
Charles & Sara at our stand at the Blackpool Dance Festival in 2014 where they finished 2nd in the Amateur Ballroom.
Their first competition as part of the #IDSEliteTeam was the International Dance Championships at the stunning Royal Albert Hall, where they narrowly missed the final. They fell short by just one place in an event won by the famous Emanuel Valeri & Tania Kehlet, another of our couples.
From the disappointment of missing out on that final, they started 2012 by finishing 3rd in the Amateur Ballroom at the UK Open, before making their first Blackpool Amateur Ballroom final, coming 4th. Finals in the major competitions became the norm, before they progressed further by only ever finishing within the top 3.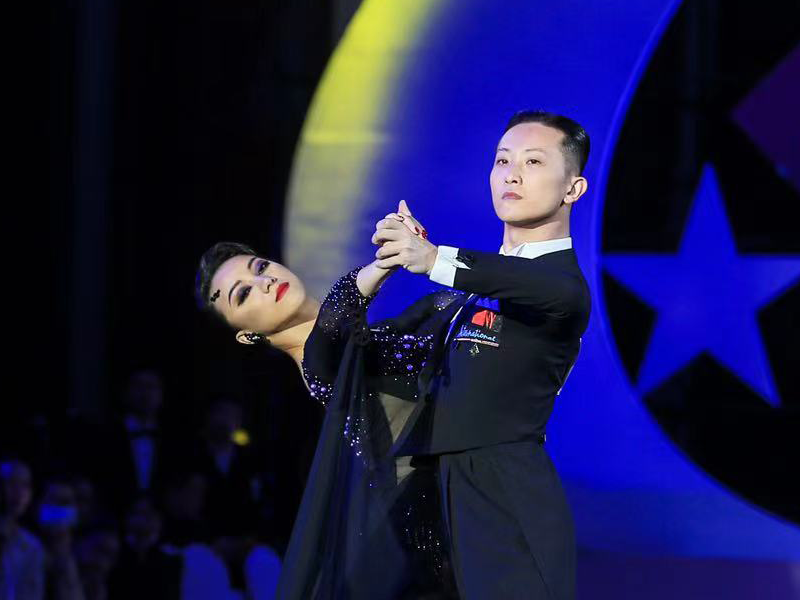 Their well deserved first major win finally came at the International Dance Championships in October 2016 before their surge of dominance begun. Two months later they won the World Amateur Ballroom Championships in Paris, and the following month they won the UK Open in Bournemouth before setting off for more 1st place success across the Asian Tour. In May 2017, the won the coveted Blackpool Amateur Ballroom title!
In October 2018, Charles & Sara moved up to Professional, going onto win the Professional Rising Star Ballroom in Blackpool in May 2019.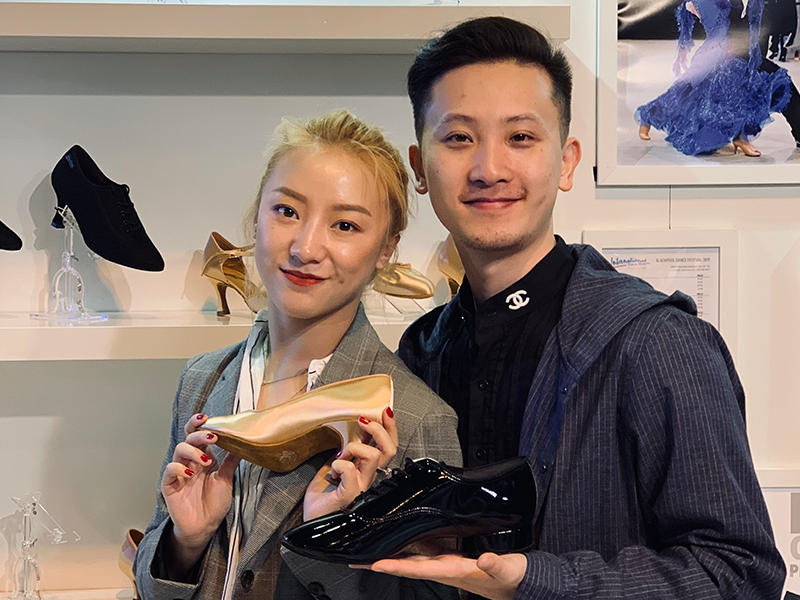 Charles wears our Contra Pro and Sara wears our ICS SuperStar.
Sadly, we haven't been able to see much of Charles & Sara at the Professional level, with the world of dance paused as a result of the global pandemic. They couldn't make it over for the recent events in the UK but we look forward to seeing them back in the UK in 2022 when they can re-start their promising Professional career!
**
Charles & Sara have been a fantastic couple to work with over the last ten years. Not only have they progressed incredibly on the floor, they have been extremely helpful to us off the floor too. It is very much true that some of our first steps into China were via their suitcases and since then, we have grown to employ our own staff in China, with stock of our most popular shoes based in a hub over there with regular deliveries of top up stock and special orders.
We work with several couples across China because it's extremely important as a British brand in such a niche industry, that we export. China is a country where Ballroom & Latin American dancing has grown more and more popular, and as a result has been one of our fastest growing export markets and part of the reason we won a Queen's Award for Enterprise in the International Trade category in 2020 (read more about that here). The couples that we work with in China have all played a priceless part in that growth. We thank them all!
**
We work with over 70 couples across the world. Our #IDSEliteTeam is our group of sponsored dancers across the world who proudly wear our shoes and help us to grow our brand. We're proud to support couples from Juvenile right up through to Senior level, and we currently support couples from over 20 countries. Click here to learn more about the couples that we work with! Couples can apply to join our #IDSEliteTeam, however with the impact of Covid-19 on our business and industry, we're prioritising support for our existing team before we think too much about expansion.
**
For more updates and to see more about our new shoes, click here to follow us on Instagram and click here to join our mailing list!