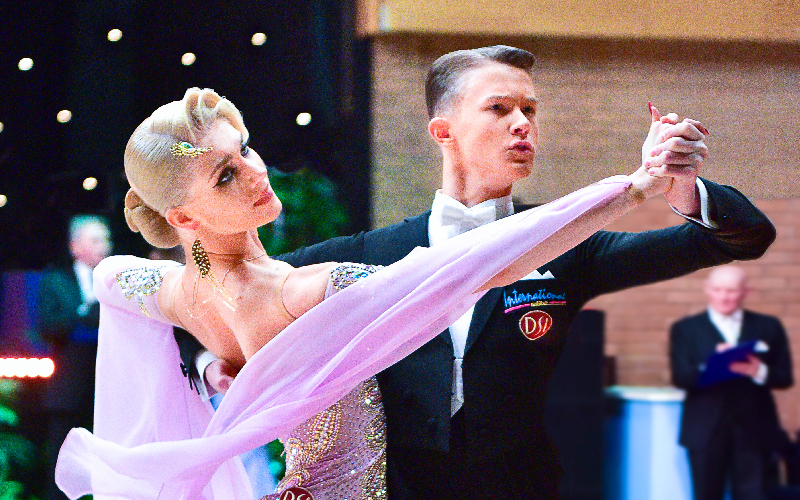 With competition dancing on hold around the world in these strange times, we thought we'd ask one of our busiest #IDSEliteTeam couples how they're spending their time. Glenn Boyce and Cäroly Jänes compete in both Ballroom and Latin and also in all federations, meaning their calendars are more packed with dancing than most!
With what is always a hectic schedule for you guys, this period must feel really strange. What are you getting up to?
We are keeping super busy and are actually feeling it's the best time for our dancing. As Glenn's A-level exams have been cancelled and Cäroly has already finished all her exams for this year we have all the time to focus on our dancing. Obviously doing both ballroom and latin means we always have twice as much work to do!
We are doing FaceTime workout training starting 7:15am every morning with friends from Nice n Easy (their family dance school in Bournemouth). After that we have three hours practice at our home studio for ballroom and latin. Before lunch we have a short run down to the beach as it's only 600m from our house.
From 4-7pm we have been helping my parents (retired #IDSEliteTeam legends Warren & Kristi Boyce) with the Zoom classes and obviously learning ourselves at the same time. The structure and knowledge from these sessions allow us to go very deeply into subjects and discover more about the inner workings of actions and as we don't have an imminent competition that we need to prepare for, it is the perfect time to develop in this way. It is all about base level improvement which takes time to be trained into muscle memory and gradually raises quality levels.
Wow so it's very much not being used as a break then..
We have been lucky enough to get some online lessons in between all of this and we need to say a big thank you to another #IDSEliteTeam couple Si Cheng Li and Liis End, or Eric and Auntie Liis as they are to us. We very much wanted to participate in some online tuition from China through WeChat. Paying for the lessons over the WeChat app was complex as we had to send our identification, make successful payment and registration which proved very challenging outside of China. Liis and Eric resolved it and bought us the subscription to the live classes we wanted to attend. We speak to them every day from Shanghai and watch their training videos as well as my (Glenn's) uncle and aunt, Andres & Veronika End (another #IDSEliteTeam couple) in Los Angeles.
Our family are all in different time zones so no matter what time it is we can always get advice from someone. The weekends have been more chilled as we have no Nice n Easy Classes but we have done several 10km runs on these days. We feel that lockdown has been amazing as it has given us the chance to also workout, prepare and develop our bodies with more time than usual.
Most people don't do 10km runs on 'chilled' weekends so we guess that just underlines your commitment levels! Are there particular aspects of your training that you're now focussing on?
Lessons have taken on a different approach by the main focus being on basic exercises, elements, mechanics and technique which we wouldn't get to spend as much time on normally whilst schooling. We have been looking forward to taking our dancing to another level after school finishes and this has brought us to that stage much earlier.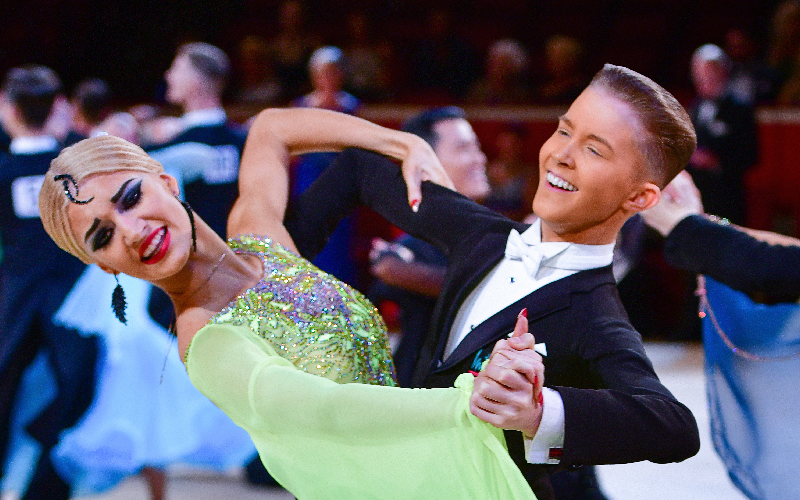 You must be itching to get back to competitions though, given things have been going so well? No doubt your training levels and the fact that you're so focussed on your progression, you don't have much fear of losing momentum..
Of course we are very much hoping the competitions can start again very soon and Caroly can't wait to go back to DSI as her phone is already full of new dress design ideas.
Our last competition had been the Asian Tour in Tokyo and we hold onto the happy memories of breaking into both the Amateur Ballroom and Latin Finals at this very prestigious event. We love to be out on the floor always trying to produce our best dancing to date and we hope to fully use this period to raise this to a new level that will be very noticeable on our return.
Until that moment arrives, to keep ourselves involved and make a difference we have participated in a fundraiser for the NHS organised by Nice n Easy Dance Studios to raise funds for the NHS Charities Together. The dancers who joined to help the charity all share in the beautiful idea of "Dancing apart but not alone".
We sincerely hope that the situation in the world will now improve. Take care of yourselves and stay healthy. Our message to dancers at this moment in time is one inspiring thought that we have been given by our teachers: "If you can't do it slow, you can't do it fast".
***
2019 was a very successful year for Glenn & Cäroly. They took first place in six World Championships; the WDO Amateur Ten-Dance, WDCAL Amateur Ten-Dance, WDO Youth Under 19 Ballroom, WDCAL Youth Ten-Dance, WDO Youth Under 21 Ballroom and the WDCAL Youth Under 21 Ballroom!
With the world in lock-down, we thought for once that we wouldn't need to thank Glenn and Cäroly for taking time out of a busy schedule to speak with us but it seems their schedule is as busy as ever so we thank them for giving us such a great insight into the lock-down! With Amateur Ballroom and Latin final appearances in the recent Asian Tour we were all really excited what this promising and dedicated young couple could achieve in Blackpool, but with everything on hold we'll just have to wait and see the results of their intense lockdown training!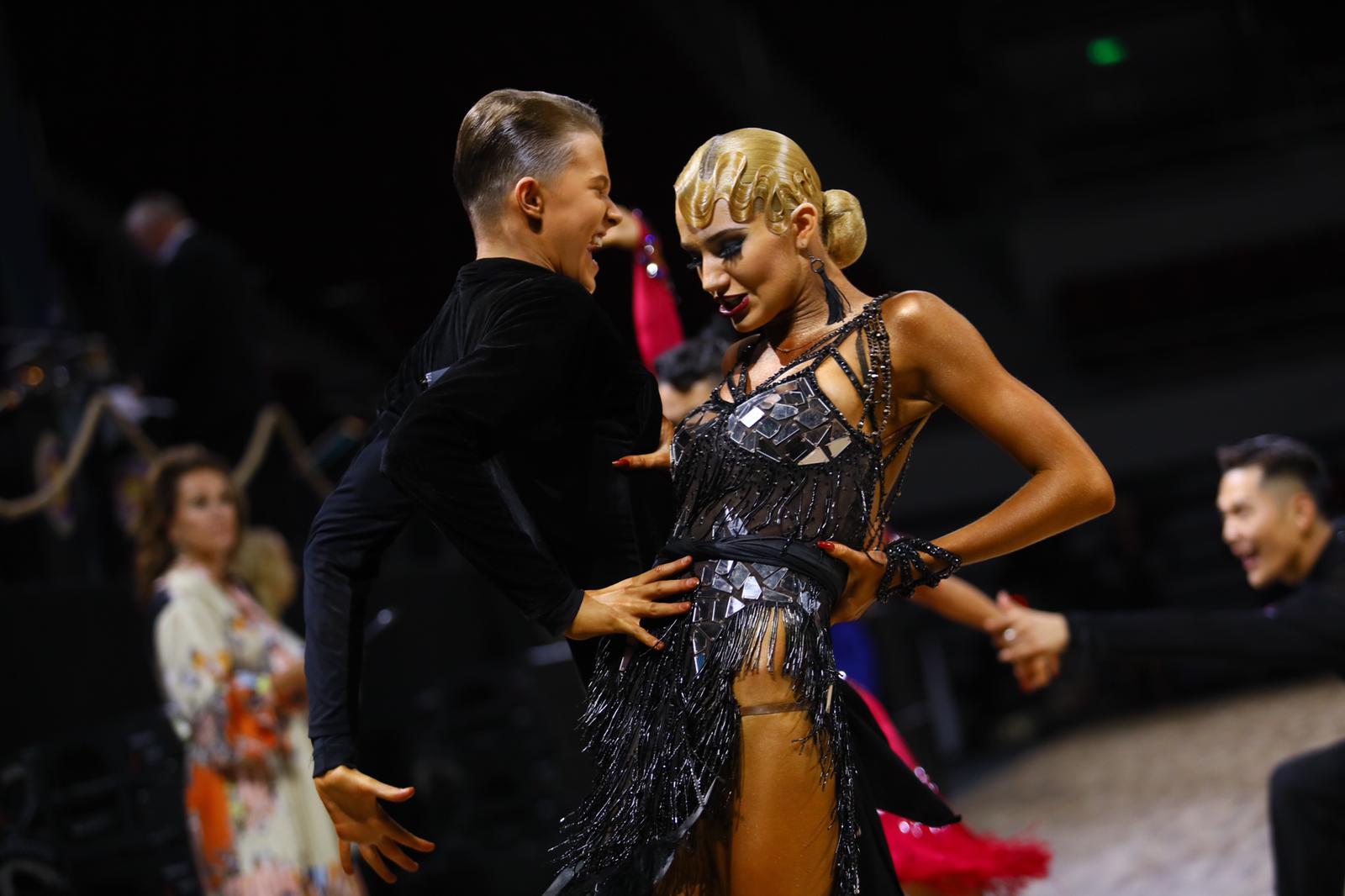 For Ballroom, Glenn wears our 'Contra Pro' in Black Patent, with Cäroly wearing the 'ICS SuperStar' in both Flesh Satin and White Satin. In Latin, Glenn wears our 'Rumba XG' in Black Calf and Cäroly wears our 'Bela' in Tan Satin.