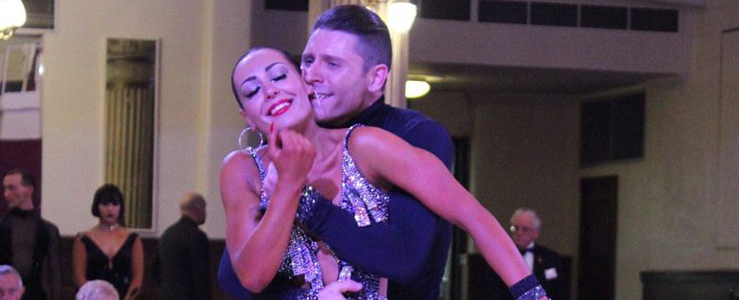 IDSEliteTeam Interview: How to win a British Nationals title, with Ben Jones & Amy Dowden
The past 12 months for IDSEliteTeam couple Ben Jones and Amy Dowden have culminated in them securing their greatest achievement to date; winning the coveted title of British National Amateur Latin Champions. Their rise has not been a surprise and their efforts have deservedly been rewarded not only with their recent title but also with significant plaudits from followers watching their progress.
So for the benefit of our blog readers, we want to learn - just how do you become British National Amateur Latin Champions, and we're finding out from the people currently holding that trophy…
Being happy to win the title is probably an understatement, talk us firstly about that moment hearing your name called..
All night we tried not to focus on the result. We tired to focus purely on the dancing and delivering the best performance we could. But after the final, we did get very nervous and realised we did stand a chance of getting a title we have dreamed about. We took ourselves away from our friends and family and sat on the stairs as you walk into the ballroom. It seemed like the longest wait ever for the results. When we heard the band, we looked at each other then put our heads on our knees. As soon as Marcus announced, "By winning all five dances, from Dudley…" we just jumped up, ran onto the dance floor and embraced each other! Our friend said we didn't let go for what seemed about ten minutes. We can't explain how we felt. Full of excitement and emotions and it didn't feel real. It still doesn't now. When we look back to that night we have the biggest smile ever. I think we were the happiest people alive.
What's the key to success here? What has got you to where you are now?
We try to focus on developing ourselves as dancers and not to chase the results. Of course you dream of the results but we like to believe that if you improve as dancers then the results will follow. We have had many ups and downs but try to focus purely on the dancing and to stay grounded. We believe we have a great team behind us. We have our coach Richard Porter (our dancing Dad) along with all the teachers who all work together to help us create our product as dancers. We also have the best sponsors we could wish for; International Dance Shoes, Studio Armell for outfits and Physio in Motion for physiotherapy and massages.
We train as much as we possibly can around work. Any spare hour in the day we have, we are either in the studio practicing or in the gym improving our stamina. We don't have a social life, but that doesn't bother us as our life is dancing! We are prepared to give up everything to develop as dancers.
It's no secret that you guys feel strength and conditioning is a key part to your success - without giving away too many secrets, what are you doing that others aren't?
We feel gym work is important especially leading up to competitions where we know we are going to have a few rounds, like the closed British where there isn't much time between the rounds dancing to the fabulous Empress Orchestra. We feel there is no excuse not to be fit. Why pay out for all the lessons and practice so that when you get to the competition you run out of the energy to produce the dancing you're capable of? We also teach four Zumba classes a week which we feel again helps our fitness. It's about finding the right balance. We also like to feel good within ourselves (especially Amy) and feel 100% confident with our bodies when taking to the dance floor.
When we get to a competition. We both go off and do our own warms up. Then around twenty minutes before we do our own first round together on the side of the floor.
You're in LA a few times a year to train and we know you love it out there. What is it about the place and training out there?
We love LA. We like going out there and having a week to purely focus on our dancing. We train with Richard Porter out there. It's great to take yourself away to explore and challenge yourselves. We always have an intense week but always feel the benefits of it. Coming home we feel we have so much to work on and always have new goals and challenges.
All the little Juveniles, the Juniors and the young under 21s will no doubt be looking at you now as inspiration going into their next competitions, hoping to emulate you - what's your advice?
Stay focused on the dancing. Competitive dancing is full of ups and downs but that's what makes you the dancer you become. When you achieve a dream it's the best feeling you could imagine and makes the years of hard work definitely worthwhile.
You've had an extremely memorable 2016, what's the focus and goals for 2017?
We have so much we would like to develop within our dancing. Actually the week straight after Blackpool we were back in the studio with Richard making changes and setting goals within our dancing to improve. We have the UK Open coming up so we are working hard towards this. We would love in 2017 to challenge further internationally.
Finally, you've been part of our EliteTeam of sponsored dancers for a few years now, what are your thoughts on your shoes?
We are so lucky to be part of the IDSEliteTeam. The entire team at International Dance Shoes are so friendly, helpful and supportive. We love the shoes (Ben wears the 'Rumba' and Amy wears 'Katarina' - click on the names to view the shoes). We love how International Dance Shoes are always creative and developing new ideas to keep improving the shoes. Amy's favourite this year are the Glitter Soles and Ben loves his personalised ids:iD shoes with 'Cry Baby' printed on (he cries every time we achieve a goal, including winning at Blackpool). Thank you to everyone at International Dance Shoes for supporting and believing in us!
**
Ben and Amy are now busy preparing for the first major competition on the international calendar; the UK Open Dance Championships in Bournemouth which runs from the 17th-19th January (where we will be exhibiting - click here to find out more). You can follow them on Facebook by clicking here, whilst you can also keep up with them on Instagram. Click here for Ben on Instagram, and click here for Amy.
Credit the awesome photo to Warren Bullock (click here to view).
To follow our future blog posts, please make sure you're following us on the social media channels below!