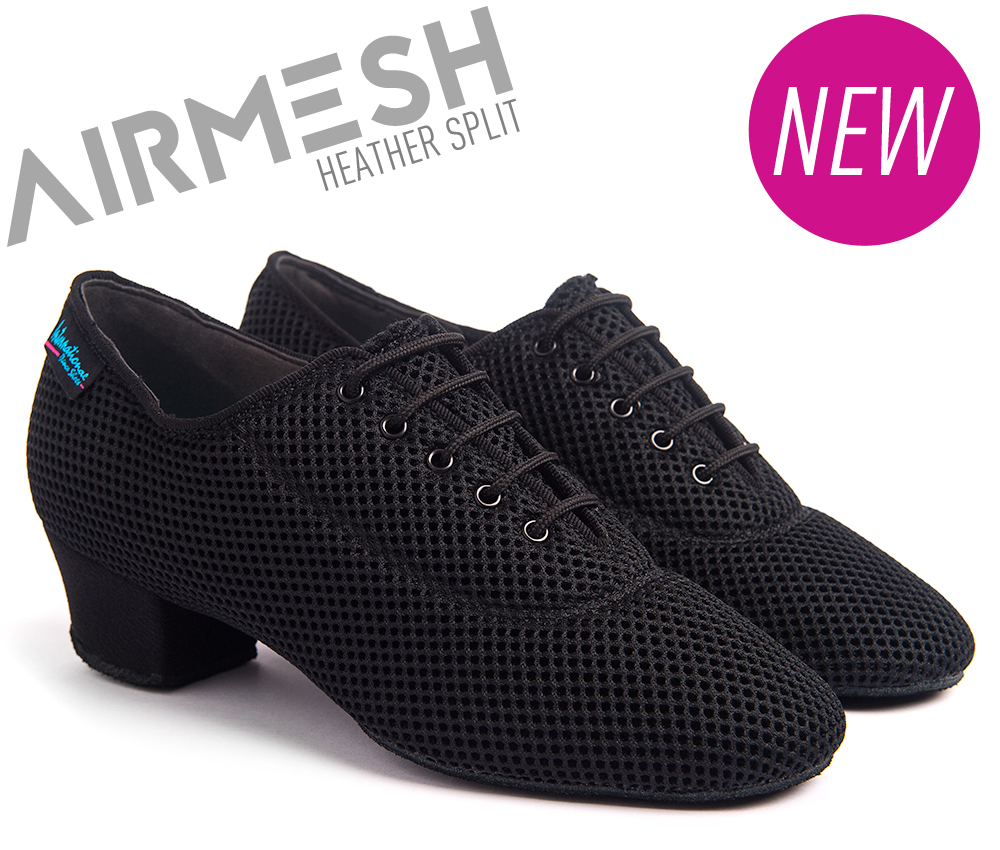 We've introduced our latest and perhaps greatest material for practice and teaching. Our new 'AirMesh' material is available on our incredibly popular 'Heather Split' practice and teaching shoe for ladies and our 'Contra' and 'Rumba' for men.
It's a new, lightweight and breathable mesh. It's super-soft and it combines with our glove-like foam lining and arch padding to make a shoe which takes comfort to a whole new level. The softness helps flexibility too, meaning that the foot can move incredibly naturally like dancing in barefoot.
Click here for 'Heather Split' | Click here for 'Contra' | Click here for 'Rumba'
We love making improvements to shoes and bringing you the most advanced footwear for Ballroom and Latin. We spend a lot of time around the world sourcing new materials and components which can improve our footwear so that we can forever be introducing shoes to you that look amazing, feel sensational and stand the test of time. By being Made in Britain, we can find new materials, test them and make them available to you in a matter of weeks. This new AirMesh material is specially developed for sporting footwear and we think that it's a great material to use because the characteristics of this material are perfect for dancers who are spending a lot of their days on their feet dancing.
Aside from the AirMesh material itself, we put a lot of focus on the feeling of the shoe and we believe the way that we build our insoles are unique. Dancing can take its toll on the body over time, so we make our shoes with specially designed cushioning in the insole and we add padding to the arch for the best in support and comfort. Whilst we have so many people love our practice and teaching shoes for ladies because of our iconic designs as part of our collection with Katya Jones, many dancers will chose our practice and teaching shoes for the feeling of the pure comfort generated by the way we build our shoes. If you have not tried our shoes before then we would love you to come and try some! You can click here to find out about where our factory shop is, click here to see what events we'll be at in the coming months and click here for our Store Locator!
**
If you have any questions at all, then please get in touch. You can email us via sales@ids-danceshoes.co.uk or call us on +44(0)1908 319937.
For further updates, please make sure you're following us on the social media channels below!