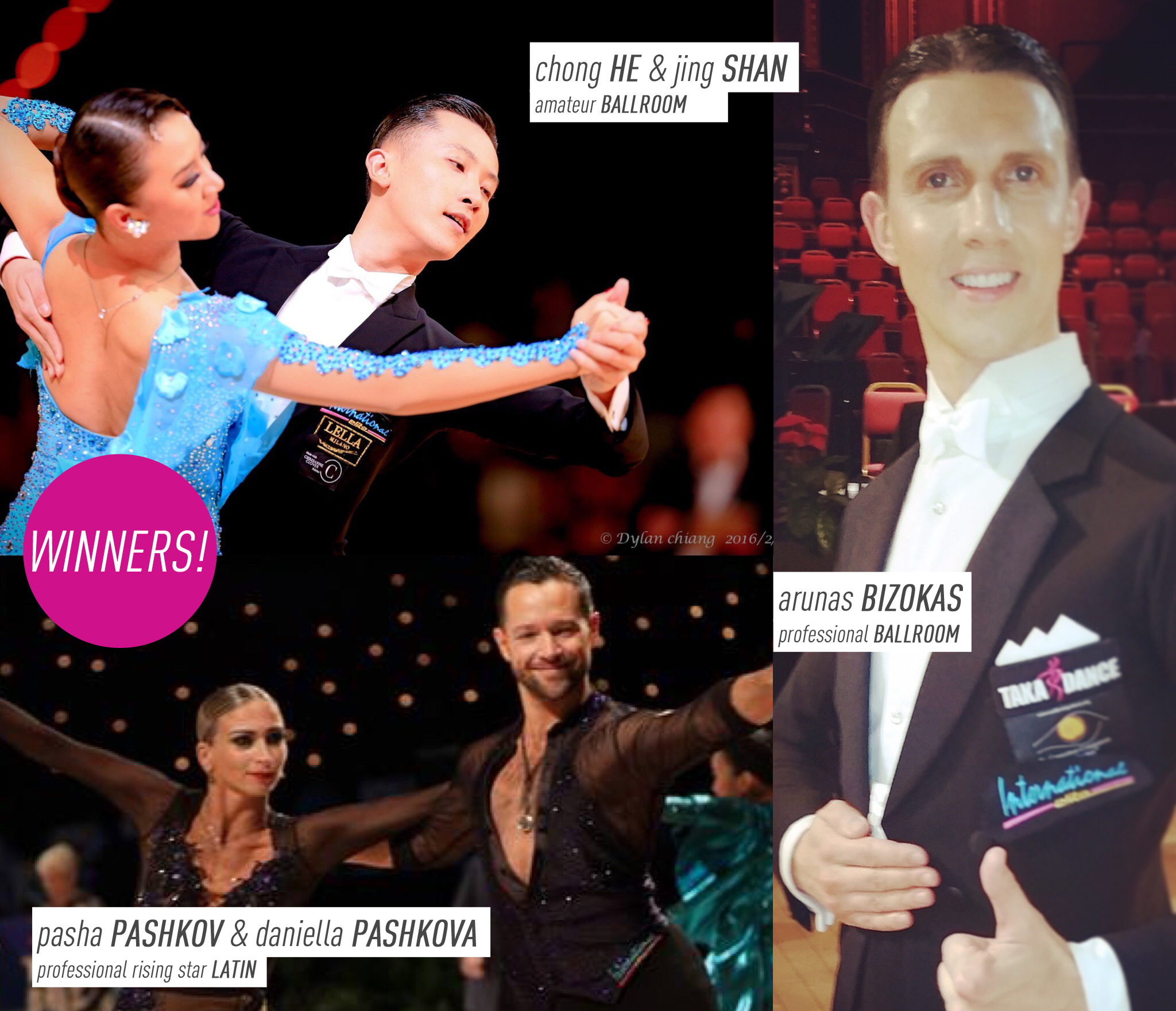 International Dance Shoes at the UK Championships 2017
The world of dancesport descended upon a sunny south coast in Bournemouth with the UK Open Championships taking place from Tuesday to Thursday last week. Three days of exceptional dancing with many of our IDSEliteTeam couples taking part and achieving great results!
In the Ballroom, we're delighted to see Arunas Bizokas once again take first place in the Professional Ballroom with partner Katusha Demidova, representing the USA. This is the 8th time they've won this competition! England's Warren & Kristi Boyce made the Semi-Final.
We had an incredible three couples in the Amateur Ballroom final representing our us with Chong He & Jing Shan (Charles & Sara) from China winning their first ever UK Open Championship following their win at the International Championships at the Royal Albert Hall last October! Fedor Isaev & Anna Zudilina (Russia) placed third and the young and ever-impressive Igor Reznik & Mariya Polischuk (Ukraine) came fourth – an outstanding achievement for such a young couple.
Three of our couples also made the Semi-Final including Andres & Veronika End (USA), Si Cheng Li & Zhou Man Ni (China) and Ben Taylor & Stefanie Bossen (England).
In the Latin competitions we were delighted to see Pasha Pashkov & Daniella Pashkova (USA) win the Professional Rising Star Latin! This was their first professional competition having kept their move to professional secret until the day of the event. They also went on to make the Quarter Final of the Professional Latin, which is where Gunnar Gunnarsson & Marika Doshoris (England) and Zi Long Wang & Li Yang (Hong Kong) also placed.
Following final appearances in Blackpool and at the International Championships in 2016, the much-loved Petar Daskalov & Zia James (England) once again made an exciting final in the Amateur Latin. Salvatore Sinardi & Viktoriya Kharchenko (Italy) and Oleksandr Kravchuk & Olesya Getsko (Ukraine) also made the Semi-Final in their International Dance Shoes. Adelmo Mandia & Leah Rolfe (England) also made the final in the Amateur Rising Star Latin too!
If you click on a dancers name in the text above, you'll see which shoes they wear!
A big congratulations to all of our IDSEliteTeam couples who've competed at the UK Open, we're excited to see you all again for the next, and biggest competition on the calendar here in the UK – the British Open in Blackpool in May!
A big thank you to all who came to visit us at our stand in the Royal Exeter Hotel last week in Bournemouth, not just our sponsored dancers but all of the wonderful customers that came to pick up their new pairs of International Dance Shoes. It was great learn that so many dancers who visited us last week were trying our shoes for the very first time and we look forward to having you as loyal International Dance Shoes dancers for a long time to come!
Photo credits for Rob Ronda (click here to view) and Dylan Chiang (click here to view).
To follow our future blog posts, please make sure you're following us on the social media channels below!